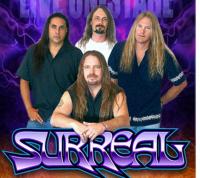 Surreal will rock your world Friday and Saturday at The Purple Moose.
Loved the music of The Dunehounds when they played at Coconuts Beach Bar & Grill.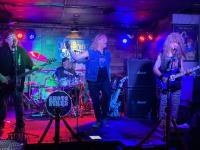 Shots Fired will perform Saturday at Bourbon Street on the Beach.
33 RPM is sure to make it a lively party on the beautiful patio at Coconuts Beach Bar & Grill on Saturday.
I hear the jets passing over my house in West Ocean City so I know there's plenty of excitement going on right now in Ocean City; but you won't see me there. Not because there's anything unworthy of the event but because I'm still suffering some PTSD from a car accident three years ago. I'm not ready to put myself in grid-lock traffic just yet. Anyway, you all know I would love to be somewhere listening to music but that's ok; I'll talk to you all instead.

My plan is hopefully to go into town later to hear Surreal at the Purple Moose. If you haven't heard these guys you're really missing out. Lead singer Walt has a voice that is simply amazing; in fact, so much so that he was inducted into the Maryland Entertainment Hall of Fame a few years ago (our old pal Mary Lou is also an inductee). Guitarist Brian is the only one left with long blonde hair in this '80s hair band, but of course that doesn't matter a bit to the sound of his incredible playing. Will on bass still flings his head as if the long hair were still there; but again, his playing and stage presence is as compelling as ever. Check out the relatively new drummer, Chris, who has taken over for Renee who now lives in Atlanta, Georgia. Also, check out their website, surrealrocks.com, where you can read this: "veteran musicians have enjoyed decades of entertaining audiences ... with their high-energy live show and great song list." Among the artists they cover and the songs we all love are Journey, Boston, Styx, Foreigner, Van Halen, Judas Priest, Bon Jovi, Def Leppard, Led Zeppelin, Whitesnake, Queen, Kiss and so many more. You'll love them, I guarantee it.

What I'm really excited to tell you about this week is my afternoon of incredible music from The Dunehounds last Sunday at Coconuts Beach Bar & Grill. First let's introduce them. Sean Loomis, who also fronts The Loomatix with Jeff Davis, Joe Mama and Dave Wimbrow, is the main man on guitar and vocals. Troy Mawyer (who was in Lovin Cup) plays electric guitar, adding a depth to their music with leads and guitar harmonies. Kasey Briggs kills it on bass; you may know him from Phantom Limbs that is on hiatus right now (and some years ago, Kasey wrote Sonic Notes for Coconut Times). On drums is multi-talented Adam Bilenki who often plays solo; yes, he plays guitar and has a wonderful voice as well. Adam took the lead vocals on many tunes and I loved the awesome harmonious blend of their voices when Sean and Adam sang together. This brings me to what impressed me so much: the song selections of this group were wildly diverse; perhaps intensified by the fact that having played in other bands, they each bring so much to the table. I tried to keep up with everything I was hearing so I felt compelled to jot down a few artists they covered: Led Zeppelin, Steely Dan, Grateful Dead, Tom Petty, Toto, The Who, The Doors, The Rolling Stones, Dire Straits; country, too, such as Dwight Yoakum, Willie Nelson and more. All this from excellent musicians who were always spot on with often changing time signatures and tight endings. You can hear The Dunehounds tonight at the Caribbean Pool Bar, Plim Plaza, and tomorrow afternoon at the 67th St. Holiday Inn. Then they will hurry into Berlin to play at Burn Pizza at 7pm. I'll hear them again at Coconuts on Wednesday, July 14; and you can hear Sean play solo quite often at Coconuts. This band is definitely now one of my favorites.

Bourbon Street on the Beach continues to provide excellent entertainment on their deck and inside, two shows a day. Tonight you will be highly entertained with the keyboard playing of Lennon La Ricci (who also plays guitar, bass and harmonica) alongside his dad Ricky on guitar and Mike on drums. This awesome trio will have you up on your feet dancing to be sure. Saturday entertainment begins at 4pm with First Class: Danny on sax, Sadik on drums and Roy on guitar. I've been fans of these guys since Ocean Club days. Prepare to get fired up at 8pm when Shots Fired will take the stage. Brian Thomas will impress you with his incredible vocals while Danny Shivers provides blistering guitar licks as well as great vocals. Let's not forget Dom Mamana on bass who also does some singing and Chris Bailiff on drums and backup vocals. This group is a heavy hitter playing hard solid rock. I don't have a set list to tempt you with but I can guarantee that if you like to rock, you'll love Shots Fired. You can hear them at Castaways on June 26, at Crawl Street Tavern on July 10, and back at Bourbon St. on July 11. New this week at Bourbon St. is Bob the Piano Man who will play a Sunday Brunch gig at 11am; then Troy Hanna & Friends will come on at 6pm. Remember, Reform School wows us every Wednesday around 6pm, and they welcome area players to join them for Open Mic around 8pm. And every Thursday we are treated to the sounds of Randy Lee Ashcraft with Mickey on harmonica. This coming Thursday will see the return of the Lauren Glick Trio at 7pm after Randy Lee. It was a blast last time so let's do it again.

Time for me to sign off. Didn't intend to 'chat' so long but you know me, I love my music and all my music friends. That includes all you readers and fellow music lovers, too. Hope to see you at our next fun gig. Til then, party safe!
«Go back to the previous page.