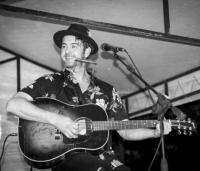 G. Love packed the house at The Purple Moose.
Lime Green Band will perform Friday at Coconuts Beach Bar & Grill.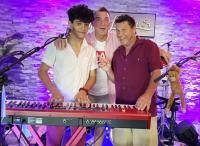 Lennon & The Leftovers will play Saturday at Beach Barrels.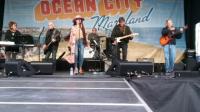 Teenage Rust will perform Sunday at M.R. Ducks at 2 pm.
Mother Nature may have put a halt on the Oceans Calling event last weekend; but one act remained to play for us at The Purple Moose: G. Love & Chuck Treece.  I have never seen so many people packed into this legendary venue nor an audience that was more on fire for a performance.  I decided to do a little research, particularly as our very active skateboarding community are huge fans and I wanted to know why.  I listened to many entries on YouTube of his music going back quite some time.  Without all the crowd noise, I was better able to hear many of the songs G. Love & Chuck Treece played for us when I listened to the Jam In The Van (full set live) from the GoPro Mountain Games in Vail, Colo., from summer of 2022.  For those who don't know, G. Love (Garrett Dutton) plays guitar, harmonica and sings in a style reminiscent of Bob Dylan or, a more recent comparison, Jack Johnson, with whom he has shared a stage.  I am so impressed with his slide guitar and picking style of playing, and he plays his harp with so much heart that it plays a huge part in his story-telling style of music - it sings, too.  People always want to know what is the style of music.  I would have said folk rock/blues and maybe I came close because I have learned that he is nominated for a Grammy as Best Contemporary Blues Album with Philadelphia Mississippi.  Songs on this album are a prime example of his homespun music from life's experiences.  "Laughing In The Sunshine" is a happy tune with his signature happy whistling.  A little Hip Hop Blues is most evident in "Love From Philly" on which G. Love raps it out to the delight of our live audience, too, at The Purple Moose.  There's so much more I could say about this guy who clearly loves to play whether it's with The Sauce or The Juice, long-time partner Chuck Reece on drums, or just solo.  He said he will be back next year and this new fan will definitely be there.  Thanks for making this happen, Bobby, owner of The Purple Moose ... quite the coup, my friend.  This weekend at The Purple Moose, let's get our rock on with popular band More More More.  And here's a heads-up: DJ Adam Dutch (of The Purple Moose) is bringing his band, Tonight's Crush, to play at The Purple Moose next weekend.  I knew Adam plays bass as I saw him with Side Project last month; but I didn't know he also plays guitar ... talented guy.  Joining him on guitar also will be Josh Green with Amby Chester on drums, Megan Elizabeth on vocals and Mike Rogers on bass.  You may have heard this group as Tourist Trap but they have changed names and maybe their lineup is a little different.  Anyway, I'm looking forward to hearing them next weekend.

Back to this weekend: let's start off with Lime Green Band at Coconuts Beach Bar & Grill.  You won't hear a better vocalist anywhere than Angeline with range and power to spare.  She also plays guitar alongside bandmates Terry Wilson (guitar), John Murrell and Billy Heiser.  We're into October and happy that this beautiful venue is still open; music continues through Sunday, Oct 23rd.   Tomorrow's shows begin with Dave Hawkins & Joe Mama at noon; then at 4pm, Kevin Poole & Joe Mama.  Both acts are always most enjoyable.  Sunday will be the last performance of the season for the Lauren Glick Band, always a great time.  

Teenage Rust will play on Sunday downtown on the dock at M.R. Ducks.  That's right, I said Teenage Rust at M.R. Ducks (2pm).  Billy Carder says it's taken the band 35 years to get to play there.  It's about time, right?  Billy & Maddy's retirement from the now defunct BJ's (it still pains me to say it) has been wonderful for fans of the band as they have had the freedom to play at other venues such as Coins, Sunset Park and Drydock 28.  Look out, I sense a tour.  That's right - next stop will be Sunfest!  Well, we're all looking forward to all of it, Billy.  Rock on!

Coconut Times welcomes Coastal Smokehouse who have begun presenting live entertainment for the off season.  Last October's performance from Great Train Robbery was such a huge success that they are coming back next weekend, Friday, Oct. 14.  Not sure if there's a theme yet - you'll remember last year it was dress as characters from the hit TV show Yellowstone, and folks went all out.  Easy enough to put together a western style costume, right?  I'll let you know when I know more.  You'll see Coastal Smokehouse in the Who's Where When section now.  That Saturday, October 15, Endless Ember will return.  I really enjoyed The Bilenki Duo there last Saturday.  So convenient for me, too, as it's right at the end of my street: Keyser Point Road and Rt. 50.  Great food and now great music too.  Plus, Tuesday Trivia with DJ Bigler continues to be a big party night out ... and, of course, lots of sports on multiple screens.  

I want to add my farewell wishes to our dear friend Don Wimbrough who passed away this week.  For many years, Don stood behind the keyboards smiling and playing for The Klassix.  When traveling became too taxing, he decided to retire from the band and live in the Ocean City area full time with his beautiful partner Janette.  His talent and desire for playing, however, could not be quenched so when he was invited to play with Old School, he was happy for the chance.  We heard them many times at BJ's and he was such an asset to the band.  I know Linda and company are sad at his passing.  Don will be remembered for more than his music ... he was a special soul who always had a warm and inviting smile for everyone he met.  Heaven is richer for having him there.  He will be missed.

I'm also thinking of my friend Tish Michel who is recovering from knee replacement surgery.  Tish is my music buddy who has been chaffing at not being able to dance recently.  Well, she'll be back on that dance floor soon.  Join me in wishing her a speedy recovery.  That's it for this week.  Enjoy the beautiful Cruisers around town.  Exercise some patience and courtesy on the road.  Party safe, my friends.
«Go back to the previous page.