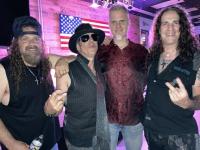 The Rockoholics - Chuck, Tom, Ron & Ken - were awesome at Fast Eddie's.
33 RPM at Coconuts had people dancing with their cool song selections and expert musicianship.
Visit the Windmill Creek Winery this evening to hear Old School.
The Mercury Agenda has a busy weekend playing at Bourbon St. tonight; Harpoon Hanna's early on Saturday, then Pickles Pub Saturday night; and Saltwater 75 Sunday.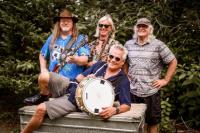 Tranzfusion plays Friday at Harpoon Hanna's.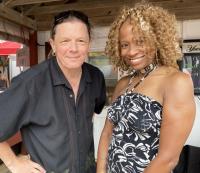 You must hear Rick & Regina Sunday at Coconuts Beach Bar & Grill.
Identity Crisis will play Saturday at the Jungle Bar; and Thursday at Fast Eddie's.
Hi, y'all.  This is gonna be a really short blog this week 'cause I'm sick; but still doing my best to say something and share the photos from last weekend.  Abdominal pain had me in the ER on Wednesday: diagnosis diverticulitis.  So I haven't eaten solids since Monday; hungry and in pain.  I'm beginning to improve but still not good.

I have previously written about the bands I saw last weekend so I'm just going to say that I really enjoyed being out in the sunshine on Saturday and Sunday at Coconuts Beach Bar & Grill.  It was fun sitting with new friends who had never heard The Mercury Agenda and hearing how impressed they were with this band.  On Sunday it was 33 RPM who kept the party going for visitors and locals alike who now count them as one of their favorite bands.

A trip to Fast Eddie's is always a good time; this time to hear The Rockoholics.  Chuck on bass combines showmanship with a growling heavy metal voice while drummer Tom is also expert at showmanship twirling and throwing those sticks in the air - didn't drop them once!  Next is lead singer Ron who also plays guitar along with Ken on lead guitar.  They always put on a solid rock show.

Good times.  Hope to be well enough to hear some music this weekend but kinda doubtful.  I hope you all have a great week and remember to be kind and party safe.
«Go back to the previous page.