Jimmy Charles with his Entertainer of the Year award, on the red carpet at the ISSA Awards in Nashville. Congratulations!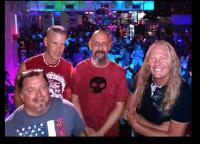 Walt, Chris, Will & Brian of Surreal will perform Friday & Saturday at The Purple Moose.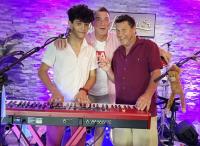 Rock out with Lennon & The Leftovers at Fast Eddie's on Saturday.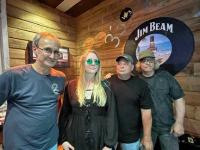 The Lime Green Band will play the Friday party at Coconuts Beach Bar & Grill.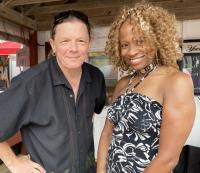 Rick & Regina return to Coconuts Beach Bar & Grill with their awesome music on Sunday.
Hi, y'all.  Thinking about where to begin our weekly 'chat', I'm remembering where I've been each day: Friday at Bourbon St. for Jimmy Charles, then The Purple Moose for Glamour Kitty; Saturday back to Purple Moose for Glamour Kitty; Sunday at Purple Moose for Side Project; Monday Purple Moose again for Rogue Citizens; Tuesday at Shaka for Jess Arms, then Teasers for Separate Ways and awesome Journey music; Wednesday at The View at Cambria for Lauren Glick; and Thursday at Flagship Cinemas to see the latest Thor movie, "Love and Thunder" - what a hoot! So, yeah, I've had a busy week and I loved every minute.

You'll notice, I'm sure, that The Purple Moose lured me back over and over and the same will be true this weekend with the return of one of my favorite bands, Surreal!  I love these guys and their undeniable music talent: Brian (guitars/vocals/keyboards), Walt (guitar/vocals/keyboards), Chris (drums/percussion) & Will (bass/vocals/keyboards). I'll just quote their website to give you an idea of what you will hear: "Surreal flawlessly performs the music of Boston, Journey, Styx, Foreigner, Scorpions, Van Halen, Judas Priest, Bad Company, Krokus, Bon Jovi, Def Leppard, Queensryche, Ozzy, Led Zeppelin, Kiss, Aerosmith, April Wine, Rainbow, Whitesnake, Queen, Warrant, Motley Crue, Black Crowes, Cinderella, Skid Row, Foghat, Rush, Doobie Brothers, Dream Theater, Nazareth, Eagles" and new material added all the time.  Can't wait to hear them again. And The Purple Moose will feature Sunday & Monday entertainment again with Fantasm. Cool!

Okay, so let's back up now, 'cause I want to tell you about Jimmy Charles who I saw with his full band Friday at Bourbon Street. As always, loved the great music; especially his awesome originals including the new one, "Country Up."  The big news: At the annual ISSA Awards (International Singer Songwriter Assoc.), Jimmy Charles was honored to be named Entertainer of the Year. Wow and congratulations!  Nobody deserves it more. Jimmy, who also played at the WMO,  is tireless in traveling far and wide, often in support of several charities.  His new hit, "It's A Maryland Thing, You Wouldn't Understand," is being played everywhere.  We're  so proud of our hometown boy and look forward to having him home again soon. The sky's the limit!

Glamour Kitty was so exciting at The Purple Moose on Friday that I just had to go back on Saturday to hear the first sets I had missed on Friday; and stayed 'til the end!  The players each have stage names and I never asked for their real names but I did hear fan Lea call Stitch, David.  Frontman Stitch sings, plays the guitar, and generally is all over the stage singing to their many fans from Baltimore in the audience.  BagZ on bass is such a fun guy, always smiling and having a great time.  He visited with me during band breaks and kept me laughing.  Drummer Hair is so named, I presume, because he has such a luscious head of hair - all real I was assured.  Most excellent guitarist Rex might be so named as 'king of guitar.' Just saying.  All of these superb musicians perform with energetic abandon and just put on a terrific show.

The same can be said of our local boys in Side Project who hit The Purple Moose stage on Sunday. The core duo of Mike & Jeremy pull out all the stops when they bring in band members Brian on drums, Adam on bass and Gavin on guitar.  I think I wrote about him last week in preparation for seeing them; but I must say again that this young man is the real deal.  He held back nothing as he shredded and jump-kicked delivering another bad-ass performance.  Jeremy was on acoustic guitar for the first set; then picked up his electric for a full-on electrifying second set with Ivorie joining in to amp up the excitement with three guitars. It was awesome! So we had dual guitars and dual vocals with fabulous harmonies from Mike & Jeremy and I noticed Gavin was singing too.  I thoroughly enjoyed this band and hope to hear them again soon in the Home of Rock N' Roll, The Purple Moose.  You can hear them Saturday at Harborside and Sunday at Fast Eddie's.

Sorry, folks, but my hand is going numb; hard to type (carpal tunnel syndrome). Ouch! I have so much more to say but I need to cut it short.  Have to tell you, though, about hearing Jess Arms at Shaka. First, you may be asking what is Shaka? Shaka Pool Bar & Grill is located on Rt. 50 (Ocean Gateway), West OC, behind what use to be The Alamo.  All new with new owners, the pool bar features excellent food (try the Tuna Tower), and excellent entertainment.  I saw Jess Arms playing saxophone but was under an umbrella poolside so I couldn't see the whole rooftop stage and I kept wondering who was playing guitar.  Turns out Jess is a master at playing and recording guitar layers and then looping it so she can pick up her sax and wail.  Wow, how impressive is that. On one song, I counted four layers she recorded, or looped: bass line, percussion by thumping on her guitar, a rhythm guitar layer, then playing her lead - and singing!  And she can really play that guitar, too! Amazing! She has also been playing at Coconuts Beach Bar & Grill so next time she's there, I'm making the scene and you should too.

Okay, so I said I need to go and I'm going to now. I'm off to the Purple Moose for Surreal!  Hope you have a wonderful week and remember to always party safe!
«Go back to the previous page.