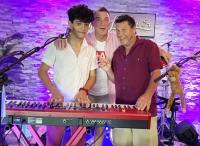 Hear Lennon & The Leftovers Friday at Crawl Street Tavern; and Saturday night at Coins Pub & Restaurant.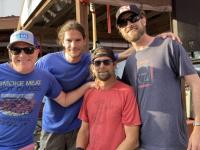 The Dunehounds will play Saturday at Harborside; and Saturday night at Pickles Pub.
What a fabulous Halloween weekend we had here in Ocean City.  Parties galore and so many cool, cute and scary costumes.  I only got to a few parties but I certainly had a good time.  Many people were already in costume on Friday night; some ambitious souls liked wearing something different each night.  I was pretty predictable on both nights starting at Fast Eddie's and ending at The Purple Moose.  You all know I love the music; who else sits right beside a speaker!  The Mercury Agenda was on tap Friday night and they always entertain and impress me.  Then at The Purple Moose JParis played and they were awesome - as usual.  Check out the new lighting system there - pretty cool!

Saturday night was a blast at Fast Eddie's with music by the incredible Lennon La Ricci & The Leftovers.  I always marvel at the talent of this young man who we first saw come onto the scene when he was only 8 years old.  He's an absolute wonder on the keyboard and now he's just as proficient on guitar.  Amazing!  Lennon debuted his latest original titled "White Dress" for us and it was really good.  I've heard all his original material and what strikes me is that each composition is unique unto itself with a varied style as well; no cookie-cutter music from him.  Reminds me of Billy Joel's writing.  I really liked their costumes, too, with Ricky's ringmaster-type suit being quite appropriate and Mike's wild wig kinda illustrating his style of energetic, sometimes frenetic, drumming.  This man can really sing, too.  And Lennon?  Well, he was quite handsome as you'll see from pictures.  I think he was Dr. Strange but with a vampire twist?  Whatever, he looked really good.  We can hear them play tonight at Crawl Street Tavern and Saturday night at Coins.  Come out and join the fun.

Saturday night at The Purple Moose was so much fun.  People really got into the spirit with their costumes and the band added so much, not just with their music, but with costumes, too.  The bass player is obsessed with Freddy Krueger and he looked eerily like him.  He even owns a life-size cardboard picture of the character that they placed at the back of the stage.  Scared me!  So ... Alter Ego for fabulous music with so much charisma from lead singer Jamie that had everyone on the dance floor.  We can always depend on The Purple Moose to bring us the best bands around.  So bummed that live music is done there for the winter; but when they come back, there will also be a brand new sound system.  You know those big speakers at both sides of the stage?  They will be gone providing an unobstructed view of the bands, as well as state-of-the-art sound.  That's gonna be super cool.

So what else is going on this weekend?  Quite a lot, actually.  One of my favorite bands, The Dunehounds, will be playing a double on Saturday starting at Harborside and playing later at Pickles Pub.  Another of my favorites, Side Project, is playing tonight at Fager's Island on the deck at 6 pm.  And at M.R. Ducks on Sunday at 1 pm.  Is this their closing party?  I don't know; their website doesn't even have music listed.  Even though our outdoor venues are closing up, I see that Reform School is playing at Windmill Creed Winery on Saturday and The Bilenki Duo on Sunday.  The cool thing about this venue is that if the weather is bad, they bring the music inside.

It was wonderful to hear the Lauren Glick Trio at Bourbon Street on Thursday.  These guys put on a great show for us.  Just when I thought they, and Lauren couldn't get any better, they do!  Lauren is enjoying all kinds of airplay for her music in her latest compilation called RUSH, most often for her song "Don't Add Up."  If you haven't heard any of this yet, go to any music streaming app and listen up.  Every song is fantastic.  Maybe it's the success she's enjoying with these songs that has given her a renewed enthusiasm; I don't know.  But I do know that she is more animated and her voice is stronger than ever.  Loved it.  Tonight you can hear Rusty Foulke at Bourbon St.; again on Saturday at 4.  Saturday night Brian Thomas' new band Risky Business will perform.

Here's a worthy cause that has the best music there is: Tranzfusion.  It's a benefit and celebration of 50 Years of Serving Our Community for Diakonia being held today at Seacrets at 5:30 pm.  It says advanced tickets only so go online and get your ticket now.

I'm  signing off for now.  I'll probably take a break for a while; at least until I have something I want to say.  LOL!  Keep on enjoying music, my friends, and remember to always party safe.



«Go back to the previous page.