Social will perform Friday & Saturday at The Purple Moose.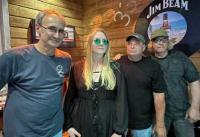 The Lime Green Band will perform Friday at Coconuts Beach Bar & Grill.
Enjoy the music of Rick & Regina Sunday at Coconuts Beach Bar & Grill.
Party with Lennon & The Leftovers Friday at Bourbon St.; Saturday at Fast Eddie's.
COCO NIGHTS 051223

I'm hot!  But I'm still refusing to put the air conditioner in the window.  I have all these beautiful new windows and have been enjoying having them open to the great outdoors with fresh air and views of Springtime flora and fauna coming to life.  I'm not hitting on anything big to write about this week, but I will say that Coconuts sounds like the perfect place to be right now.  There's always a breeze off the ocean, the music is always good, the food and service, too, are excellent.  This evening check in for the Lime Green Band at 4p.  I've always reported that Angeline has one of the most beautiful and versatile voices around.  The band's choice of music is quite varied as well.  Saturday a group I have not heard will play called Royal Flush.  Gotta check that out.  And Sunday the very talented duo of Rick & Regina will perform.  Speaking of voices, there's none better than Regina.  Check out the Who's Where When for the entire week's, entire month's, entertainment.  You can also view their ad on View Advertisers.

I had a blast visiting The Purple Moose last weekend to hear one of their very top-rated bands (staff poll), Doc Marten and the Flannels.  The place was packed and everyone was having so much fun, including the band.  You can expect more great rock sounds this weekend from a band called Social.  Just like their name sounds, they're all about partying with their audience.  Check 'em out.  The dancing never stops at The Purple Moose with DJ Madame Dutchess playing all your favorites during band breaks and more.  Check out Who's Where When for more dates and special times, like Saturdays at 2p.

Beach Barrels has a couple of the best blues bands around this weekend: Lower Case Blues on Friday and Nothin' But Trouble on Saturday.  Remember when Trouble played at BJ's?  I loved that group.  Expect to pay a small cover but it will be worth it.  Lennon & The Leftovers is a good bet for excellent entertainment, too.  You can hear them tonight at Bourbon St. and Saturday at Fast Eddie's.  

Coins has a new band coming in this weekend to play both Friday and Saturday nights called Park Avenue.  I'm curious; how about you?  I had fun, as usual, last weekend hearing The Mercury Agenda there.  These guys are so talented; always a thrill when guitarist Chris breaks out his fiddle and plays rock in grand style.  We had fun back at Coins on Monday for Karaoke w/ DJ Rut.  He will be alternating Mondays with DJ Jeremy; so stop in you can be the entertainment.

That's all I got folks.  Still gathering stories about Joe Smooth from those who knew him best; so be on the lookout for that in the next few weeks.  Happy Mother's Day!  Wishing you all a wonderful day with your families.  Remember to always party safe.
«Go back to the previous page.