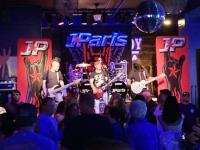 JParis will perform Saturday afternoon at The Purple Moose that now features state-of-the-art light and sound systems.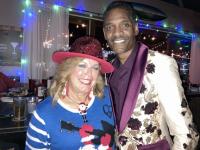 Dazzling Donna with equally dazzling Rodney Kelley at his Thursday show at Bourbon St. on the Beach.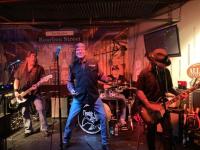 Ramble On put on a rockin' great show at Bourbon St. last week.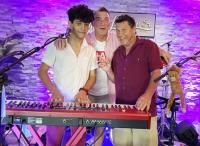 Hear the amazing Lennon & The Leftovers Friday at Bourbon St. and Saturday at Fast Eddie's.
Hi, folks.  Are you enjoying our holiday season here in wonderful Ocean City?  It's always a fabulous time of the year to meet up with friends at all the parties around town.  The Purple Moose was fun last week as the new light and sound systems were showcased.  I'm looking forward to hearing JParis with live rock music tomorrow, Saturday, at the unusual time of 2 pm.  That's right - an afternoon party in part to welcome participants of the annual Santa Con festivities.  It's going to be a blast, so come on out.

I love seeing all the beautiful holiday decorations and Bourbon Street on the Beach is certainly decked out with the added bonus of being able to see the lights of Winterfest across the street ... so beautiful.  Last week I had the pleasure of hearing Ramble On at this OC music mecca.  The band bills their show as a Led Zeppelin tribute, which they do remarkably well; but they're much more than that playing a wide variety of rock tunes.  Mark Marshall on vocals is a charismatic performer with a terrific voice.  Bandmates Aubrey Bradley on guitar and Chuck Leo on bass are extremely talented on their respective instruments plus being fun-to-watch performers as well; so in addition to their musical prowess, stage presence is this band's strong suit as well.  It was an extremely entertaining show.  

I stopped in Bourbon Street last night (Thursday) to hear the fabulous and jazzy guitar musings of Rodney Kelley.  Several years ago when I first heard Rodney at the old Bourbon St., he did not sing.  I asked him why not and he said he didn't think he was a singer.  He did a song or two and I assured him he had a fabulous voice.  Well, I'm happy to report, the man took my word for it and he sang last night; boy did he sing!  It made me so happy to hear him reach his full potential and he looked as snazzy as ever (another request I made because we all like a little bling on our entertainers, right?).  Added bonus: his beautiful friend Renee was with him to sing hit after hit from pop to R&B to Motown.  Wow, that gal can sing.  My favorites?  "Midnight Train To Georgia" a la Gladys Knight and "I Will Always Love You."  She was amazing.  Sure hope they come back again soon.

Another act I continue to enjoy is Lennon La Ricci and The Leftovers.  We can hear this amazing trio perform this weekend at Bourbon Street on Friday and Fast Eddie's on Saturday.  (Yes, Fast Eddie's is reopening this weekend.)  If you've heard Lennon play, I don't need to tell you this guy is absolutely amazing.  If you haven't heard him, then you need to get out there and check him out.  And, by the way, I can't call him a kid anymore because he just celebrated his 22nd birthday.  Many of us have watched him grow up since he first played keyboard alongside dad Ricky when he was about 8 years old.  He's a young man now and more accomplished than ever: playing other instruments (guitar, harmonica, bass) and writing his own material.  Right now he is about to record a video for his latest composition, "White Dress." If you want to hear some songs from his album, Bird On A Wire, go to YouTube.  I have to also mention that the trio has flourished with the addition of Mike Valenti on drums who has an affinity to know just what and when to complement Lennon's playing, as well as adding vocal backups and some lead vocals as well.  Naturally, dad Ricky is quite proud of his son as are we all.

That's my update for now, friends.  I probably left out a bunch but I told myself this would be short and sweet and I've already written more than I thought I would.  So ... I'm getting ready now to go to Dry Dock 28/Buxy's Salty Dog (Friday) for their Christmas party where Teenage Rust is set to entertain us.  This band is always so much fun and it's always great to see the old BJ's crowd get together.  See you there.  Have a joyous Christmas season and remember to always be kind and always party safe.
«Go back to the previous page.