33 RPM played to a packed house last Saturday at Bourbon Street on the Beach.
Marcella Peters & Sean O'Brien made beautiful music at Coconuts Beach Bar & Grill.
Surreal last week at the Purple Moose singing "Girls Girls Girls!"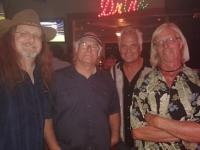 Tranzfusion is slated to play tonight, Friday, at Bourbon Street on the Beach and Monday at M.R. Ducks.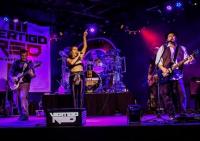 Vertigo Red is the rockin' band taking the stage at the Purple Moose both Friday and Saturday nights.
Hey, party people! It's Memorial Day Weekend - the official start of the 2021 season. It was beginning to feel like we were going to be locked down forever during the awful pandemic; but as more and more people get vaccinated, we are seeing case numbers lowering to the point that we can get back to the 'business' of having fun. I know I feel safer with two shots done and don't need to wear that mask (usually). I'm hoping that more people make the decision to take the safe route and get vaccinated. That's what's making it fun for me to write again; because I can go out and have something to write about.

Case in point: last week I had a blast at The Purple Moose seeing and hearing the ultra talented musicians of Surreal. I believe singer Walt announced to the crowd that they have been playing there for 27 years. Hard to believe because their performance is just as energetic and compelling as ever. It was a poignant moment when guitarist Brian toasted to the memory of departed owner Gary Walker and acknowledged Gary's contribution to the music community. We miss him dearly. Will on bass is just as crazy as ever even though he doesn't have that long hair to fling around anymore. And since drummer Rene moved to Atlanta, their new drummer is Chris Hanson who did a fabulous job. You can see his picture in Fun Fotos. It was a really fun night with great friends and great music. Let's do it again tonight and Saturday night with Vertigo Red. This band has a huge fan base and deservedly so. They maintain a level of energy and musical prowess that keeps their audience on the dance floor til closing. The firecracker singer Brianna is home on maternity leave but I'm here to tell you that her replacement, Carolyn, is just as entertaining. I caught her with the band the last time they were here. So maybe I'll see you at The Purple Moose!! Oh, and because it's a holiday weekend, Bobby has scheduled Alter Ego to play for us on Sunday and Monday. Let's keep the party going!

Saturday night was the first big blowout at the new Bourbon Street on the Beach at 126th St. (behind Holiday Inn). 33 RPM did the honors and it was massive fun. Larry on guitar, Mike on drums and Rock on bass always put on a great show and this was no exception. Check out all the pictures in Fun Fotos. Tonight will be epic as Tranzfusion will take the stage. Maybe you can come early and enjoy the music of Dave Sherman on the deck before the big show. This is probably the first indoor gig (unless you count the deck at Fager's) for Bob, Al, Bobby & Hank in more than a year and I know all their fans are so excited to see them. Enjoy! There's much more to their lineup including the resurrection of Wednesday Open Mic. Al, Tranzfusion bassist, was there and he brought his young son James to sit in on drums; he did a fine job too. There was a whole cast of musical characters performing for us. You never know who might come by. I wasn't there, but Larry (Baby Huey) sent me a picture of First Class sax man Danny Dolan who stopped in on Thursday to play with Randy Lee & friends. You're gonna love the new Bourbon Street.

I thoroughly enjoyed hearing Marcella Peters sing at Coconuts Beach Bar & Grill this week. Accompanied by Sean O'Brien on guitar, Marcella sings a wide variety of songs, always pitch-perfect and so wonderful to hear. Marcella is that rare combination of beautiful voice, beautiful presence and beautiful soul. Be on the lookout for her next performance - you'll be happy to hear her. Meanwhile, enjoy the music of Time Police tonight and Rick & Regina, another fabulous vocalist, on Saturday night. Check out the Who's Where When listing and you'll see that Coconuts continues to present live music every day, two shows a day. Such a beautiful setting and I love the food too.

Time for me to check out here and get ready to party. Have a great week and remember to always party safe!
«Go back to the previous page.