Bourbon Street on the Beach owner/chef Barry sat in with Shots Fired.
As always, Surreal put on a great show to a full house at The Purple Moose.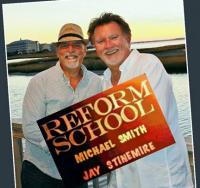 Join Reform School every Wednesday at Bourbon St. on the Beach for Open Mic; Mondays at the Caribbean Pool Bar Plim Plaza.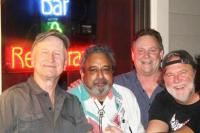 Repeat Offenders will perform Saturday at Bourbon St. on the Beach.
I'm baaack! I'm so proud of myself; this is my eighth column so far, and I'm doing my best to give you a little music news each week. I sure hope you are enjoying it as much as I enjoy 'talking' to you. I'm going to try and keep this one short because it's getting a bit late on this Friday and I want to get out for some music.

Last Friday it was everything and more that I have loved for years from Surreal at The Purple Moose. I missed them last time they were here so I wanted to hear it all. I noticed some new songs at this show; maybe not new to their act but for me they were. It amazes me that they still perform at the top of their game after so many years together and that fans, and newcomers, pack the house every time they're here. They never rest on their laurels but give it their all each and every show. It's been a long time since I hung out with Walt, Brian & Will but I did just that, going to the famous (or infamous) band house after the show. Sitting around the table (the old carved-up one is now history; those who have been there know what I'm talking about), laughing and singing with these talented guys and friends was a real hoot. Cristilee had me laughing so much my face hurt. Thank you, my friend. They will be back on August 20-21; if you haven't heard them yet, GO. This weekend another very popular band, Vertigo Red, will return to the huge Purple Moose stage. I think it's still too early to expect Brianna to be back; she gave birth to daughter Navy Rose a few weeks ago. I'll try to let you know when she will return. Not to worry, though, the awesome show goes on with the talented Carolyn standing in for her. The Purple Moose will continue to rock with J Paris playing Sunday and Monday nights. So be sure to hit the Boardwalk for great music, cold cocktails and the best bartenders around.

Bourbon Street on the Beach is still rockin' our faces off with phenomenal music almost nightly (check the Who's Where When listing). Last Sunday I made the trek (I live in West OC) to hear Shots Fired. Danny Shivers on guitar is a true rock player and singer; you can also hear him with his band Kings Ransom. Dom Mamana plays bass and Chris Bailiff on drums both sing as well. The power force in the band is singer Brian Thomas. The man has an incredible range and great showmanship too. Check them out when you get the chance. Lennon La Ricci & The Leftovers start the weekend off tonight. Audiences are always so impressed with the talent of Lennon on keyboard; he also plays guitar & harmonica. Dad Ricky plays guitar and sings so many of our favorite tunes and Mike on drums is dynamic and sings some as well. Guaranteed fun. Repeat Offenders will take the stage Saturday night. I've seen them a few times at Open Mic Night but not their full show. They are Tom on guitar/vocals, Steve lead guitar/vocals, Irv bass and Rod drums. Let's go check 'em out. Speaking of Open Mic, this Wednesday night tradition at Bourbon Street is off the charts. It is hosted by Reform School - Michael Smith & Jay Stinemire w/ Eddie Saah on bass - and it draws amateurs and professionals alike who just enjoy playing and jamming with Michael & Jay. Check out a couple of the pictures I took in Fun Fotos. This week they were joined by Jay's old band members on trumpet and trombone for a few songs and the crowd went absolutely wild. I'll tell you more about them next week; sure hope they come back again soon.

Before I go I have a special show to tell you about that will take place on Wednesday July 28th at the Sinepuxent Brewery on Rt. 611, West OC. Dubbed "Worcester Backs The Blue" it is First Responder Appreciation Day with entertainment by one of my favorites, Tranzfusion. If you haven't visited this venue yet, I'm sure you're going to like it. It's an outdoor stage with picnic tables that is family friendly; there are a few goats and ducks for the kids to see. Have some fun while raising some money to support our hard-working folks in blue; starts at 4 pm.

That's about it for now. I'm going to head over to Mulligans, right in my neighborhood, to hear the Beach Bandits. Oops, they started at 6 pm and it's already 6:30; gotta run. Have some fun, stay cool and remember to always party safe!
«Go back to the previous page.