33 RPM rocked Fast Eddie's last Saturday.
Bourbon Street was on fire with The Mercury Agenda.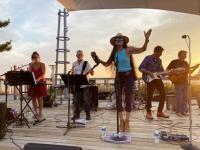 Teenage Rust is slated to perform at M.R. Ducks on Sunday, October 9 at 2 pm.
Hello out there.  Gray skies and blustery winds: yeah, I just want to take a nap.  But I'm going to muster up some energy and talk to you all first.  Ian sure is kicking some butt and though we haven't even met him yet, he has already wreaked havoc with our weekend plans for great music at Oceans Calling.  Too bad but we didn't really want to stand in the rain all weekend so it's for the best.  Let's just hope we get some of the same acts coming back next year even though, of course, there are no guarantees of that.  Obviously outdoor venues such as Coconuts have been cancelled but there are still some places to go hear live music, as of now, anyway.

So, let's recap a bit of my exciting outings last weekend.  I managed to hit two of my favorite venues for two of my favorite bands last Saturday.  I started at Fast Eddie's where 33 RPM delivered yet another electrifying performance for their loyal fans.  Resident guitar wizard Larry Biegel treated us to a double dose of Peter Frampton hits with "Do You Feel Like I Do" and "Show Me The Way." Being curious of how Larry, like Frampton, made his guitar 'talk,' I decided to look it up and here's what I found:  "He attached his amplifier to a "talk box" gadget, which consisted of a speaker linked to a long tube.  Because the lips produce a sound that is extremely similar to speech, the rich harmonics of an electric guitar are sculpted, causing the instrument to appear to 'talk.'"  That's somewhat simplified but there's nothing simple about Larry's performances.  I've mentioned before how he intros some songs with an organ sound or he can synthesize horns with a touch of his toe to his 'magic' pedals.  I find him endlessly entertaining.  Not to be outdone, bandmates Mike Beavan on drums and Rock Rollain on bass are equally entertaining.  I love to watch Mike's exuberance as he bounces out of his seat while doing most of the vocals and also changing hats according to the decade or genre of the music he's playing.  And Rock?  Well, that guy is rarely still as he headbangs or rolls his long hair around while laying down some of the best bass lines of anyone in the business.  Okay, you get the idea: they're great!  

I pulled myself away because I also wanted to hear The Mercury Agenda playing at Bourbon Street on the Beach.  These guys always manage to impress me, too, from Doug's great vocals, to Chris' amazing guitar to Dave's incredible drumming.  I missed the dual lead guitars this night as Nalen was called on to play bass since usual bass man Austin was not present (someone's wedding, I think).  Anyway, they were still dynamic with fans jumping around on the dance floor, really getting into the groove.  Good to see and hear them as it had been a while.  Led Zeppelin tribute Ramble On is schedule there tonight and Rusty Foulke is scheduled for Saturday there this week if the weather doesn't stop him from traveling from Penn.  Always a good time at Bourbon St.

Sunday was a blast at Coconuts Beach Bar & Grill for the annual Tipsy Turtle Bahamas Vacation Contest.  Check out the pictures in Fun Fotos and see Jessica Overshaw's happy face as the big winner.  You could win next year.  Just show up on Tuesdays, order a Tipsy Turtle cocktail, fill out the weekly drawing card and you could be part of the excitement.  It's always even more fun when friend Janet hosts her party and we get to mingle with good friends and eat yummy food.  The music was awesome too, with Rick & Regina for the early set and Colossal Fossil Sauce after the contest.  A good time was had by all, for sure.  Many have asked me if that was the closing party.  No, it was not.  Coconuts will continue to present live music thru the weekend of October 21-23 which is also Sunfest this year.  Of course, they have cancelled this weekend due to the storm.  Check out the Who's Where When list to see upcoming acts.  Remember, there's a little arrow that will take you to future weeks.  Speaking of future weeks:  The Dunehounds will have one more date on Friday, Oct. 21.  This is another of my favorite groups who are playing a double tomorrow.  That's right. They'll be at Harborside at 1 pm and at Pickles Pub at 8pm.  

Last Friday was the first live act of the year at Coastal Smokehouse in West O with Jack Worthington & T Lutz playing.  What a wonderful evening of fine music and good food that was.  The weather was beautiful so the patio was opened; just delightful.  I understand The Bilenki Duo will be there tomorrow - love them.  Music starts at 4 pm.  Great Train Robbery is coming back later in October.  More on that next time.  It was a blast last year.  Maddy & Billy Carder stopped by and reminded me to remind you that their band Teenage Rust will be performing Sunday, October 9th at M.R. Ducks at 2 pm.  Now that's a guaranteed good time.  

The Purple Moose has me a little confused as their ad says that Eclipse will be there Saturday night but I see a New listing on oc beat for G Love & Chuck Treece at 7 pm.  Sounds like a special deal so I'm gonna go with this latest update.  $25 at the door.  Whatever you do this weekend, avoid flooded areas and use more than usual caution on the road.  Party safe and live to party another day.
«Go back to the previous page.