Tonight's Crush at Coconuts Beach Bar & Grill.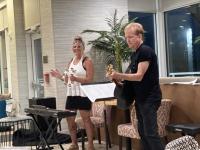 Lauren Glick & Dane Williams will perform Friday & Saturday at The View in the Cambria.
Tranzfusion will play Saturday at OP Yacht Club; Sunday at Beach Barrels; and Labor Day Monday at Fager's Island.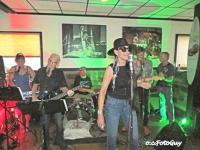 Party with Teenage Rust Monday at Coins.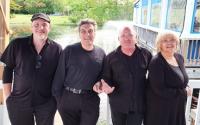 Enjoy the sounds of the Billie Carlins Group Sunday at Southgate Grill.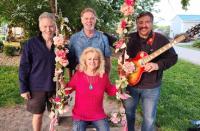 Have fun with Old School Friday at the Golden Sands and Saturday at the Jungle Bar.
Hello music fans and friends of Coconut Times!  I'm finally back!  The last time I wrote to you was June 23, the beginning of my awful bout of shingles.  It still hurts but hopefully it's on its way out; or perhaps I should say 'way in.'  As you probably already know, the shingles virus lies dormant in those of us who had chicken pox and it seems to come out during a health or emotional crisis.  Please get your vaccine against this; it's pretty bad.   I sure wish I hadn't put it off and I'm planning to get the shot in six months.  

I missed the whole summer of fab music in our wonderful town; but I'm happy to be getting out a little now.  I have heard Lauren Glick a few times at The View in Cambria and plan to hear her again Saturday with Dane Williams on guitar.  Lauren is competing for a spot called Opening Act and has reached the quarter finals out of a field of 17,000!  The winner will open for Maroon Five, Kelly Clarkson and others and it is also a benefit for the American Foundation for Suicide Prevention.  You can vote for Lauren by going to her facebook page where you will find a link.  Here's rooting for our home-town girl to take the big stage at the Prudential Center in New York.

The incentive to venture out to Coconuts Beach Bar & Grill was most tempting last Sunday to hear Heather Vidal.  Now, she was playing at noon which is about when I'm eating breakfast, so it was quite the accomplishment for me to go out that early.  This lovely lady is such a wonderful vocalist and is quite accomplished on guitar as well.  We enjoyed all of her song choices which included a few of her really good originals.  As the show was ending, I requested "Over The Rainbow" which Heather does so achingly beautifully.  What is it about that song?  As Heather said, "The message is really about hope and dreams."  Yes, "dreams really do come true."  It was also good to see John LaMere (he played at Coconuts in the past) visiting from Key West and meet his lovely lady Melanie.  John is a resident performer at Willie T's and enjoys seeing all his Ocean City friends when they visit him there.  See the pictures in Fun Fotos.

Next up was a group called Tonight's Crush featuring Megan Elizabeth on vocals, Madame Dutchess on guitar/vocals, Jason Mitsch on bass/vocals and new to the group, Mike Hughes (also of Cecilia's Fall) on drums.  I gotta tell ya, I was most impressed.  They started their first set with a Sheryl Crow song, "Soak Up The Sun" and continued with one great hit after another.  Madame was kind enough to send me their set list so I can tell you there were 13 songs, among others (in just the first set), by top female artists; such as: Melissa Etheridge, Tracy Chapman, Dolly Parton, Shakira, Lorde, Roberta Flack, Miley Cyrus, Christina Aguilera, Pat Benatar, Britney Spears, plus a few country hits from artists Carrie Underwood and Gretchen Wilson.  I told you it was impressive; but, of course, it was the performers who made it so.  Megan has a fabulous voice with perfect pitch, range, power and a unique trill in her vibrato.  I enjoyed her vocals immensely.  Madame did a great job on harmonies and a few solos as did bassist Jason.

Looking at the set list again reminds me how truly wonderful their show was.  Shania Twain's "Feel Like A Woman," Miley Cyrus' "Flowers," Taylor Swift's "Love Story," Lady Gaga's "Just Dance," Elle King's "Ex's & Ohs," plus so many more.  The third set is power-packed too with music from Blink, Lizzo, Dua Lipa, Pink, Kesha and Rhianna; and I'm just highlighting the female artists.   There's so much more, folks, so I'm just here to tell you that you need to check out this band.

Coming up at Coconuts this Labor Day Weekend is Darin Engh playing right now in his usual Friday slot with Beg To Differ taking the stage at 5p.  Saturday enjoy The Permilla Project and Zion Reggae Band. And Sunday you will hear Endless Ember at noon and The Big Laird Band at 5p.  I'm going to try to make it for another Sunday Funday because I want to her Sarah Robins of Endless Ember.  Sarah has a wonderful voice and also plays the flute; pretty cool.  In Fun Fotos you'll see a picture of her with partner Chris Sajadi (of The Mercury Agenda) and the hosts of Delmarva Life when they performed there.  Sarah has several partners who perform with her including Neil Helgeson, Zach Simms, Matt Robins, Rick Gunter and her collaboration with Lauren Glick.  In fact, Sarah is the backup vocalist for Lauren on her album Lush and on the upcoming CD Maybe I'll Run.  

Gee, I didn't think I would have so much to say, but there you have it and I'm thinking of more, life going to see "Barbie" for my sister Amy's and friend Tish's birthday.  What a hoot!  Two great bands are playing Labor Day Monday: Tranzfusion at Fager's and Teenage Rust & The Fabulous Rustettes at Coins. There's so much to do and so many great bands to hear in Ocean City - and Berlin, too.  Get out and have some fun; I love the off-season!  Always party safe and be kind.
«Go back to the previous page.