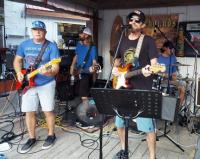 The Duneshounds will play the last two Wednesday parties at Coconuts Beach Bar & Grill.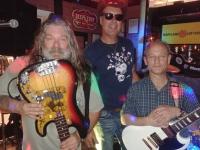 33 RPM leads the Friday party at Coconuts Beach Bar & Grill.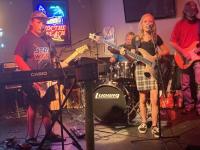 The Home School Dropouts are slated to play Thursday at Bourbon Street on the Beach.
It was a red-letter day last Sunday, October 3rd, for Elizabeth Rappaport Marker. First, it was her birthday. Secondly, it was her three-year wedding anniversary with David Marker. But probably more importantly on this particular day, Elizabeth was the big winner at the annual Tipsy Turtle Contest Party at Coconuts Beach Bar & Grill. For those of you who don't know what that is, let me explain. Each Tuesday during the summer, Coconuts invites their guests to enter a drawing by ordering a Tipsy Turtle, their signature cocktail. Now, guests come from near and far every week at the Castle in the Sand Hotel. Elizabeth is from Ridgefield, Connecticut. Each weekly drawing winner is invited back for the final drawing and given free accommodation to boot. What a deal! So Elizabeth already had a great birthday and anniversary gift just being able to return to the Castle in the Sand's Coconuts for the party. The grand prize is a vacation at the Castle's sister resort, Green Turtle Cay Resorts in Abaco Bahamas. Following that theme, numbered turtles are placed in a pool and are drawn one by one, eliminating those whose numbers are drawn. It was absolutely Elizabeth's lucky day as lucky 7 was the last turtle floating in the pool! Congratulations to Elizabeth and thank you for sharing your story with us. Take a look at all the pictures in Fun Fotos and remember, you too could be a winner by entering next summer. Thanks to owner Adam Showell for this generous and so much fun annual event.

Hey, you should get over to Coconuts right now where 33 RPM is playing their last show of the season there. Still a couple weeks to enjoy live music at this most beautiful location so make sure you go as often as you can. Tomorrow Dave Hawkins & Joe Mama start off the day at noon; then Joe Mama will stick around to drum for Kevin Poole. Sunday's party will feature the Lauren Glick Band - always epic fun. I heard The Dunehounds last Sunday and I have to say, they are one of my very favorite bands. Sean Loomis on guitar has such an easygoing peaceful demeanor in his singing voice (and a beautiful smile) while still kicking up excitement with his guitar playing. Troy Mawyer is also dynamic on guitar, ably and beautifully complementing Sean. Bassist Kasey Briggs brings the heartbeat thumping along with drummer Adam Bilenki. I count Adam as the secret weapon who always surprises everyone with his awesome vocals, both solos and wonderul harmonies with Sean. It always tickles me to see people looking around to see where that voice is coming from. The group tells me they are planning on rehearsing over the winter to shake up their set list by adding new material. I must say, their musical range is quite impressive - eclectic is the word often used to describe it. I just say there's not a bad song in the bunch. We can hear them twice more at Coconuts, the next two Wednesdays, before their closing party on Sunday, October 17th with music by Monkee Paw. I sure am going to miss all the great music there. Hard to believe summer is winding down and almost over. I know, it's technically Fall but the weather has been great and don't we love stretching it out to get all the fun times we can.

The Purple Moose has only a few weeks left of live bands on their legendary stage and I'm sure going to miss them too. Check out the John Frase Project this weekend and SLAMM next weekend. The Halloween party on Saturday, October 30th, featuring Doc Marten & The Flannels will wrap it up for the Purple Moose, though I believe they will remain open for a while - grab yourself a famous Bloody Mary while walking the boards.

Thank goodness our friends at Bourbon Street on the Beach will continue year-round to present lots of great live entertainment. A mainstay for several years now has been their Open Mic Wednesdays hosted by Reform School. If you have a talent you want to share, come on out to Bourbon St. and join the party. And we can hear Randy Lee Ashcraft and Mickey Meiklejohn every Thursday plus great bands every Friday & Saturday. I hear young James Fegely and his Home School Dropouts will perform next Thursday. So much always happening there. Check their website and facebook.

That's it for now, folks. Time for me to join the party somewhere. I hope you have a wonderful week; enjoy the weather and always party safe.




«Go back to the previous page.