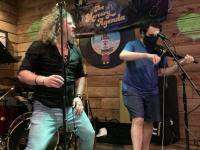 Guitarist Chris, w/ Doug & The Mercury Agenda, impressed the Fast Eddie's audience playing electric fiddle.
Tripwire, featuring Eugene on electric fiddle, rocked The Purple Moose last weekend.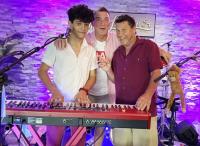 Party with Lennon & The Leftovers Friday at Bourbon Street; Saturday at High Stakes.
Check out Colossal Fossil Sauce playing Sunday at Coconuts Beach Bar & Grill; love this throwback photo of Brad & Ryan from 2010.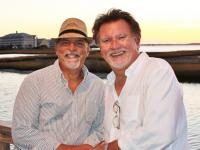 Reform School will play Saturday at The Boozy Egg; every Wednesday at Bourbon Street.
Lime Green Band will perform Thursday at The Jungle Bar.
Here we go again; time for our weekly 'chat.'  Summer, please slow down!  I went from hitting every outdoor music venue in the Spring to doing my best to avoid the heat now; but that doesn't mean I'm wishing for September.  I do wish our incredible music scene would last all year, though.  I know, I know, that wouldn't make sense; I'm just fantasizing.  So, what have you all been up to this week?  Despite missing a lot of daytime shows of acts I would love to hear, I've been pretty busy listening in air-conditioned venues.  Thank God for AC, right?

I started my weekend on Friday at Fast Eddie's where The Mercury Agenda had the crowd up on their feet dancing the night away. I continue to marvel at the musical prowess of these players who are so talented and versatile; and, yes, I keep saying they're also young.  I guess I find that fascinating not just because of their abilities, but also because they play a lot of the music from past decades that I love by such greats as Hendrix, Zeppelin, Guess Who, Doors; in fact those artists were featured in a segueway medley performance of their top hits.  Pretty cool arrangement.  Another cool medley was "Sexy Sanctuary" right into "Come Together" then Cream's "Sunshine Of Your Love."  Loved it!   Again with the versatility, we see players switch guitars, share vocal leads and sometimes feature cool guitar duos.  Most excellent players.  Front and center is singer Doug punching out the tunes with power, conviction and a lot of swag.  He is also most generous in sharing the stage with artists he admires - case in point, Sarah Robins who performs with an act called Endless Ember.  She took the stage and sang "Rhiannon" and "Black Velvet" to the roaring approval of the audience.  Even bartender Tyler got in the act playing bass on a song with the band.  Guitarist Nalen stepped up to play on Rage Against The Machine's "Bulls On Parade" (Nalen also absolutely shredded on "Freebird!") with bassist Austin taking the mic to growl out the song in true heavy metal fashion - while guitarist Chris filled in on bass.    Chris is also remarkable in that he plays the electric fiddle that really gets the audience electrified, too.  

Electric fiddle was the theme of the weekend as I learned when I next visited The Purple Moose where Tripwire was playing.  Eugene had the audience riveted and cheering when he played the classic "Devil Went Down To Georgia," among others.  It certainly was rousing but not as unique as I might have otherwise thought had I not just come from hearing Chris play some of the same tunes.  Tripwire's lead singer Bruce is one of the most versatile and powerful vocalists I've heard who also possesses that rare charismatic ability to engage the audience; indeed he had them singing with the band on many songs.  Mike on guitar, Matt on bass and Chuck on drums all presented a show that covered so many genres of musical styles.  Incredible!  In fact, I liked them so much that I made a point of going back on Saturday so I could hear the first sets I hadn't heard the night before.  Again, the crowd was on fire; frequently jumping with hands in the air.  I noted that just like when Surreal plays, the audience crowded the stage as if at a major concert, just drinking in every note and move.  I asked the bartenders what they thought of Tripwire and there was no hesitation as they answered; and judging by what I was witnessing, was no surprise.  Tripwire was their favorite with Doc Marten & The Flannels coming in second and High Voltage third.  They hear these bands often so I respect their opinions, for sure.  Visit The Purple Moose this weekend to hear Glamour Kitty Friday and Saturday; then come back on Sunday for a special encore performance of local band Side Project fronted by long-time favorite duo Jeremy Brink and Mike Trader w/ Brian McKenna on drums.  Featured on electric guitar is Gavin who has really been making a name for himself.  Dad Jeremy's latest source of pride is the interest from Fender in a possible sponsorship.  Wishing Gavin all the success for which he has worked so hard; although, if you ask him, I'm sure he would say it's tons of fun and he's living the dream.  We'll probably see his girlfriend Ivorie join him onstage playing lead guitar alongside him for some songs.  Not sure who the bassist will be this time but probably DJ Adam Dutch.  Their show was off the charts last time so I'm really looking forward to hearing them again.  But that's not all, folks.  On Monday night The Purple Moose will feature another local up and coming  trio who call their music style reggae/rock: Rogue Citizens.  Mike Chester on guitar/vocals is joined by Nick Clark on bass and Scott Glorioso on drums/vocals.   Come out and support our local musicians who really deserve to have a shot at playing on the greatest stage in Ocean City - The Purple Moose.

Coconuts Beach Bar & Grill was the hot spot on Sunday with the return of The Lauren Glick Band.  It was a glorious day of sunshine, good friends and amazing music from this bluesy lady who continues to be lauded for the songs on her latest CD LUSH.  This week I see that her picture is on the cover of Making A Scene, Independent Musicians Magazine.  The momentum is building for our locally famous singer/songwriter and we are all excited to see where this will take her.  Check her play schedule at laurensings.com

Tuesday I ignored the heat (turned out the breeze off the water made it very comfortable) to go to The Angler for the farewell performance from Rita Conestabile with Michael Smith as Pearl.  Yes, our songbird has flown back to her new home in Bradenton, Florida, but she promises to return often and we're holding her to it.  It was a pleasure to meet the man in her life, Pete, also a musician, who played and sang a few songs with her.  Rita told us they will perform as a duo with the working title of Pete & Sweet.  We all wish them much fun and success.  

There are lots of pictures of all these events on coconutimes.com Fun Fotos as well as on facebook complements of all our music-loving friends.  Keep on partying and enjoying our most excellent musical community.  Until next week ... party safe!
«Go back to the previous page.