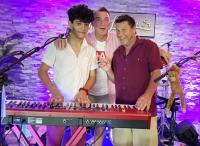 Lennon & The Leftovers have a busy weekend starting Friday at Coins; Saturday at Fast Eddie's; and Sunday at Bourbon Street.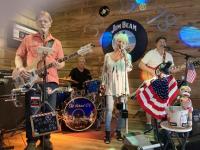 Old School will play Wednesday at Fast Eddie's.
Party with The Lime Green Band on Thursday at Coconuts Beach Bar & Grill.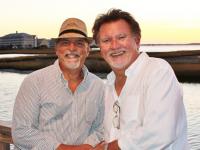 Visit Blu Crabhouse Saturday to hear the amazing sounds of Reform School.
The Lauren Glick Band will perform Sunday at Coconuts Beach Bar & Grill.
Can you believe it? It's Labor Day Weekend!  I don't know about you, but I'm not ready for summer to end.  Well, thank goodness, it's not really.  I've been exploring upcoming Fall events in Ocean City (ococean.com) and there are some pretty exciting things coming up:  The annual Wine on the Beach will take place September 9-10; and that's just the beginning.  Something new is coming to the Convention Center called OC AdventureFest September 21-25.  There are many events during the day; but what shines to me are the musical acts offered at night in the Performing Arts Center.  Get your tickets now for these exceptional acts:  Sam Grow & Luca Hoge; Lonestar; Kashmir; and Pricilla Block.  Beginning September 30-October 2 is the new event everyone's been talking about: Oceans Calling.  We're gearing up for some big name acts; such as Dave Matthews, Dirty Heads, O.A.R., The Lumineers, Alanis Morisette, Cage The Elephant, Cyndi Lauper, and so much more.  There are still tickets available so check that out now!

Sunfest is moving to late October this year (20-23) and is all FREE! That's right; every show is Free!  The layout will be different this year, too, as the Beach Stage will be set up facing the ocean with seating on the beach (bring your chair).  Acts include: Chris Sacks Band; The Hubcaps; Super TransAm; Monkee Paw; Lombardy; Starship featuring Mickey Thomas; Rick K and the Road Trip; Romeo Delight; Lauren Glick; Real Diamond a Neil Diamond Tribute; and The Reagan Years.  Then more entertainment on the Midway Stage: Mike Hines & The Look; Kristen & The Noise; our own Teenage Rust; Back to the Beach; Jordan Matthew Young; Guys in Thin Ties; Jesse Garron Elvis Tribute; The Jets music of Elton John; Earth, Wind & Fire tribute; Island Fusion; and Gary & The Groove.  What stood out to me with this new set-up is that each musical act is listed for an hour and-a-half, instead of the 50 minutes in the past that was just never enough.  Good thinking, organizers, for many reasons.  I'm looking forward to this and praying for good weather.

I had kind of a slow week 'til now.  Needed some rest.  Last Friday I caught Lennon & The Leftovers at Coins and had a blast.  They return tonight for an encore performance.  It always tickles me how people react seeing Lennon perform on the keyboard for the first time.  They get so excited and say things like, "How is this kid not really big?"  Well, he's big to us already, right?  And, "He needs to go on "The Voice" and be discovered!"  Well, we've already discovered him ... since he was 8 or 9 he has charmed us with his musical ability that now at 22 has grown to include guitar, harmonica and bass.  Oh, and did I mention that he's also a singer/songwriter with his album Bird on a Wire.  Lennon is a treasure, to be sure, and he's backed by two incredible performers in the person of dad Ricky on guitar and Mike on drums.  If you haven't seen them yet, do yourself a favor and head to Coins tonight! If you can't make that, how about Fast Eddie's on Saturday night or Bourbon Street on Sunday.  It's a Leftovers kind of weekend.

Speaking of Fast Eddie's, it has been a real pleasure to represent them this summer and I want to wish them all the best over the winter, including for their new restaurant Union Chesapeake Seafood in the former Phillips location.  Check the Who's Where When listing for this weekend's entertainment; plus, this may be the last Wednesday for Old School for this season.  Linda, Erve, Vincent and Frank do a wonderful job of creating an exciting musical experience that brings out the smiles and leaves you with a warm feeling every time.

As usual, I had a terrific time at Coconuts Beach Bar & Grill this week with the highlight being a performance by John Remy on Monday at which we also celebrated sister Amy's and friend Tish's birthdays.  It was so nice to spend time with them both.  This week be sure to come out early on Sunday to hear Jess Arms.  She's the talented young woman I told you about a few weeks ago; by now many more have heard her as she played at Bourbon St. this week.  Jess is a master at looping her musical layers as she plays guitar so that she is her own accompaniment while playing sax.  It's so much fun to watch and listen while she does this.   And, to top it off, she has a distinctively different vocal sound going from a feminine fragility and lilting vibrato to a power delivery that makes you look to make sure she's the one singing.  Mesmerizing.  I wish I could say that I'm going to her show but if you know me, you know that I'm just waking up at noon.  LOL!  Sunday afternoon it's the incomparable Lauren Glick playing with her full band.  It's been a pleasure to hear her up close and personal on her keyboard during her one-woman shows this summer at The View in The Cambria Hotel. She played her last one this week; but we're all hoping for some winter shows as well.  Call up and request her ... the power of the people is mighty.  Tuesday one of my favorite bands, The Dunehounds, will perform at Coconuts and Thursday the equally talented Lime Green Band will perform for us.

You're always guaranteed a good time and a great band at The Purple Moose and this weekend promises the same; in fact, in honor of the holiday weekend, the live music extends to Sunday and Monday nights.  Get started with Alter Ego Friday and Saturday nights and come back for an encore performance of Vertigo Red Sunday and Monday (saw them last week).  Even if a band is not playing, you can count on DJ Adam Dutch or DJ Rut to play all the tunes that keep you on the dance floor.  The world-famous Purple Moose will take good care of you from their award-winning Bloody Mary to their staff of handsome and friendly bartenders.

Whatever you decide to do this week, just remember to always party - and travel - safe.  If that means slowing down for another driver or watching out for pedestrians, just do it.  We should always look out for one another.  'Til next week, see ya!
«Go back to the previous page.