33 RPM drew a huge crowd with their high energy style Saturday at Bourbon St. photo by Terry Sullivan
The Purple Moose was rockin' out to the music of Bad w/ Names last weekend.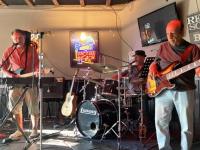 Reform School Band played a reunion show Sunday at Bourbon St.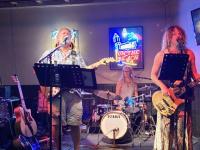 The Lauren Glick Trio (Steve, Kelly & Lauren) played a great show Thursday at Bourbon St. on the Beach.
Alter Ego will play to shows, Friday and Saturday, at The Purple Moose.
Don't miss the appearance of renowned guitarist/vocalist Rusty Foulke Friday & Saturday at Bourbon St. on the Beach.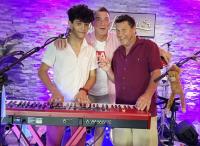 Catch the incredible Lennon La Ricci & The Leftovers Friday at Mio Fratellos, Saturday at the Cork Bar & Sunday at the Skye Bar.
Hi, guys, how ya doin'? Ready for the big Labor Day Weekend show? It's the last hurrah for many of our visitors but the beginning of the second season for locals and we love it! You know how last week I said I planned to make up for  zero outings? Well, I sure did and I'm exhausted - in a good way. My Friday was epic as I heard three musical acts - two of them at Bourbon St. They have been featuring two separate acts there each day this summer: the early show on the deck overlooking Northside Park and an indoor show as well. We heard the music of Kevin Poole as we entered and made our way to the dining area for a delicious dinner; then relocated to the bar area for Tranzfusion. I just love this band as I've said so many times. I was so pumped up at the end of their performance that I headed downtown to the Purple Moose where Bad w/ Names was rockin' the house. What a night!

That was enough to soothe my parched spirit until Sunday when I again went to Bourbon Street on the Beach for a special reunion performance of Reform School Band. That's right; their sultry siren Rita Conestabile returned from California for this special show and she was great! Becoming a proud grandma certainly hasn't sapped her talent or charm; in fact, she sounded better than ever. When I told her as much, she said it was because of her happy heart at seeing so many of her friends come out to see and hear her. I know the guys in Reform School - Michael Smith, Jay Stinemire and Eddie Saah - are elated to have her back. She'll be back for good Bike Week when she will be tending bar at Shaka (the Alamo on Rt. 50). They also feature live music there. Welcome home, Rita!

I hung out after their show as Bourbon St. featured their first ever Comedy Show with Paul Bond from New York. This guy was hilarious! A lot of his act was based on ethnic jokes and being politically correct - which he wasn't. His premise is that funny is funny and he was an equal opportunity roaster. In the end, as he said, we are all Americans and we need to come together and find the humor in life again and stop taking everything so seriously. I agree. Remember last week when I wrote that packing up all my little (and big) treasures made me think about George Carlin's routine "Too Much Stuff?" Well, crazy universe - Paul said Carlin was one of his favorite comics and an inspiration for his style. He also took us on a memory lane walk with a bit that Johnny Carson use to do on the Tonight Show - Carnac the Magnificent. For this bit he enlisted the aid of volunteer Mike Beavan (33 RPM) to play the straight man as Ed McMahon. Good job, Mike. Too funny! I hope that Bourbon St. owner Barry will feature this again soon.

I guess it was a Bourbon St. week for me as I returned once more to hear Randy Lee Ashcraft on Thursday on the deck and the Lauren Glick Trio inside. Lauren was in fantastic voice as she ran through dozens of songs including several of her originals. I've been asking that you all call in to your radio stations to request her song "Free" and it is indeed getting airplay around the country. Check out Lauren's facebook page for more on this. This could be the beginning of something big for this talented singer/songwriter who really deserves this kind of recognition - and you can be a part of her success. Kudos to Steve Kuhn on guitar/vocals and Kelly on drums who also did an excellent job making this an incredible performance.

Meanwhile at Bourbon Street this weekend, it's the return of that amazing guitarist/vocalist Rusty Foulke. I rave about him every time I write to you all, so I hope that many of you have gone to hear him. If you haven't yet, now is your chance, both Friday and Saturday nights. Rusty has a storied career and he tells us a little of his experiences with such humor that he could be a comedian too. His own band, Hybird Ice, played here some years back, and he also spent some time playing with super group Boston. If you're curious, you can read more about him on his website and you'll quickly see that he is a well-respected and world renowned guitarist. On top of that, he can soar to the upper stratosphere with that voice of his. As I said, amazing!

Lennon La Ricci and the Leftovers will be plenty busy this weekend: tonight at The Loft at Mio Fratellos, Saturday at the Cork Bar and holiday Monday at the Skye Bar. Here's another group just loaded with talent and such positive energy you can't help but have a good time. Alter Ego returns to the Purple Moose Friday & Saturday and Misspent Youth will play Sunday and Monday - both excellent rock bands. The Purple Moose is gearing up for Bike Week when they will feature Doc Marten & The Flannels on that Wednesday the 15th, High Voltage, AC/DC Tribute, on Thursday and Surreal Friday & Saturday. Always a great time to be had at The Purple Moose.

Coconuts Beach Bar & Grill will be humming with energy this weekend as we hear Darin Engh at noon followed by The Time Police at 5. I haven't heard these guys in a while so I'm hoping to do so. Saturday a duo I've heard good things about - The Everafter - will entertain at noon followed by OC's premier reggae band Zion Reggae. It's always a special time when these guys bring their uplifting music. Take your music to new heights with a performance of Stratus Fear on Sunday. Holiday Monday is a little shake-up as Bobby Wilkinson & Joe Smooth, who play at noon, pass on their evening slot to Monkee Paw to rock Labor Day. Still so much good music like The Loomatix on Tuesday - love this group! But you will see by the Who's Where When list that Coconuts will begin to slow down; so don't waste another minute of this glorious second season to enjoy live music outdoors.

I'm gonna take off now and see what I can get into. I hear Tranzfusion is playing at OP Yacht Club. I'm beginning to feel like a jinx, though, 'cause it rains every time I go. LOL!  Whatever you decide to do, always party safe!
«Go back to the previous page.