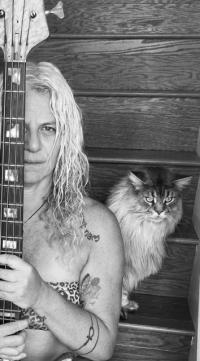 Lauren Glick's new CD cover Maybe I'll Run.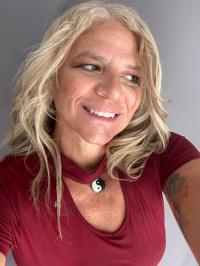 Musician, singer and songwriter Lauren Glick.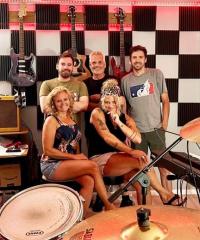 The Lauren Glick Band: (clockwise from bottom right) Glick, Sarah Robins, Will Davis, Bobby Malaby & Scott Malaby.
The date is fast approaching for the CD release party for Lauren Glick's latest collection of great songs in Maybe I'll Run.  House of Sauce in Fenwick, Del., is the place to be on Thursday, November 16, from 7-9pm.  That's right, friends and fans, Glick's next CD is dropping just in time for the holidays; but you can be the first to get your copy at this exciting night of music and fun including giveaway prizes.  (Reservations are recommended.)

The lyrics on the title track are indicative of where Lauren's journey has brought her to in this point in her life.  I sat down to talk with the artist recently, being curious to know how she manages to juggle the many facets of her daily life: careers and motherhood. Yes, that's multiple careers because Glick also teaches piano and yoga.

"That's what "Maybe I'll Run" is all about," she told me.  "It's often a feeling of living two lives at once, thinking maybe I should be a stay-at-home mom to raise my kids; but maybe I should go for it!"  Glick is always in demand playing venues in and around Ocean City, Md., and has played at many festivals, such as Springfest and Sunfest, Maryland Folk Fest, Ladybug Fest, Rock for Recovery plus at the Freeman Stage where her band has opened for The Beach Boys, America and Cheap Trick.  She's looking forward to playing more festival venues and wants to acknowledge the invaluable contribution of her local managers Bill and Nancy Jenkins who have worked on her behalf to open many doors in the music industry

Commenting on another new song, "Set Me Free,"  Lauren quoted these lyrics:"  "Please set me free, I'm no longer the girl I used to be. And if you let me be, I'm no longer the girl that you can treat poorly."  This lyrical message speaks of the growth she has accomplished so far, as well as her aspirations to continue her upward trajectory of creativity that continues to flow through her.  Another cool song from the album is "Age Is Just A Number."

Join Lauren and her band,  Bobby Malaby on drums, Scott Malaby on guitar, Will Davis on saxophone and Sarah Robins on backup vocals and flute with Lauren playing keyboards or bass, for a night of fun at House of Sauce next Thursday as we celebrate the music of Lauren Glick and her new CD, Maybe I'll Run.  You, too, can be a part of Lauren's journey to stardom.  She's already a star to us.



«Go back to the previous page.