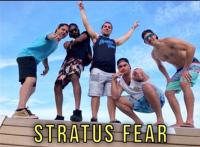 Stratus Fear will perform Saturday at Coconuts Beach Bar & Grill.
High Voltage AC/DC Tribute band will play Thursday at The Purple Moose.
Shots Fired will rock the stage Friday at Bourbon Street on the Beach.
SLAMM is set to play Friday & Saturday night at The Purple Moose.
Here we go! It's that time of year that we locals absolutely love - second season. We use to refer to it more often as the off season; but with so much still to enjoy such as Bikefest, Sunfest, Octoberfest, Winterfest and most of our venues still open for music, it has become a very popular time of year; so 'off' just doesn't cut it. Yes, we still get many visitors who love it as much as we do, but that's okay; we'll share. Check out ococean.com and you'll see what I mean.  

Last Saturday I had a blast with my friend Lori as we partied 'til the wee hours. Yep, we closed the Purple Moose! And that's saying something as the bands play 'til 2 am. Since the shut-down, so many of us can't make it even 'til midnight, let alone 2 am, right? Not me - I'm a night owl. And I've always partied and danced at night clubs - well, can't dance right now, but chair dancing is okay. I remember late nights at Rogue's Gallery in Virginia Beach (my old stomping ground) and then off to the after-hours club where the party continued 'til dawn. And that habit/tradition has carried through my life - remembering going to hear Mary Lou and the Untouchables whether it was at Fager's Island, M.R. Ducks or the Purple Moose and we would laugh and carry on after her shows 'til we heard the birds chirping. I sure do miss her.

Anyway, I digress. Alter Ego played last weekend and they were outstanding. You can't help but feel the energy coming from the stage, in part because of the huge colorful digital light display behind the band. But lead singer Jamie, along with band mates Jim, Anthony, John and Chazz, provide enough charisma and energy to keep the audience entertained all night - special lights or not. When we arrived we said we were going to stay for one set, but ended up staying to hear more and more. There's another high-energy band playing there tonight and Saturday night - SLAMM! And let me remind you that Bikefest fun starts Wednesday at the Purple Moose with the appearance of Doc Marten & The Flannels and then the return of High Voltage on Thursday night. This group has garnered much acclaim for being the nation's most highly regarded AC/DC tribute band. The current line-up is Don Shoener (vocals),  Francis Crouse (vocals), Greg Kuta (guitar, and in full Angus Young attire), Mike DiMayo (rhythm guitar), Forest Kline (vocals & Bon Scott specialist), Mark Boner Jr. (drums), and newest member Chris Gallagher (bass), after Mike Davis retired. These artists have a wealth of experience between them and always put on a fabulous show. You can read more about these talented musicians on their website highvoltagerocks.com. As if all this were not enough, one of my all-time favorites, Surreal, returns on Friday and Saturday nights. Walt has one of the best voices ever - anywhere - and his bandmates Will, Brian & Chris are equally talented. They pack the house every time they play at  The World Famous Purple Moose. So, if you've never visited the Purple Moose, what are you waiting for? And if you have, you know exactly what I'm talking about. Party on!

An introduction to the music of Rusty Foulke at Bourbon Street on the Beach is where Lori and I began our night's adventure. She was so impressed that she proclaimed him to be the best she has heard all summer. He was definitely on fire last weekend; but then I always enjoy his amazing guitar playing and that incredible voice. Yes, he may use a drum track when he switches from his 12-string to electric, but I forgive him because he becomes the most amazing one-man band I've ever heard. He performs at Bourbon St. the first Friday and Saturday of the month; so don't miss him in October. So much excellent music at Bourbon St. - it doesn't matter which day you choose to visit, you're going to hear something good. Regulars are Randy Lee Ashcraft, Lauren Glick, Lennon & the Leftovers, Tranzfusion, 33 RPM, Dave Sherman, Jimmy Charles, Kevin Poole, Jack Worthington, Troy Hanna, and, of course, Reform School every Wednesday. Michael Smith, Jay Stinemire, and usually Eddie Saah on bass, entertain the crowd from 6:30; then at 8 pm they host Open Mic where many of our area's talented folks get a chance to play and sing. You never know who might show up and it's always a good time. Tonight one of our favorite regulars will perform - Shots Fired. You can find lead singer Brian Thomas most nights behind the bar; but we love it when he takes the stage and belts out those '80s and '90s tunes with one of the best voices around. Guitarist Danny Shivers is an excellent singer, too, as well as being a fabulous guitarist on electric and 12-string. You may know Danny from his other band King's Ransom. Dom Mamana plays bass and also sings with Chris Bailiff on drums. You can count on a great show from these guys. Saturday night another excellent guitarist, Taylor Knox, will take the stage with Justin Fisher on drums playing as Decade 80. As the name implies, their music consists mainly of '80s hits with both men sharing vocal leads as well as great harmonies. I really like this duo who astounds by sounding like an entire big band. Check out Bourbon Street's lineup for Bike Week when owner Barry Reichart welcomes a band from Pennsylvania called Roughhouse (formerly Teez) with a special appearance by Chris Meyers. More on them next week.

Lennon & Ricky La Ricci & the Leftovers are plenty busy this week playing right now (Friday) at The Loft at Mio Fratellos and Wednesday at Crawl Street Tavern to help kick off Bike Week. Then Thursday you can hear them play at Beach Barrels. Ricky has been a mainstay entertainer in Ocean City for many years. I love his dedication to The Beatles and his classics from the Bee Gees among others. But his son Lennon has been stealing the spotlight since dad introduced him on keyboards at the age of 8. He's all grown up now and is an absolutely amazing talent not only on keyboards but guitar, bass and harmonica as well. If you haven't heard them, this is another good bet for a fantastic night of music.

As always, Coconuts Beach Bar & Grill features two great music acts each and every day but not for much longer so get out and enjoy this incredible dune-side party atmosphere while you still can. I just checked their schedule and I see that October 17 will be the closing day with music by Monkee Paw. Gosh, I'm running so late that Colossal Fossil Sauce is already playing and I'm still home.  Check out Stratus Fear tomorrow (Saturday). These guys have some original material - "Love Strong" and  "The Hall" they'd love for you to hear. Check the Coconuts Beach Bar & Grill lineup in Who's Where When for more.

I really must quit 'chatting' and get out to hear some great music in wonder Ocean City. Party safe!
«Go back to the previous page.