Beautiful and talented Heather Vidal returns to Coconuts Beach Bar Grill performing Tuesday and Thursday at noon.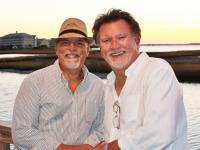 Reform School, Jay Stinemire & Michael Smith, will perform Monday at the Plim Plaza's Caribbean Pool Bar and every Wednesday hosting Bourbon St. on the Beach Open Mic.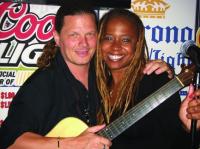 Enjoy impeccable and powerful vocals from Regina w/ Rick & Regina Sunday at Coconuts Beach Bar & Grill.
Jack Worthington has a busy schedule this weekend: tonight at Southgate Grill; Marlin Moon Tiki Bar Doubletree Hotel Saturday; and Fast Eddie's on Sunday.
If you've been following my advice to enjoy all things musical in our cool town, then you've done better than me this week; I only went out one night. That's right, one night. Now you know that's rare for me, even during the height of lockdown, because I love, love to see and hear as much as I can of our amazing community of musicians. So what was that one night of music last week? I heard the Beach Bandits and Vertigo Red last Friday.
Let's talk about Beach Bandits first. I traveled just around the corner from my house to Mulligans where Beach Bandits were playing. I've been acquainted with drummer Jerry Harvey for many years (he was formerly with Old School); so I was expecting to see him. Playing guitar was Steve Founds. Both sang and harmonized beautifully. This was, however, only half of the band. Dave Muckel, guitar/vocals, was out of town. Kevin Compher, bass/vocals, was there to support his bandmates and I recognized him from the T-shirt he was wearing: Spiderdogs! That band use to be a favorite, gee, in the '90s I'm thinking. So these four have been in the business of making music for many years; hence, their wide and extensive variety of music covering classic rock, blues and country. Their program contained so many of my favorite songs. It was fun to sing along some - I try not to be too intrusive but you know I love to sing. Many of you may have already heard Beach Bandits when they performed at Springfest. You can hear the Beach Bandits Duo with Dave & Jerry tonight at Mulligans at 6 pm and the full band tomorrow, Saturday, at Fast Eddie's (118th St.) at 7 pm. Enjoy the show.
The Purple Moose last Friday had us seeing red - Vertigo Red, that is. This band is one of the most popular at the World Famous Purple Moose because of their set lists of popular songs; but maybe even moreso because of their high-energy delivery. Carolyn is doing a fabulous job of fronting the band while Briana is out on maternity leave - baby Navy Rose has been born. Ken (guitar/vocals), Glen (bass), Deno (guitar/vocals) and Meyer (drums) are a powerhouse of musicians who never fail to impress - and keep the audience on their feet dancing 'til 2 am. That's right, I said 2 am. I'm pretty sure this is the only venue in town that can make this claim. It is still, after all these years, the party mecca for serious-minded partiers. Let's party on this weekend with music from Tripwire, Friday & Saturday nights. If you check out their website, tripwire sounds.com, you'll find this statement from the band: "Tripwire is a polished, high energy modern rock band out of Maryland playing a unique mix of music that you won't find anywhere else. We're as edgy and heavy as we are fun and entertaining, and while we take what we do seriously, we maintain a loose atmosphere that anyone and everyone can enjoy." Join me, won't you? Sunday and Monday is more live music from Love Hate Mixtape and Thursday get your AC/DC fix from High Voltage, always a good time.
Last week I wanted to talk more about the trumpet and trombone players, formerly of The Capris, who showed up to play a few songs with Reform School at Bourbon St. on the Beach's Open Mic. I just received a very interesting account from singer/drummer Jay Stinemire on the connection between him and these musicians; so I'm going to include it here in Jay's words.
"The Capris band was started in the late '60s in the Towson area of Maryland by guitarist Tom Moore. The group started out with just guitars, keyboards and drums but added a horn section around 1967. My now brother-in-law Jeff Barrett joined the band around 1968 as their trombonist. They had two trumpets and a sax player along with Jeff. At some point in time, and this may have been before Jeff was in the band, The Capris backed up a vocal group of soul singers called The Tempros. This was short-lived as one of the singers took Eddie Kendricks place in the Temptations, and another took Smokey's place in the Miracles. Or at least that is the story that has been handed down. No real reason to believe it is not true.
Around 1969 The Capris had two lead singers, Gary Putnam, and Pat Godman Veitenthal who now lives in the OC area. They had a write-up in the "Teen World" section of the Sunpaper around 1970 which highlighted the two singers. I was playing in a local band and we opened for The Capris at the old UAW Hall in Baltimore. My future brother-in-law Jeff and the lead guitarist, Tom Moore, liked the way I sang and when Gary left the group in March of 1971, they asked me to be in the band.
As it turned out, I lived in Perry Hall, Md.,  less than a few miles from Jeff's house where I went to practice the songs the band was performing. When the practice was over, I met Jeff's parents and his soon-to-be 15-year-old sister Peggy. Peggy and I will be celebrating our 39th wedding anniversary this October.
The band stayed together playing Bull Roasts, dances and even a one-week booking at Johnnie Walker's club in the late '70s. The final grouping played together until the late 1990's and they were, by far, some of the best musicians I have ever worked with. The group consisted of: Bunky Marker, guitar; John Sheridan, bass (John currently plays in the 302 band in Rehoboth); Neil Bates, keyboards; Randy Eckley, drums; Gene Wood, sax (Gene is still playing in several groups in Baltimore); Fred Bradley, trumpet; Jeff Barrett, trombone/keyboards; and Jay Stinemire, singer. Jeff, Fred and I have a little three-piece group called Tin Pan Alley which only plays songs from The American Song Book. I think the newest tune we do was most likely published in the early '50s.
I love having Fred and Jeff sit in at BSOTB. They will be performing a few songs again on Wednesday, July 28th, with Michael Smith and Eddie Saah."
Thank you to Jay for this walk down memory lane and for letting us know that the horn players the crowd went crazy for will be back this coming Wednesday.
Before I go I want to give you all some wonderful news: Sherri Paez, wife of Vincent who is the guitarist/vocalist for Old School, has reported that she is doing miraculously well after receiving a double lung transplant. We're all so happy for her and Vincent and praise God for this miracle He has bestowed upon this loving and deserving woman. Can't wait to see her again; but for now she is still protecting her recovery by staying in. We will, however, have the pleasure of hearing Vincent this Sunday at The Golden Sands performing with band partners Linda Sears and Erve Cassell. Best wishes to drummer Ernie for a full recovery from his surgery. He and keyboard man Don will be back in action for upcoming fall gigs. Stay tuned for more from this most excellent party band. You'll find their schedule in Who's Where When.
There you have it for now. I thought I wouldn't have much to say this week but lookie here. LOL! There is so much more going on so be sure to check the Who's Where When listings for more. Have fun and party safe!
«Go back to the previous page.