Glamour Kitty will rock the Purple Moose stage Friday and Saturday.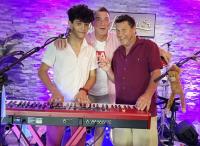 Lennon & The Leftover will perform tonight (Friday) at Bourbon Street on the Beach.
Dust n' Bones will play Saturday at Fast Eddie's.
The sun is shining as I write today, looking out my window at my pear trees in bloom and the light green of new growth bursting forth from other trees and bushes.  My spirits were also lifted by a video sent from my Williamsburg friend Linda visiting Colonial Williamsburg where newborn lambs frolic in the new lush green grass and bleat for their mama sheep. There is no better symbol for the hope of life renewed that Spring brings for us. I sure hope that those cold temps are behind us now.

I can tell you this: our music venues are heating up with the most awesome entertainment choices to be found anywhere. Music at the World Famous Purple Moose this weekend, for example, promises to be one of the hottest hits of the season with a performance by Glamour Kitty. I quote their website here: "Glamour Kitty represents The Ultimate ROCKSHOW Experience, rocking around the edges of the Decade of Decadence with everyone's favorite hits from Bon Jovi and Def Leppard, to AC/DC and Guns N' Roses. The band takes everything to the next level, not only by shamelessly rocking out in attire that's outrageous enough to make a superhero jealous, but by delivering a stage show that keeps the party going like the Best of the Best from the Hollywood Bowl to Madison Square Garden!" Check out their stage names: BagZ on bass; Hair on drums; Rex Rockingham on guitar; and Stitch on vocals. Sounds quite appropriate to the persona of the band, right? I'm really ready to see this show with all its glitz and glamour! How about you? Will I see you there? Tonight (Friday) and Saturday beginning at 10pm.  It's always a great time at the Purple Moose. Next weekend JParis will return; loved them last time they were here.

I'll probably start my Friday at Bourbon Street on the Beach to hear the always crowd-pleasing group, Lennon La Ricci & The Leftovers. Long a mainstay of great entertainment here on the shore, maybe our visitors would like to know a little more about the group. Rick La Ricci has been playing around here and in his hometown of Baltimore for many years. Did you see his youthful picture in "Remember This?" Being a huge Beatles fan, Ricky's repertoire is still a reflection of that fandom. No surprise, then, that when his son was born, he named him Lennon. It was obvious that young Lennon loved music, too, so he began to learn keyboard at a very young age. By the time he turned 9, he was playing alongside his father. I remember first hearing him at the Quality Inn's Tiki Bar at that time and he played and sang some cool Bruno Mars tunes, plus Elton John's stuff and more. I was hooked! Now 21, Lennon not only astounds audiences with his amazing keyboard skills, but in addition is proficient in guitar, bass and harmonica. His skills at songwriting continue to grow as well and you'll hear those at his shows. Ricky continues to be the lead singer and guitarist, and we love hearing classic tunes from him. With the addition of flamboyant drummer Mike Valenti, they have struck the right chord forming the trio Lennon La Ricci & The Leftovers. I guarantee you'll enjoy the show.

Consider returning to Bourbon Street Saturday for a performance from well-known guitarist Taylor Knox and drummer Justin Fisher as Decade 80. I've been most impressed with this duo who find it easy to sound like a full band. As you might guess, the bulk of their musical lineup is from the '80s. What might be more surprising is the vocal ability coming from behind the drums. Justin takes on many of the solo vocals and also harmonizes with Taylor on many other songs. It is always incredible to me how a drummer can coordinate singing and keep the beat so perfectly. Off the top of my head, I can think of two others who fit this bill: Jay Stinemire with Reform School and Mike Beavan with 33 RPM. By the way, 33 RPM was electrifying last week at Beach Barrels. And you can hear Reform School - Michael Smith & Jay Stinemire - every Wednesday at 6pm at Bourbon Street before they turn the mics over to guests who continue to flock to this great music venue. It's always exciting to see what new folks might drop by.

Whatever you do this weekend, my friends, remember to always party safe!



«Go back to the previous page.