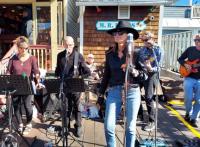 Teenage Rust was so much fun at M.R. Ducks. See them next at Sunfest.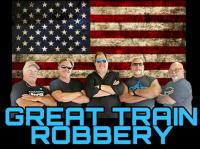 Great Train Robbery will perform Friday at Coastal Smokehouse.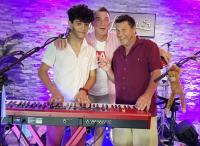 Party with Lennon and the Leftovers Friday at Bourbon Street on the Beach.
Hi everyone!  Hope you had a fabulous week.  We had a blast at M.R. Ducks last Sunday with Teenage Rust, didn't we?  It was a gorgeous sunny day and it's always a pleasure to see so many wonderful friends.  The music from this long-time band was so entertaining; we love them so much.  Check out all the great pics in Fun Fotos.  We can hear them again on Sunfest's opening day, Thursday, October 20th, at 4pm on the Midway Stage.  If you go to ococean and Sunfest, then click on entertainment schedule, you can check out all the great acts to be featured this year.  On Sunday at 11am Lauren Glick will perform on the Beach Stage.  This is different than past years in that the stage will face the ocean and you need to bring your own beach chair.  
The Purple Moose is featuring a local band tonight and tomorrow night: Tonight's Crush, they're called.  Purple Moose DJ Adam Dutch plays guitar with the band and he tells me they were previously called Tourist Trap.  The band features two excellent female vocalists: Brittney Lewis and Megan Elizabeth.  That's gotta be cool.  The rest of the lineup is: Josh Green, also on guitar and Amby Chester on drums.  Filling in with the bass is Mike Rogers.  I'm sure they're going to be rockin' it up at the Home of Rock n' Roll, The Purple Moose.  And I'll tell you all about their performance next week.
Coconuts Beach Bar & Grill has begun to cut back on their entertainment, being Thursday through Sunday, with the 23rd being closing day featuring Monkee Paw.  Noon entertainment is still offered on Saturdays and Sundays.  Zion Reggae is on tap today, Kevin Poole & Joe Mama Saturday and Monkee Paw Sunday, all popular local acts.  Check the Who's Where When for more.  Now let's pray for good weather.
Our friends Lennon & The Leftovers will play at Bourbon St. on the Beach tonight.  These guys always know how to get the crowd fired up with excellent song choices and phenomenal keyboard skills from Lennon.  Dad Ricky sings and plays guitar and draws us in with his exuberance and infectious smile.  Drummer Mike is explosive, also providing some vocals.  He has an uncanny affinity with Lennon, anticipating his every nuance.  A fabulous trio you don't want to miss.
I understand Risky Business is playing tonight at Fast Eddie's.  This group features the amazing vocals of Brian Thomas who we've heard with Shots Fired and Devious By Design.  Stop in and check out his latest collaboration; bound to be good.
Long-time favorites Great Train Robbery will perform tonight at Coastal Smokehouse in West OC.  This group has been playing on the shore since the early '80s.  Bassist Dave Capozzoli joined the band in 1980 when it was a southern rock band.  Billy Weyforth on keyboards joined in 2017 as did guitarist Fred Vanover.  Vocals are provided by Aaron Fuller with Drew Sewell on the drums.  This group of highly skilled professionals have honed their craft over the years to be considered one of the premier bands in our region.  Join the fun tonight.
I'm off to have some fun, my friends.  Remember to always party safe and love your neighbors.
«Go back to the previous page.