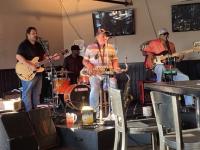 With a diverse song list, No Byscuyts - Fil, Keith, Joe & Elwood - impressed their Bourbon St. audience last week.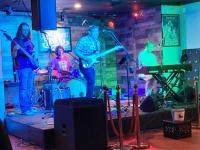 RoastJohn is Smitty, Logan, Otto & Nick, playing here at Crawl Street Tavern.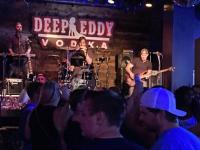 SLAMM is one of the many excellent rock bands featured at the "Home of Rock n' Roll" the Purple Moose.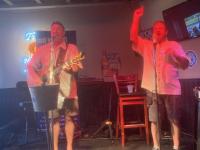 Randy Lee Ashcraft & Mickey Mikeljohn play every Thursday at Bourbon St.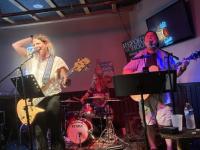 Lauren, Kelly & Steve put on a fabulous show at Bourbon St.
One of the best bands in town, Full Circle always captivates their audiences, here at Coconuts.
Hello out there OC readers! It may be gloomy outside as I write this (probably why I'm late with it, too) but that's no reason to stay inside and miss the fun. I plan on going to hear two of my favorite song birds tonight - Kathy & Michelle of Full Circle at Coins. I caught the whole band (minus Dave on keyboard) early this week at Coconuts Beach Bar & Grill and was so impressed with their musicality and vocal harmonies yet again. It's always fun to hear the reaction of listeners who have never heard them before saying how very excellent they are. It reminds me how fortunate we are to have such amazing talent in our little town. You can visit Coconuts any day of the week and hear not one but two outstanding shows. Coming up this Saturday is the Taylor Knox Band. Taylor is arguably one of the best guitarists in town. That's so hard to quantify because we have so many excellent players. I'm looking forward to hearing Taylor play alongside Justin Fisher on drums as the duo called Decade 80 this coming Wednesday. And Sunday I really want to return there to hear The Dunehounds, another OC local musicians powerhouse. Be sure to check the lineup in Who's Where When and check out this beautiful dune-side patio bar & grill. Coconuts is one of many venues here that features live music, and top quality music at that.

Another comment I hear from visitors is how they are so impressed with how our musicians will fill in for one another and just the general air of camaraderie that pervades our musical community. An example of that presented itself last night (Thursday) when Lauren Glick (bass) invited Steve Kuhn to fill in for Dave Tarlecki on guitar at Bourbon St. He did a great job playing her material, some of which was new for him, as well as she and drummer Kelly knowing how to play on his song selections. And icing on the cake, their vocal harmonies were superb. There are many other examples I could provide but I'll just challenge you to notice for yourselves. And you can find Lauren's schedule in Who's Where When.

Last week at Bourbon St. it was an absolute treat to hear No Byscuyts play there for the first time. I'm happy to say that audience and management were very happy with their performance, and why wouldn't they be. Joe Smooth has been a master on saxophone for many years having played with some top names in the business from his home roots in Cape Cod all the way to the west coast. Joe plays with many other musicians in the area as well, such as: Bob Wilkinson on Mondays at Coconuts; with bandmate guitarist Fil Rhythm in a duo known as Smooth Rhythm; with John Remy and many more. I love the way bass man Elwood Bishop employs the slap/thump techniques to his smoking style; but even more, I love his amazing voice. Speaking of vocals, I forgot to mention that Joe is an incredible singer too; as is Fil on guitar. Providing the driving beat on drums is Keith Brooks who has such soul, finesse and precision in his performance. When I offered high praise in person to Joe, he reminded me that the band's name is No Byscuyts for a reason. The term means that no player sets himself above any other; they are a unit - and a humble one. "If you like what you hear then we've done our job," Joe says. He shared that they are working on some new material: "Little Liza Jane" as done by Vince Gill and Sting; and an old Roy Orbison b-side tune called "Go Go Go". He sang some of each tableside and that's when it hit me how all these years of singing alongside and backing up others has honed his voice into what we hear today. He will probably be embarrassed to read this so I'll just finish with, can't wait 'til they return to Bourbon St., where tonight and Saturday night you can hear a Van Halen tribute band called Fair Warning.

I began my weekend partying last week with a trip to Crawl Street Tavern to hear RoastJohn. It was a great birthday present for my friend Terri to hear them as her son Nick plays keyboards. This young man's playing is so impressive; you have to hear him to believe what I'm saying. And he sings as well along with front man Otto on guitar, Smitty on bass and Logan on drums. If the players seem familiar, you're right: Otto & Nick are also in Muskrat Lightning. Be sure to check them out when you get the chance.

That same night we ventured over to the Purple Moose and had a blast hearing the band SLAMM. I loved their mash-ups and high energy performance. You'll never hear a bad band at the Purple Moose. Check out Bad w/ Names this weekend. I'm so thankful that having received the Covid vaccine,  I feel safe to get out again and enjoy music. I urge all of you, if you're medically able, to consider doing the same for the protection of us all. This has now become part of my closing - Party Safe!
«Go back to the previous page.