Phenomenal singer/guitarist Rusty Foulke will play Friday & Saturday nights at Bourbon Street on the Beach.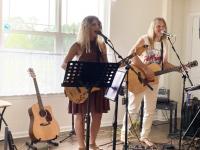 Lauren Glick & Dave Tarlecki playing selections of original songs at the video release party for Lauren's composition "Free."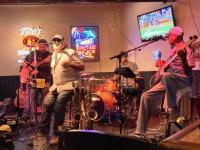 It was a fine night of musical fun with music from No Byscuyts at Bourbon Street on the Beach.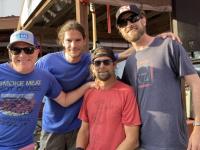 The Dunehounds will perforn Friday at Coconuts Beach Bar & Grill.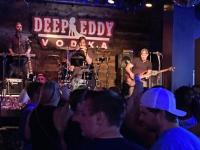 Rock out with SLAMM playing Friday and Saturday nights at The Purple Moose.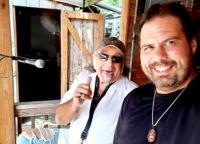 Smooth Rhythm - Joe Smooth & Phil Rhythm - will play Wednesday at Coconuts Beach Bar & Grill.
Hello, all you music lovers and fans of Ocean City! It's been an eventful week with the White Marlin Tournament going on; but for me a highlight was being a guest at the home of Nancy & Bill Jenkins of BNN Productions. This lovely couple hosted a video viewing party of Lauren Glick's original song "Free," which was both humorous and inspirational with its message of empowerment to women. Bill & Nancy have dedicated themselves to promoting Lauren's music by submitting this song for national airplay through National Public Radio and its Tripe A stations. For more on this refer to the Coco Nights article posted on July 2nd (click archives at bottom). Lauren, along with partner David Tarlecki, played several of her original tunes (and his too) that are still echoing through my mine such as, "Martinis In Heaven," "Please Please Please" and "Be Strong." You can support Lauren, too, by calling your local radio stations and requesting her music and showing her your support at her live performances in places such as The Jungle Bar (every Friday), The Skye Bar, Coconuts Beach Bar & Grill, The Angler, Bourbon St. and a few others. You'll find her schedule in Who's Where When on this website, coconuttimes.com, as well. The sky's the limit and we all want to see this star shine.

I braved the traffic and crowd last Friday to hear Tranzfusion at Bourbon St. on the Beach. I'm just crazy about this band. You know, we all get excited about tribute acts of our favorite bands, but consider this: Tranzfusion is the ultimate tribute band in that they play several selections each from top artists, and play them with extreme integrity to the music, note for note as recorded on the albums. They are supremely dedicated to this method of their performance art. I was happy to see that bass player Al Cook, who broke his hand last month, is able to play still. Talk about dedication. Wow! We can hear then next in our 'neck of the woods' Friday, August 13, at Ocean Pines Yacht Club.

Bourbon St. was again my destination last night (Thursday) to enjoy a delicious dinner with my friend Carl and then music from the fabulous No Byscuyts. Phil (guitar), Elwood (bass), Keith (drums) and Joe Smooth (sax) play a wide variety of music with a level of expertise that is second to none. Everyone, except Keith, shares vocal duties and harmonies; but most importantly, they exhibit a level of camaraderie and love of the music that is undeniably infections to their audience. We loved their performance and encourage you to hear them whenever you can. Joe Smooth plays with several other musicians; for instance, you can hear him every Monday with Bob Wilkinson at Coconuts Beach Bar & Grill and there again on Wednesday with his No Byscuyts guitarist Phil as Smooth Rhythm - pretty catchy, right, as Phil's stage name is Phil Rhythm.

It's the first weekend of the month and that means that we will again be treated to Friday and Saturday night performances from Rusty Foulke. This talented singer/guitarist and song writer has been on the music scene for many years having played a while with mega group Boston; his song "Magdalene," which he wrote while in his own band, Hybrid Ice, is on Boston's album Walk On from 1994 and is notable in that it is the only cover song they ever recorded. Rusty says Hybrid Ice played in Ocean City 'back in the day' so many of you may remember them. Rusty now does some rock cruises with groups like John Cafferty and the Beaver Brown Band, occasional Boston reunions and, thankfully, solo performances in which he shines with his incredible vocal and guitar abilities. Lucky us that Bourbon St. owner Barry Reichart is from the same area in Pennsylvania and they have been friends for many years. That's how we are able to enjoy such intimate performances from this rock mega star. Look him up online. Gosh, I've been listening to "Magdalene" while writing this and it's just phenomenal! Looking back in coconuttimes.com, I see and remember a "Meet The Band" article by Vincent Paez from May 3, 2019. Look under Features, archived. Interesting interview. So, come early on Friday and hear Lennon La Ricci & The Leftovers; and come early Saturday and hear Randy Lee Ashcraft. Rock on!

Last Friday I checked in to The Purple Moose (on the Boardwalk at Talbot) to hear Alter Ego. This group is one of my favorites. They play a diverse program of rock tunes with high energy and panache. Front man singer Jamie is not only excellent vocally but has the personality that endears him to their fans. Check out a picture of him with local Melissa in Fun Fotos. I can always count on The Purple Moose for a good time and great rock music. This weekend it's SLAMM! That's right - they're gonna slam you with the best in pop and rock 'n roll music. And Sunday and Monday come on back for more live music from Heads Up! Cold cocktails, hot music and the best bartenders in town.

What else is planned for this weekend? I'm never sure where I'm gonna end up when I go out my door, but I sure would like to get to Coconuts Beach Bar & Grill today (Friday) to hear The Dunehounds. Fronted by talented and super friendly singer/guitarist Sean Loomis, this group amazes me with their incredible variety of our favorite music. Adam Bilenki on drums has a wonderful voice too and sings many of the groups offerings. You can never go wrong with a visit to Coconuts where two live acts are presented each and every day. They're also famous for their 2 for 1 Happy Hour from 5 to 6 every day. What a beautiful venue!

Before I go I want to say 'welcome back' to Gary Crouthamel and his Concert Reviews. In this issue, under Features, then Concert Reviews, Gary takes us along to the Freeman stage for a performance by super group REO Speedwagon. You'll love the photos too. Speaking of photos, hope you're enjoying my 'throw back' pictures under Remember This? Last week's Kevin Poole had most of you stumped. Too much fun! Have a great week, my friends and party safe!




«Go back to the previous page.