Shots Fired will perform Saturday at Bourbon St. on the Beach.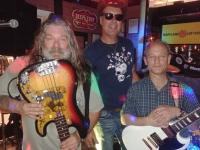 33 RPM is ready to rock you at Coconuts Beach Bar & Grill Saturday.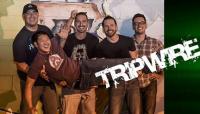 Tripwire is the featured weekend band at the world famous Purple Moose.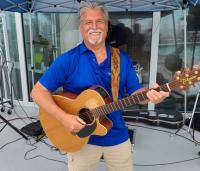 Jack Worthington & friends will play Saturday at Marlin Moon Pool Bar & Sunday at Beach Barrels.
The Jimmy Charles Band will perform Thursday at Bourbon St. on the Beach.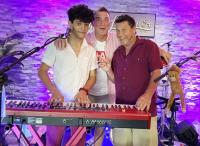 Catch Lennon La Ricci & The Leftovers Saturday at The Loft at Mio Fratellos.
How's it goin' out there? Hot enough for you? Thank God for AC, right? It's not just hot outside - the music is hot all over town. I had a ball sitting front and center to hear Rusty Foulke last week at Bourbon St. on the Beach. What a monumental talent he is; plus so friendly and humble. I look forward to hearing him every time he comes to town; the first weekend of every month. If you haven't heard him yet, make plans to see him next time. Be sure to check out the action photos I took of him in Fun Fotos. It was also great to hear Randy Lee Ashcraft with the incomparable Mickey on harmonica earlier that evening. Randy is singing stronger than ever and his original music, some of the best songs ever written, continue to entertain us year after year. We all got a kick out of the 2000 photo that is featured on Remember This? on this website. Did you see it? Did you know it was him and his band Salt Water Cowboys, the earliest incarnation of that band? When he returned home from Nashville, he brought his band mates with him. He may not have made it so-called big time out there, but we're all so glad we've had the pleasure of his talent these last 20 years. We love you Randy Lee! You won't want to miss The Jimmy Charles Band playing after Randy Lee this coming Thursday. We're so happy that he makes it back home here from his home in Nashville to play for us.

I am sorry to have missed hearing Home School Dropouts last night at Bourbon St. Brother/sister team of James (14, guitar) & Vada (12, bass) wowed us at Open Mic nights so much that owner Barry hired them to do their own show. Amazing! I'm sure they did a fabulous job and I'll get a second chance to hear them. Remember, Open Mic is every Wednesday hosted by Michael & Jay of Reform School. You never know who might show up. This week at Bourbon St. is packed w/ entertainment again. Go to Who's Where When for the complete list. One of my favorites is Shots Fired who will return to the Bourbon St. stage this Saturday. The incredible vocals of Brian Thomas are backed up by the impressive guitar of Danny Shivers, Dom Mamana on bass and Chris Bailiff on drums. If you like your rock a little hard, this is the group for you.

Speaking of high energy rock 'n roll, there's no better place to get your fix than the world famous Purple Moose, located on the Boardwalk between Talbot & Caroline streets. You can always count on the best rock bands our region has to offer. This weekend it's the sounds of Tripwire who I enjoyed immensely on their last performance here. You'll hear powerful vocals fron Bruce, knock-out rhythms from Chuck on drums, heart-thumping bass from Matt, shredding guitar from Mike and amazing violin from Eugene. Yeah, you read right - violin. You'll be amazed at how integral a sound this provides on many tunes. Come on out to the Purple Moose where the band and the dance floor is rockin', the cocktails are ice-cold and the bartenders are friendly and handsome! This week features a Sunday/Monday band, too: One Louder.

Coconuts Beach Bar & Grill is one of the best places to party, enjoy some delicious food and hear some of the best music in town - all in the beach/dune-side atmosphere behind Castle in the Sand hotel. In case you didn't know, you can lounge on the beach, too, and enjoy lovely servers right at your blanket/chair. Yeah, cool, huh? Monkee Paw is on the bill for this evening (two bands each day). Adam & Mike play all your favorite music and boy do they harmonize well together - great vocals as well as impressive lead guitar from Adam. Check 'em out. Tomorrow's 5 pm band will be 33 RPM featuring Mike Beavan on drums and lead vocals, Rock on crazy-good bass and vocals, and Larry Biegel on superb guitar - wait 'til you hear his Peter Frampton. I'm looking at the full week's schedule in Who's Where When and I can tell you it's absolutely loaded with amazing talent from Colossal Fossil Sauce on Sunday to Wednesday's Decade 80 with Taylor & Justin to the most entertaining of players in The Loomatix on Thursday. Do yourself a favor and make your way to Coconuts Beach Bar & Grill.

Jack Worthington has a busy schedule this weekend and is happy to be welcoming his friend Kevin Heister on guitar to join hin. They're playing as I write this out at Castaways Tiki Bar with T Lutz on drums. You'll find Jack every Saturday at the Marlin Moon Pool bar in the Doubletree Hotel - a very cool place to be with the ocean breezes. Sunday Jack & Kevin will perform at Beach Barrels to round out their weekend. Be sure to ask Jack to play his originals; he's so humble lots of folks don't know that he's a songwriter too.  One of these days I'm going to interview him so I can pass on his many musical accomplishments and memories - there are some good ones.

Gosh, There's always so much more I can tell you about but I've had some interruptions and running late this Friday; so I'll direct you once again to the Who's Where When to see the appearance dates for Reform School, Lauren Glick Lennon La Ricci and Old School. There are so many choices of fun things to do in our fair Ocean City; now it's up to you to get out there and enjoy. Before I go I want to send out love and healing prayers to our friend Joe Smooth who has contracted the Covid virus. Joe says to "get the damn shot!" Love you, Joe. All of you, please continue to exercise caution in dealing with this deadly virus. We need to keep each other safe.
«Go back to the previous page.