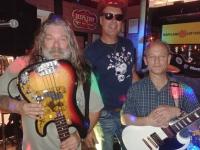 Party with 33 RPM Saturday at Coconuts Beach Bar & Grill.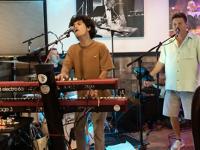 Lennon & The Leftovers will play Friday at The Boozy Egg, Saturday at Beach Barrels and Thursday at Shaka Pool Bar & Grill.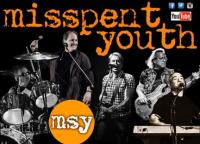 Let's rock with Misspent Youth Friday & Saturday at The Purple Moose.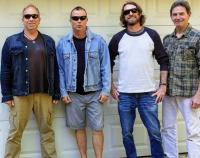 Enjoy the music of The Loomatix Sunday at Coconuts Beach Bar & Grill.
Hi, all.  Have you noticed?  Traffic is gone!  Yes, we have entered the wonderful second season in Ocean City when special events and certain times of the day may look like summer, but otherwise the streets are empty.  How refreshing!  Especially since our outdoor venues are still open and going strong.  Yay!  My favorite is Coconuts Beach Bar & Grill that's just a quick jaunt over the dunes to the ocean.  What a beautiful place this is to listen to live music and see all your friends who may have stayed away during the really busy and crowded days.  This was the case last Sunday when the Lauren Glick Band played, who we all love, love, love!  You will see in Fun Fotos how many of us locals were on hand and plan to be again when she returns on Sunday, September 18th.  I've been excited to keep you abreast of the airplay that Lauren's new album LUSH has been getting in markets far and wide; and the number of publications in which she has been featured.  What an exciting time for Lauren; wishing her continued success.  It has also been a pleasure to hear guitarist Dane Williams play with her along with Ted on bass and Mike on drums.  Dane is a most accomplished guitarist who also plays with highly acclaimed The Klassix.  You can visit Lauren's facebook page or go to laurensings.com to learn more about this gifted singer/songwriter and see her schedule as well.

Meanwhile, there's another full lineup of great music at Coconuts this week including two of my favorite bands: 33 RPM on Saturday and The Loomatix on Sunday.  From the frenetically flamboyant drumming of Mike, to the amazing versatility of guitar wizard Larry, to the in-your-face head-banging bass playing of Rock, 33 RPM always brings high energy to their shows featuring all our favorite music across several genres and decades.  The same can be said of The Loomatix about whom I have always written that their music is perhaps the most eclectic of any group in town.  Singer/guitarist Sean has such an easy-going manner and a warm and fuzzy voice that just beckons you in to his/their musical world.  Troy on lead guitar, Jeff on bass and Joe Mama on drums bring their considerable talents to the group to form a cohesive work of musical art.  Gotta love 'em.  Hope to see you at both shows.  There's plenty more going on at Coconuts so be sure to check the Who's Where When list for the complete lineup.

Musical acts at Coins drew me in twice this week: on Friday to hear Lennon & The Leftovers; and again on Monday for the fabulous Teenage Rust.  I know I continually gush about young Lennon on keyboard but he so deserves it.  Last week I mentioned how people hearing him for the first time are not only amazed at his talent but are also incredulous that he is not playing on larger stages at bigger venues.  I heard similar comments again; all in good time, my friends.  As I walked in Friday, Lennon was playing Billy Joel's "Piano Man" and lo and behold, played the harmonica parts too; proof of what I had written last week about his many talents.   With dad Ricky by his side singing and playing guitar and the exuberant Mike on drums and some vocals too, this trio has found the winning ticket to keep their audiences entertained and smiling.  Love them! Catch Lennon tonight at The Boozy Egg, Saturday at Beach Barrels and Thursday at the Shaka Pool Bar & Grill on Rt. 50 in West OC.

And then there was Monday!  It was a Labor Day blowout at Coins when our beloved Teenage Rust played for us.  The place was absolutely packed with what I like to call our BJ's family of friends.  It was, and always is, heartwarming to see all these precious people and share in the love as we listen to our favorite songs from Billy & Maddy, Crystal & Paul, and Howard.  This time out Ray Perrone of Identity Crisis filled in on drums while T Lutz is recuperating from a procedure.  Sending him lots of good wishes for a speedy recovery.  I'll let you know the next time Teenage Rust will play; maybe next month at Buxy's or back to Coins.  Wherever it might be, you can be sure we'll all have a great time.

You can always find a great time at The Purple Moose with some of the best rock bands in the Mid-Atlantic region.  Last week was Alter Ego, a band that has the most amazing light show.  It's a huge back-drop screen of LED lights that illuminates the stage and far beyond as you'll see from a few photos that show faces washed in the red glow from the far-away stage.  Let me assure you, this is just a bonus because the vocals and music coming from this group are also superb.  This week is full of live entertainment with Misspent Youth playing Friday & Saturday and Doc Marten & The Flannels on Wednesday with that ever-popular AC/DC tribute band High Voltage on Thursday.  Those two groups both win the endorsement of the Purple Moose crew. Hope to see you there, too.

That's it for now - gotta run.  Enjoy the weather and little slower pace of our wonderful second season in Ocean City.  Party safe!
«Go back to the previous page.