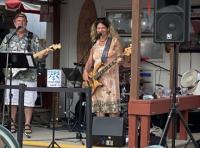 The Lauren Glick Band put on a great show as usual at Coconuts Beach Bar & Grill.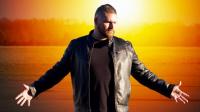 Visit Coins tonight (Friday) to hear singer/songwriter Jimmy Charles.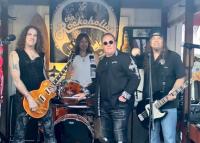 The Rockoholics will rock Coconuts Beach Bar & Grill Saturday.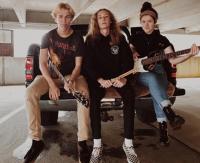 Check out the music of Full Disclosure Saturday at Mulligans in West OC.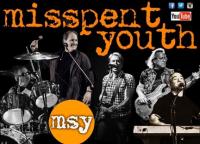 Misspent Youth is guaranteed to keep the Purple Moose crowd dancing til 2 am Friday and Saturday nights.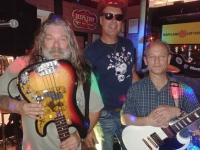 33 RPM will return to the Bourbon Street stage on Saturday to 'tear the roof down.'
Here we go! Following a very successful Air Show last weekend, we also experienced the year's longest day at the summer solstice, another super moon, and the last week of June, with the Fourth of July just a week away. It's going to fly by now, folks, so enjoy every single day of this glorious summer of 2021. As I predicted in last week's column, I avoided the heavy traffic in OC until Sunday when I ventured out to Coconuts Beach Bar & Grill to hear the amazing Lauren Glick; so I don't have alot to talk about from this past week. As usual, the crowd at Coconuts was very appreciative of Lauren's music. The gals at my table kept proclaiming having goosebumps in response to Lauren's powerful pipes. At this outing Steve Kuhn played guitar for her with Kelly "Wildcat" on drums. She played as a duo with Kelly on Thursday night on the deck at Bourbon Street and tells me she really enjoyed that atmosphere. She'll be back there next Thursday, July 1. For the rest of the summer you can hear her every Friday at the Jungle Bar located on the ocean behind The Plaza. Tomorrow night, Saturday, she will be at The Angler and Sunday with her full band at the OP Yacht Club. Tune in to this column next week to learn more about this home-grown star in the making - Lauren Glick. Before I move on, let me point out that The Rockoholics will return to Coconuts on Saturday at 5pm. They were definitely crowd pleasers there at their last performance with Kenny Wright on smokin' guitar, top-notch vocals from Joel Morris and excellent support from the rhythm section of Chuck Leo on bass and Anthony Liberto on drums. Check the Who's Where When for the Coconuts lineup where you can see two acts each and every day - beautiful place.

What else is happening at Bourbon Street? Big lineup this weekend with Tranzfusion tonight and 33 RPM Saturday night - it doesn't get any better than that, folks. You can enjoy music on the deck overlooking Northside Park or dance the night away inside. There's always something cool happening and the food is outrageously good. If you want to enjoy a scrumptious dinner without the musical hoopla, there is a large dining room where you can enjoy your meal and a conversation. And new this summer: Danny Dolan of First Class will play his golden sax for you during Sunday Brunch at 11am. Like I said, there's always something for you at Bourbon Street on the Beach.

We have another home-grown star in our midst - Salisbury native singer/songwriter Jimmy Charles. He will be playing at Coins tonight (Friday), which is where I think I'll be headed. Joining him will be local drummer Brian McKenna who will accompany him on djembe. Jimmy has gained a lot of attention during his time in Nashville, not only for his wonderful music but for his dedicated activism promoting early detection and prevention of prostate cancer. His humanitarian work doesn't stop there: You can get tickets now at jimmycharlesmusic.com for his July 1 concert at the Southern Belle in Delmar: "A Night of Hope" Jimmy Charles Concert to Benefit ALS Association.  I applaud Jimmy for using his talent and platform to help others. The picture you see to the right is the official photo promoting his latest single and video "Hard Way to Go". Let's go get real with Jimmy at Coins. Before I move on, let me remind you that Jim Long hosts his music party at Coins every Saturday afternoon, 3pm.

I did make it to Bourbon St. for Open Mic Wednesday this week where I had the pleasure of hearing hosts Reform School - Michael Smith and Jay Stinemire. What a duo these guys are. Michael plays keyboards and guitar w/ Jay on drums. Both sing complementing each other so well. After their first set, they welcome area amateurs and some pros as well for a party that draws a big crowd every week. I had fun singing for my friends and you can do it too. This coming Monday you can hear Reform School at the Caribbean Pool Bar at Plim Plaza at 7pm.

Mulligans is hosting a live music act this Saturday: Full Disclosure. The trio hails from Salisbury and their bio says they play classic rock and modern pop. Stop by Mulligans in West Ocean City where you can shoot some pool, chow down on delicious pizza or burgers and hear excellent music from some up and coming local artists.

The Purple Moose is always a go-to party place for me as you can count on the music always being high-energy. This weekend is no exception as Misspent Youth returns to the big stage. I loved them the last time they were here and I guarantee you'll love them too. Oh, and your favorite AC/DC tribute band High Voltage will be in the house on Thursday night. Cool! A little news from a friend: Vertigo Red singer Brianna has given birth to a beautiful baby girl to whom she has given the most unusual but beautiful name of Navy Rose. Congratulations Brianna! Vertigo Red will return to the Purple Moose on July 16 & 17 with her stand-in Carolyn who is also a firecracker of an entertainer.

It's time for me to get ready and get out of here. Lots of fun stuff to do, right? Hope to see you out and about somewhere. Until next week, enjoy our wonderful Ocean City and party safe!
«Go back to the previous page.