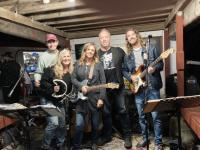 Full Circle always delivers the best in entertainnment; here at Coconuts.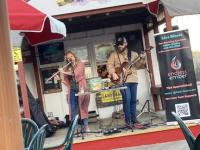 The music of Endless Ember was most enjoyable at Coconuts.
Check out Lime Green Saturday at Coconuts Beach Bar & Grill.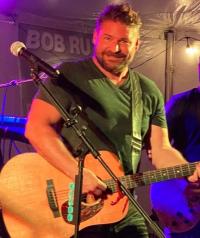 Jimmy Charles will play Sunday at Bourbon St. the police department's K9 fundraiser.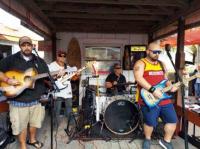 Monkee Paw will play for the Coconuts Beach Bar & Grill closing party Sunday.
Hey, folks, hope this finds you all well and enjoying life.  It's the last hurrah of the summer for Coconuts Beach Bar & Grill this weekend and we're all hoping Mother Nature will be kind and keep the rain away.  Of course, it's also Sunfest weekend with tons of great entertainment there and I'm thinking of all those, too, who look forward to this event each year.

It was an eventful week for me starting last Friday with Full Circle at Coconuts.  I'm just totally blown away every time I hear this group perform.  The musicality and vocals are second to none; plus, they're the only group I can think of that adds new material constantly.  Chalk that up to the creative and collaborative spirits of lead vocalists Michelle Schachter and Kathy Denk.  The 'soul sisters,' as they refer to themselves, hear a song, know they want to perform it and then get it done.  It certainly helps that their bandmates, Jeff Davis on bass, Joe Mama on drums and now Sean Loomis on guitar have the instrumental expertise to pick up quickly on new material.  It's a constant challenge, they tell me, but one that they welcome.  No tired ol' set list here!  After a calvacade of amazing hit songs, they ended their show with "On The Road Again!"  I don't think I'd ever paid much attention to the lyrics before; but I have to say, it was most appropriate to this group of artists who genuinely love making music together.  Then, after hours of singing, with the crowd begging for more, Michelle sang Heart's "Barracuda," no easy song to sing.  She hits those notes just as good as Ann Wilson.  Amazing!  I loved hearing them so much that I made the trek up to Bourbon St. to hear them again on Sunday.  What a pleasure!  I was so happy to see and hear Sean both times and have to tell you that he adds so much to the group, not only on shared vocals, but also on guitar.  Before Sean joined the band, Kathy was the sole guitarist (with the exception of a few acoustic guitar parts by Michelle).  Now Sean and Kathy get to share lead duties and even duel back and forth on certain songs.  I love it!  This is truly one exceptional band that you should make every effort to go see.

So last Sunday I was in music heaven as I got to hear two of my favorite bands on the same day.  I started at M.R. Ducks to hear the incomparable Tranzfusion.  I know I've gushed about them for many years now, but I don't get tired of talking about them and listening to them because they are just that good.  I often refer to them as 'album rock' because they play each and every song just like the originals off the albums.  Keyboardist Bob Davis has shared with me many times how important it is to them to honor the integrity of the compositions and maintain the authenticity of the artists whose music they cover.  Guitarist Hank Koenig is one of the finest guitarists you'll ever hear while bass man Al Cook plays with flair and conviction.  The beat that drives them on comes from Bobby Malaby on the drums.  All four members perform vocals that are best suited to their voices and do harmonies and back-ups as well.  They'll be playing Nanticoke tonight but will be back in OC next Friday at Bourbon St.

Speaking of Bourbon St., Jimmy Charles is lending his talents once again to champion the cause of our police department's K9 members as he and his band will play Sunday in a fundraiser for these canine heroes.  It's bound to be a good time as it always is with Jimmy.  If you think he's all country and you don't care for country, let me tell you that he loves to sing rock songs, too.  And if you love country but are not big on rock, well I can tell you that Jimmy puts a little country flair in his favorite rock tunes, too.  I love his originals for which he has garnered many awards and accolades.  Head to Bourbon St. Sunday to support this worthy cause.

Okay, back to Coconuts.  I was just there yesterday to hear the lovely Sarah Robins sing with partner Neil Helgeson.  I love her song selections, her beautiful voice and the added talent that she plays flute.  Sarah's duo, Endless Ember, might feature a different guitar player for each performance.  One other frequent guitarist is Chris Sajadi who plays with Mercury Agenda.  Sarah is also in Lauren Glick's recording band singing backup vocals with Lauren.  Check out her facebook page for upcoming dates.  Tonight at Coconuts we'll hear The Dunehounds headed up by Sean Loomis on guitar, Troy Mawyer also on guitar, Kasey Briggs on bass and Adam Bilenki on drums.  I love these guys.  You'll never hear a more eclectic catalogue of music than from this band.  Then on Saturday (praying for good weather) will be the triumphant return of Lime Green.  Guitarist Terry Wilson had to take the summer off while recovering from an aneurysm and we're all thankful that he made it.  He'll be joined by John Murrell on bass and Bill Heiser on drums.  Of course, the focal point of the band is the vocals from Angeline Leech.  This gal could sing a dictionary and make it entertaining - excellent range and dynamics.  I'm praying for only the best of everything for these talented people.   Sunday will be the big closing day with music by Monkee Paw.  Adam & Mike will be joined by Joe Mama on drums to usher out the season the same way they played opening day in the Spring.  Let's party one more weekend in 2023 at Coconuts Beach Bar & Grill.

Also coming up:  Long-time favorite Bird Dog & The Road Kings at M.R. Ducks this Sunday.  And next Friday, October 27, mark your calendars for Teenage Rust at The Globe in Berlin.  That's right - the big stage at The Globe, starting at 6pm.  It's gonna be a party and we want to see all of you there.

For now, I must be on my way to check the weather and see which way my chariot will take me.  Have a great week, my friends, be kind to one another and always party safe.
«Go back to the previous page.