Jimmy Charles w/ Gavin Hades, Brian McKenna & Mike Rogers played a surprise rehearsal show at Bourbon St. for their upcoming headlining of the Maryland Day Fest Saturday.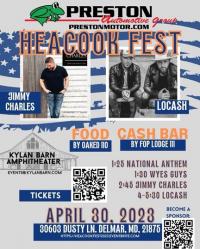 The Jimmy Charles Band is set to play at the Heacook Festival in Delmar on April 30.
Hi y'all. I have some pictures to share with you from St. Patrick's Day fun (we got two weekends out of it, didn't we).  Of course, there have been many already posted on facebook from many of you but mine are different. I  have also enjoyed lots of good music lately, and I would like to share some of that with you.  I'm going to start with last night, Wednesday, with a pop-up live rehearsal concert from Jimmy Charles and his band in preparation for their performance at the Maryland Day Festival in Baltimore on Saturday.  On stage with Jimmy at Bourbon Street were locals Mike Rogers (bass), Brian McKenna (drums), and Gavin Hades (lead guitar).  After the first song, Jimmy announced that Gavin (16) will be playing with him at all his major Maryland shows.  How exciting for Gavin; and considering that 10,000 people are expected at Saturday's show, which they will headline at 7pm, that's a lot of exposure for this gifted guitarist who has already impressed major audiences and music celebs, such as Brett Michaels, with his incredible talent.  Having him on board means that guitarist Andrew Foltz will also be able to play keyboards; and, my favorite, there will be some epic guitar duels.  Cool!

Jimmy played his latest composition for us, co-written with Bill DiLuigi and Pete Salis, called "To Beach Their Own" which is set to be released on April 28th, the day before the Heacook Festival with LoCash in Delmar another major show (see poster).  We also heard many of our favorites such as "Never Had a Bad Day," "Fish On," "They Grow Up," "Bout Summertime," "Country Up," and ending with the song that has become our state 'anthem,' "It's A Maryland Thing."  A testament to Jimmy's popularity: with only one day notice, Bourbon St. was packed with loyal fans.  Can't wait to hear him again.  

More good stuff I've heard lately:  Lennon LaRicci & The Leftovers just last Saturday at Coins; Shots Fired at Crawl Street Tavern; 33 RPM at Bourbon Street; Full Circle at Bourbon St., plus Dave Sherman; Risky Business at Crawl St.; First Class at Coins and at Bourbon St.; String Buzzards at Pizza Tugos.  Ocean City is blessed with incredible talent.  There's always something great to hear.

Another bit of music news in case you haven't already heard:  Sean Loomis is officially the lead guitarist for Full Circle.  Can't wait to hear them play together, expecting some major guitar duels between him and Kathy.  And another wonderful voice to harmonize too.  Now this is an abundance of talent in one band.  Awesome!  I just received the schedule for Coconuts Beach Bar & Grill and I see the first Full Circle date there is June 22; but I'm sure we'll hear them next month at Bourbon St. and at Seacrets.  Live music begins on Thursday, May 4, with the Chris Diller Duo followed by Darin Engh retuning to his Friday noon spot followed by Monkee Paw.  Yep, folks, it's officially Spring and a full calendar of music is just around the corner.

That's it for now.  Enjoy life, my friends, and party safe!



«Go back to the previous page.