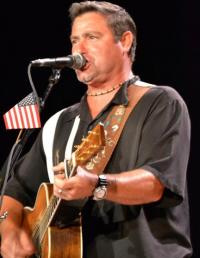 Randy Lee Ashcraft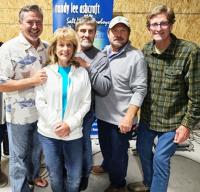 Randy Lee Ashcraft & The Salt Water Cowboys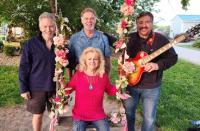 Catch Old School Duo Sunday at Golden Sands.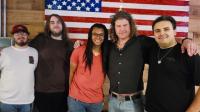 The Mercury Agenda is playing at The Jungle Bar Friday and back at Fast Eddie's Thursday (see Who's Where When for more).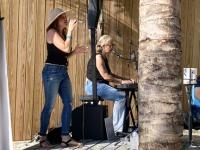 Sarah Robins of Endless Ember w/ Lauren Glick; catch her next performance Sunday at Coconuts at noon; and Monday, June 12, at Bourbon St. at 6.
Hey, y'all.  It's Air Show weekend and I'm worried about it because of the smoke pollution.  Visibility has to be terrible for those pilots.  Sure hope they're able to go ahead with the program.  Ooh, just heard a jet overhead!  Health officials are telling us to take it seriously that these small particles in the air from Canada's wild fires can cause long-lasting damage to our lungs.  We're cautioned to stay in or wear a good mask if going out.  I don't like to give into what-ifs but, unfortunately, I'm choosing indoor venues right now.  But let's not linger on this topic.  Before I go on, I hope that if you didn't read last week's column, you will go back and read all about our dearly departed Joe Smooth.  I want everyone to know that even more than a fantastic musician, Joe was a wonderful person.  We all miss him.

Speaking of wonderful people, it was a thrill to hear Randy Lee Ashcraft perform his Comeback show at Bourbon Street on the Beach last Friday.  Maybe not all you readers are aware that Randy had been battling throat cancer and that after months of treatments, he is now cancer free.  Hooray!  As he said at one point during the show, "Six months ago I couldn't talk; now I can sing again!"  And I gotta tell you, it was one joyous night of song and camaraderie on that stage and in the adoring audience.  The program began solo with Randy singing "My Cancer Mask," a new song dedicated to his oncologist who made the trip to Ocean City to hear his triumphant return to the stage.  The night's program was jam-packed with original tunes from Randy Lee's five, to date, recordings.  From his first self-titled album, Randy Lee Ashcraft (1995), we heard "Let The Dance Begin," "Pony Penning Time," and "Ridin' On," that we usually refer to as 'that Cowboy song.'  Bourbon Street owner Barry learned the lead guitar for the song and it sounded terrific.  Of course, the show's last song had to be "Shore Thing" that appears on both his first album and again on Set Sail (2000) (from which we also heard "Alone Tonight" and "Exactly What I Did").  It gives me shivers every time he sings "Shore Thing" and he nailed it.  From the album All Decked Out (1999) they played "Tame My Heart" and from Fair Weather Flu he played "Can't Take That Away From Me."  There were several tunes from the Randy Lee Ashcraft Live album (1997): "For Goodness Sake;" "Easier Said Than Done" (a beautiful tribute to his dad); and "Before The Rain."  There were also a couple more recent ones that he tells me he can't wait to get back into the studio to record them: "Here Comes The Pain" and "Hot & Sudsy."

Long-time duo partner Mickey Meiklejohn joined him on harmonica - one of the finest harp players you'll ever have the pleasure of hearing.  "Shenandoah" has become a staple of their performances - it always brings tears to my eyes.  Ken Roughton joined in on bass for a few; then he went back to his drums while Leo Carlins took over bass completing Randy's band, The Salt Water Cowboys.  When you think about it, that name really describes Randy Lee's music - beach country.  I love it when he sings a special song that he says he wrote to his fans that explains his kind of music: "Chapters Of My Life" that he performed near the end of his show.  In it he says, "There ain't no one I sound like."  Yep, he's different and wonderful and we love him.  There were several highlights of the show that included his daughter Bailey Mae (15) singing with her proud dad - so special (see pictures in Fun Fotos).  Bailey is also writing music so we look forward to hearing wonderful songs coming from this beautiful young woman.  Randy Lee's big brother Jimmy always comes up to sing a few with Randy and the look of adoration on Randy's face was priceless.  New to the Salt Water Cowboys is Daren Francis who added some guitar and beautiful mandolin and vocals, too.  What a lovely addition to the sound from this incredible band.  I hope they have more opportunitys to play together as a full band; many venues only want duos and trios.  I see on his facebook page that the full band will play on Friday, June 30th, at the Salted Rim in Millville, Del., and at The Boozy Egg on June 24th.  He'll be back at Bourbon St. for "Thirsty Thursday" on June 29.  Yay, he's back!!

The rest of my weekend included more fun music with Old School at Coins on Saturday.  This group always delivers great music and such happy vibes that audiences are drawn into their performance.  You can hear them at the Golden Sands on Sunday and more fun dates coming up.  Go to Who's Where When to follow them.  Sunday turned into a double-header starting with the Rockoholics at Fast Eddie's.  Great talent in this band across the board.  Ron Thompson on guitar and vocals will be bringing his other band, Scrapple, to Fast Eddie's on Tuesday, June 13.  That's gonna be a rockin' good time.  I think it will be a once-a-month deal, while most Tuesday's will still be dedicated to Open Mic hosted by Identity Crisis.  After that I caught The Lauren Glick Trio at Bourbon St.: Lauren on bass, Steve Kuhn on guitar and Wildcat Kelly on drums.  These guys make some great music together.  Steve joins Lauren for wonderful harmonies and has solo songs as well; while Kelly is now singing some great harmonies, too.  Keep it up, guys, you are fabulous!  Tranzfusion drummer Bobby Malaby was on hand to sit in on drums for a Glick original from her album LUSH.  Bobby is part of her recording band.  Also in that originals band is Sarah Robins who I had the good fortune of hearing last week at Saltwater 75 with Lauren sitting in on keyboard.  Sarah, who sings beautifully and plays flute, has a variety of partners play with her as Endless Ember; one of whom is Mercury Agenda guitarist Chris Sajadi.  And, by the way, I was back at Fast Eddie's last night, Thursday to hear The Mercury Agenda.  Love these guys and their music.  Doug is always kind in bringing up young talent to play a few with the band.  Last night it was Devon from Sock Puppets and Gavin Hade from Cecilia's Fall.  The band is playing right now at the Jungle Bar behind the Plaza in OC so get on out there.  

I better get out of here and decide where I'm going tonight; might be Bourbon St. for Lennon & The Leftovers.  Whatever you decide to do tonight, my friends, always be kind and party safe!
p.s. Be sure to click on Concert Review by Gary Crouthamel for great pictures of STYX!
«Go back to the previous page.