"The Almost Famous Ricky La Ricci Show" w/ Eddie & Phil at Bourbon St.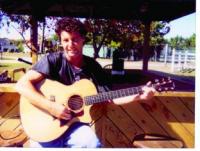 Rick La Ricci in 2001.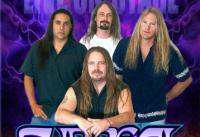 Don't miss Surreal tonight, Saturday, at The Purple Moose.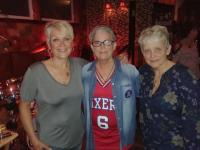 The Girlfriends return to BJ's on the Water Saturday, June 22.
Hi, y'all. I'm baaaack! I said I would try to write more often so here I am. I had a great time listening to the music of "The Almost Famous Ricky La Ricci" show last night at Bourbon St. This was the first time in nearly 10 years that Rick played a show without his son Lennon on keyboards. Lennon was off enjoying the music at Firefly Festival, a present for his 18th birthday. So...Ricky was accompanied by Eddie Saah on bass and Phil 'the Bucket' on drums. They both did a great job, even adding backup vocals. I love Ricky's song selection - a musical repertoire that he has compiled after many years playing for us. He can boast a very extensive list of Beatles tunes, including one of my favorites from John Lennon, "I Just Had To Let It Go," that almost brings me to tears when I think about losing John Lennon when he was enjoying family life with his son and experiencing a new creative surge in his music. Such a profound loss to us all. Anyway, I digress, as I'm often wont to do. My point is, Rick sings so many nostalgic songs that take us back to a place where we think to ourselves, "I remember when I first heard this," or we say to our neighbor, as I did last night, "this brings back memories of dancing during lunch time at school to this song." Rick admitted to us that, "I really miss the kid," even though he had been looking forward to doing his own show. I know he would love to see Lennon move onward and upward with his own group and original music. Lennon has recorded a four-song EP called "Birds On a Wire," also one of the songs on the EP, and he has been playing those tunes for us recently. I'll certainly keep up with this young man's career, and meantime, I want to assure Mr. Rick La Ricci that he's still got what it takes to keep us thoroughly entertained.

While it's not the kind of drama that Bourbon St. has known in the past, there is definitely something new going on there. It is clear that not only is the staff super talented at preparing great food, but three of the staff are great musicians as well. I was going to be all super cute and say, "Bourbon St. has a Staff Infection;" but I didn't want to stir up any unwanted rumors so I came at it round about to tell you that these three musicians are calling themselves Staff Infection. They definitely infect us with excitment when they play: Barry on lead guitar, Colin on rhythm guitar and Chuck on drums. You never know when you might be surprised by a performance by these three. Stop in tonight to hear country star Jimmy Charles.

Also last night I went to The Purple Moose to hear the amazing Surreal. These guys are just as good as ever - consistently one of the best bands you'll ever hear. Walt has a soaring and powerful voice that is second to none. The Maryland Hall of Rock n' Roll recognized his talent and inducted him into their ranks in December. The only difference you'll see in this band these days is that only guitarist Brian still has long hair, beautiful long blonde hair (hopefully he'll never cut it). Drummer Renee was powerful last night singing the Eagles "Victim Of Love;" he should sing more often. And Will on bass is just as good and crazy as ever, even though he doesn't have that long hair to head bang anymore. I'm going to see/hear them again tonight and I highly recommend you do the same.

I'll be stopping first at The Globe to hear Randy Lee Ashcraft and the Salt Water Cowboys and then on to BJ's for The Girlfriends. This is an awesome trio of women who really know how to rock - love 'em.

Hope to see you out on the town. Rock on!
«Go back to the previous page.