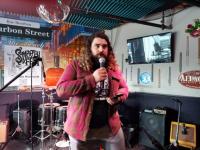 Daniel Jacinto read a note from Joe who was watching the live-stream from home.
Harry O & Joe Smooth played together in the early days of Joe coming here from Cape Cod. I believe this was on the deck of the now defunct Ocean Club.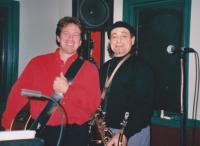 John LaMere was also a frequent partner for Joe.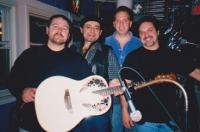 Joe played with Opposite Directions for many gigs over the years including as the Subterraneans who often played at Harborside.
Here's Joe with Kevin Poole's OC Allstars at Sunfest.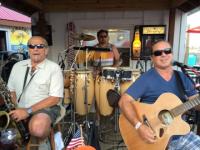 We all enjoyed many Mondays of great entertainment with Joe & Bob at Coconuts Beach Bar & Grill.
Greetings one and all.  I've been enjoying my winter hiatus from writing Coco Nights but a very worthy event took place last Saturday that I feel compelled to share with those of you who were not there.  So many fellow musicians, fans and friends of Joe "Smooth" Jacinto turned out in droves for the SmoothFest benefit held at Bourbon Street on the Beach - it was an inspiring day of music and fellowship.  The continuous live music began at noon with a performance by Harry O who partnered with Joe many times over the years.  Following was the talented duo of Valerie & Margot.  Next up was Roast John with members Otto Grundman on guitar, Nick French on keyboard, Logan Rodriguez on drums, and filling in for bassist Jamaar Oney was Ryan Jared.  What a talented group of musicians; I enjoyed them immensely.  

So many wonderful musicians followed such as: Opposite Directions (Darin Engh & Bob Wilkinson) who played again later with Nate Clendenen; No Byscuyts with whom Joe has played for many years including this last summer; the Fil Rythm Band (Joe played many gigs in the last couple years with Fil as a duo, and joined him on a momentous trip to Mississippi); and Kevin Poole's Poole & The Gang to end the day at 7 pm.  Whew!  It was amazing!  Please refer to the pictures in Fun Fotos for band member names and in case I forgot to mention someone.

Cudos to musician/artist Kathy Denk (Full Circle) and her son Jaiden for the T-shirt design that you will see on many of the event's attendees.  I'm sure this is a memento of the day that they all will cherish; and I know it helped raise a lot of money to help with Joe's medical expenses.  Also cudos to the volunteers such as Carly & Joanna Wilkinson and their team who sold 50/50s and Michelle Schachter and her team who were in charge of the silent auction.  Many thanks from us all to Kevin Poole and Michelle who organized the event that was a testament to our community's ongoing good will for those in need.

Joe's son, Daniel Jacinto, took the stage to read a note from Joe who was watching the live-stream feed from home.  It was a message of thanks and hope.  Later on Daniel returned to update us with comments from Joe; most notably for me was this comment: "Wow, I finally packed the house!"  Yes, Joe, the house was packed full of friends and fans who will continue to pray for and wish you strength and faith as you fight on to whup cancer.  We want you back onstage, my friend; we all love you.
«Go back to the previous page.