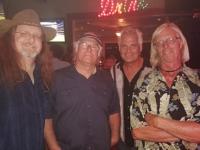 Tranzfusion will perform Friday at Bourbon Street on the Beach.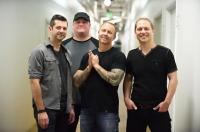 Bad w/ Names will rock the Purple Moose Friday & Saturday nights.
Check out Rick & Regina playing for the Sunday party crowd at Coconuts Beach Bar & Grill.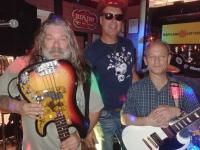 It's always a good time rockin' with 33 RPM Saturday at Bourbon St. on the Beach.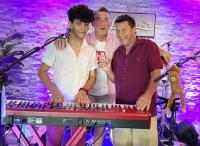 Lennon La Ricci & The Leftovers will play Friday at Mio Fratellos.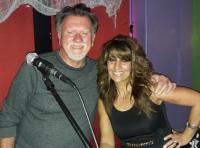 Reform School Band, Michael, Rita, Jay & Eddie, will play a special band reunion gig with the return of Rita on Sunday at Bourbon St.
Hello my friends. I have to report that my only outing this week was to take my baby sister Amy to a yummy dinner at Poncho & Lefty's and a movie at Flagship cinemas (featured advertiser on this site) to celebrate her birthday. We saw Hugh Jackman in "Reminiscence" and wow, was it good; pretty trippy with lots of action too. So, yeah, that was a fun night. Why didn't I go anywhere else all week? I'm getting ready to have my living room painted which is open to second level with a slant roof. I only mention this because it's much more than a normal-sized room. But the big challenge? If you know me, you've heard me talk about my collections of treasures - treasures to me, of course. Over 50-plus years I have accumulated quite a lot of stuff. Remember that old George Carlin comedy bit about having "Too Much Stuff!" Well, I guess that's me. It started with bells years ago; then went on in the music vein with music boxes. This led to trinket boxes of all sizes (too much jewelry too). Another obsession - picture frames. Go figure, huh? When I was still in my away-from-home office, I had plenty of shelf space to display my favorite people photos - including a few well-known celebrities - but not much room here, though. I have gone through boxes and boxes of old photos from Scrapbook days of friends, visitors and entertainers. I have come across some treasures this way that are now being featured in my new "Remember This?" Have you checked that out yet? Oh, I'm not done yet. I have probably a dozen or more candle sticks of all sizes and types: crystal, brass, copper, silver. I also had a book obsession (order to my IPad now) - built-in bookcases packed and many more besides. At least a dozen boxes have gone to our local libraries; hard to part with my old 'friends'. Guess I can't forget to mention shelves of CDs, movies and actual EP albums, too. Then comes the angels. In more recent years I have purchased or been given all types of angels - love them all. And I can't forget my collection of Greek gods and goddesses statuettes or my Egyptian collection; plus a few fairies. And vases! At least 20 vases placed all around as well as probably 20 silk flower arrangements. Ye gads, you're saying?! Yes, that's what daughter Melissa says who is the organizational wunderkind helping me to pack all these treasures so the painters can get to the walls. LOL!! So this is what has been consuming my time and energy. Now instead of treasures, I'm looking at boxes. Yikes, hope this is over soon. Still got to pack up glassware treasures in my china cabinet. Wish me luck.

Now that my rant is over, let me say I'm going to make it up to myself with a huge party itinerary for this weekend and beyond. First stop tonight will be Bourbon Street on the Beach for a great dinner, then music from the incomparable Tranzfusion. I feel like when I talk about them I just gush the same sentiments over and over - that's because it's always true: favorite songs by favorite artists played to perfection as if you're wearing headphones and listening to the albums. There, I've said it again. And I can't wait to hear Hank, Al, Bob & Bobby play again.

Coconuts Beach Bar & Grill is a good bet for top entertainment this week, too. Start off with our local boys of Monkee Paw this evening. Mike & Adam are the perfect pairing of guitars and vocal harmonies. Come back on Saturday to hear Lime Green Band featuring the superb vocals of Angeline with Terry, John & Billy rounding out the band. And Sunday you want to head back to Coconuts to hear Rick & Regina. This gal is one of the best singers I've ever heard, and that's saying a lot in a town that's loaded with fantastic vocalists; so many I decided not to try to name them because I don't want to forget anyone. But you get my drift. As always, refer to the "Who's Where When" listing for the complete lineup. Right now, there are still two acts per day but I see that slowing to one in later September. It's so trite to say, but can you believe it's the end of August?! Labor Day is next week! Holy cow, Batman, where does the time go.

So, for somebody who thought I didn't have much to say this week, I'm being quite chatty, aren't I? Saturday and Sunday nights are also gonna be a blast at Bourbon St. with 33 RPM playing Saturday and a cool Reform School Band reunion on Sunday at 4 pm featuring the lovely and sultry vocals of Rita Conestabile. That's right, friends. As many of you know, she relocated to sunny California to be near her beautiful grandson Marcus. She promised she would come to visit us and she's keeping that promise on Sunday. I know her bandmates, Michael, Jay & Eddie, will be so happy to have her with them again. Can't wait to see her.

The Purple Moose is still one of my favorite places to hear great music and since they're rockin' 'til 2 am, I can often make it there after my other outings. Sweet! This weekend the happenin' crowd will be dancing to the music of Bad w/ Names Friday & Saturday and Love Hate Mixtape on Sunday & Monday. If you like to dance, this is the place to be: on the Boardwalk between Caroline & Talbot streets.

I better sign off before I veer into another tangent. I hope you have a great week and remember to always party safe (if that means 'wear a mask', so be it). Bye for now!
«Go back to the previous page.