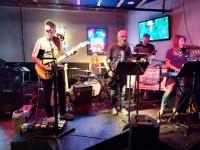 A fun night of great music was enjoyed by all hearing Thin Ice at Bourbon Street on the Beach. photo by Brenda E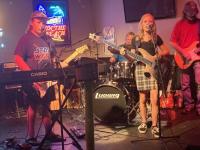 Home School Dropouts featuring James & sister Vada were a huge hit at Bourbon Street's Wednesday Open Mic Night. photo by Brenda E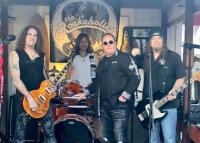 The Rockoholics will rock your flip flops off playing Saturday at Coconuts Beach Bar & Grill.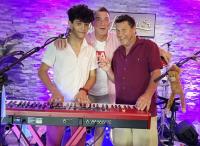 Lennon & Ricky La Ricci w/ Mike on drums will perform at the Atlantic Beach House Saturday.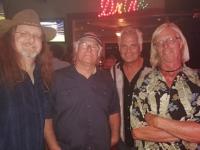 The always amazing musicians of Tranzfusion will play tonight at Bourbon St. on the Beach; and Saturday night at Beach Barrels.
Alter Ego will hit the Purple Moose stage with their high-powered rock Friday & Saturday.
Singer/songwriter and fabulous guitarist Darin Engh plays every Friday at noon at Coconuts Beach Bar & Grill.
Hey, guys, how ya doin' out there? Hard to believe this is the last Friday of July already. Yep, we're rolling through this summer of 2021 pretty quickly so try to take in as much as you can. Fortunately, some of our venues continue top-notch entertainment all year long. One such place is Bourbon Street on the Beach at 126th St. Last Friday I visited to hear Thin Ice play. We haven't been able to hear this group since early 2020 when they use to play often at BJ's. Don't we miss that place and Billy & Maddy Carder? Big time. Anyway, this particular performance of Thin Ice was also noteworthy in that guitarist/singer Jay Vizinni announced it would be his last performance with the band. We're all sorry to hear that but maybe the 'call of the wild' is just too strong for him. He and Lynn love to travel the country in their ultra RV. Exciting? I hear it may be Howard Wimbrow (of Teenage Rust and Comfort Zone) who will take over lead guitar. As you partiers know, this talented group of musicians are Crystal (keyboard), Paul (bass), Kelly (drums) and Dave (keyboard/horns). Every song was met with thunderous applause and I look forward to hearing them again soon.

Speaking of thunderous applause, that was the case several times at Wednesday's Open Mic Night at Bourbon St. Hosts Reform School (Michael Smith & Jay Stinemire) again welcomed Jay's former bandmates Jeff Barrett (keyboard/trombone) & Fred Bradley (trumpet) to the stage. I refer you to last week's Coco Nights to read more about the history of their band The Capris. Jay, Jeff & Fred have put together a trio and will play for Saturday Brunch at the new Cambria Hotel (downtown OC) at 8:30 am. If you like all the old standards such as "Fly Me To The Moon," "All Of Me" or "Mack The Knife," you should treat yourself and visit the Cambria to hear them. Playing with a full band on Wednesday (which included Eddie Saah on bass and Mike on keyboards), we heard so many great tunes in addition to these such as "Soul Man," Van Morrison's "Domino" and Chicago's "25 or 6 to 4." What a rousing sensation to hear those horns. Wow!

Who else got the crowd excited? A young brother and sister team from Salisbury absolutely blew our minds with their level of musical prowess. James (14) rocked, wailed and shredded on guitar while also singing some of the songs which included selections from such groups as Talking Heads, Led Zeppelin and Pink Floyd. Boy do I love it that new generations continue to love the music of us old hippies. Sister Vada (12) played bass and also sang. Get this: they call themselves Home School Dropouts. Too cute. They were accompanied by dad Bruce on guitar. I'm told that sometimes mom comes out and plays drums, but not this night (Rod Bounds, Repeat Offenders, played for them). I'm also told that they plan to visit again this coming Wednesday so come on out and check out all the fun at Bourbon St. on the Beach; you never know who might show up. I even sang a few songs myself. This weekend will be off the charts with the awesome Tranzfusion tonight, First Class featuring the exquisite sax sounds of Danny Dolan on Saturday, Lauren Glick on Sunday at 4 pm and Face The Fish at 7pm. Guitarist/singer Steve Kuhn wrote to tell me that he was a member of Face The Fish for 18 years in the Washington DC area. This performance will be a cool reunion for these guys and he would love to see all his new friends in OC come out to hear them.

The Purple Moose is always a favorite of mine. I can always count on the music being excellent, the Bacardi & Cokes cold, and the amazing crew being super kind and respectful. Love those guys! Last week Tripwire ripped through hit after hit playing a few you rarely get to hear because of Eugene Yun on violin - think "Devil Went Down To Georgia." One notable thing I noticed hearing this group was the crowd's reaction was not so much with applause as with surging roars of approval. Front man Bruce Baldwin kept the audience in the palm of his hand with his powerful and explosive vocals. Their song selections definitely had a harder edge than some other groups who play here, which provoked some head-banging and moshing. All great fun. This weekend The Purple Moose welcomes back Alter Ego, one of my favorites (lol, do I say that about everybody?). This group is also fronted by a dynamic performer in the person of Jamie Sadler. Say hello to Jim (guitar), Anthony (drums), Chazz (bass) & John (lead guitar). Hope to see you all there.

Rock n' Roll fans will be pleased to know that the Rockoholics will return to Coconuts Beach Bar & Grill (behind Castle in the Sand) on Saturday at 5 pm. You'll hear classic favorites from Ken Wright on guitar, Anthony Liberto on drums, Chuck Leo on bass and amazing vocals from Joel Morris. Come out and enjoy the day at this beautiful dune-side patio oceanside at 37th St. Did you know they provide service right on the beach from their beautiful servers? Coconuts has so much to offer with two lives acts each and every day. Be sure to refer to the Who's Where When list on this site for so much more.

Last, but not least, I visited Mulligans in West OC last night to hear the Dust n' Bones Duo. It was a treat to hear an acoustic version of this group that usually rocks your face off. It was such a pleasure to hear the richness of Dean Clark's voice on so many of my favorite songs including some softer soulful songs such as Chris Stapleton's "Tennessee Whiskey" and Fleetwood Mac's "Landslide." He was most ably accompanied by Mark Townsend on guitar. They will be performing with the full band tonight at the new Fast Eddie's (121st St.). My friends in One Night Stand (Mark, Frank & Eddie) are regulars there; they will be back playing Fridays next week. Meanwhile, keep Mulligans in mind for fun, music and great food (they have a new chef!).

That's it this week. Love you all, love the music and love Ocean City! Party safe!


«Go back to the previous page.