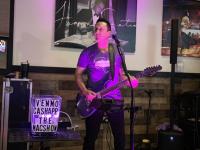 Stevie Mac returns to OC April 26; look for his dates at Bourbon St., Crawl St. House of Sauce & Cork Bar.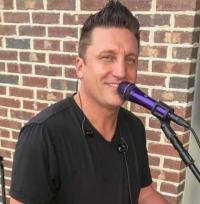 Hailing from Myrtle Beach S.C., Stevie Mac returns to Ocean City April 26.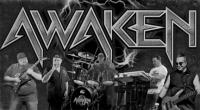 Awaken rocked the house at The Purple Moose; returning July 2-3.
We enjoyed the classic rock sounds of Awaken at The Purple Moose.
I'm back.  It's been a glorious Spring thus far with more sunny days in sight.  Springfest is just around the corner which means the opening of Coconuts Beach Bar & Grill.  Meanwhile, I've been hitting the music scene at such places as Coins, Bourbon Street on the Beach, Fast Eddie's, The Purple Moose, Harborside, Crawl Street Tavern & Cork Bar for performances of incredible talent.  Once in a while Ocean City lures talent from afar and this was the case with a talented singer/guitarist/songwriter from Myrtle Beach, S.C., Stevie Mac.  Thanks to the efforts of Lisa Bradfield, who saw him perform there, Stevie was booked at several of our local venues (Bourbon St., Coins, Cork Bar) where he's already made a name for himself.  I heard him at Coins and was immediately impressed by his vocals and guitar skills.  Right then I decided I would like to get to know him better, encourage him to come to Ocean City again, and do my best to promote him.
I had the pleasure of speaking with him yesterday to find out more about his journey as a musician.  Young Stevie was introduced to The Beatles, on The White Album, at the ripe old age of 4.  Then he says, he listened to all types of music from Motown to Country that further nurtured his "informed musical sensibilities."  Stevie first picked up the guitar when he was about 7 and not long after began playing classic '80s rock with his two uncles around Clinton, S.C.  By the time he reached 15 years old, it was time to strike out in his own band, The Ruff Boyz.  After high school, he worked at a printing company and began playing Gospel and Christian contemporary music in churches around Spartanburg, S.C.  When he decided to give Nashville a shot in 1996, he and a couple former bandmates formed Brother Faith and headed to "music city."  In Nashville the band had the opportunity to do some recording in Larry Gatlin's (Gatlin Brothers) studio.  Of the music the band was playing at the time he says, "It's hard to categorize: roots rock, feel-good music? Working man's rock like that of John Mellencamp, Tom Petty and Bruce Springsteen."
You remember Star Search with Ed McMahon?  Country rockers Sawyer Brown were one of the few who 'made it big' from that show.  The Tim Clark Band (former singer of Sugarcreek) was on that show too.  Why do I mention this?  Because after moving back to Myrtle Beach, Stevie Mac hooked up with Tim Clark to become the band's guitarist.  The Tim Clark Band made a name for themselves playing at places like Speed Streets in Charlotte and House of Blues in N. Myrtle during Nascar races; and also opening for such acts as Little River Band, 38 Special and 3 Doors Down.  They were recognized as one of the most popular and versatile bands touring the southeast.  In 2005 Stevie Mac decided to audition for the world-wide search to replace the singer for INXS.  Remember that?  I sure do.  When Stevie made the top 100 he was encouraged that he could win.  Things were looking good for success and so he told his bandmates in The Tim Clark to find a new guitarist.  After going through many more rigorous steps and more auditions, he did not make the top 15 and quickly realized that despite show producer Mark Burnett's insistence that they wanted a different type of singer, that's exactly what they ended up with.  No more reality shows for Stevie.
After these many years of experiences, Stevie Mac began to hone his skills for a solo career that circumstances, such as the Pandemic, had deemed necessary.  He became resourceful at creating a band sound by recording live parts (not bought canned music) to play as a background to his vocals and guitar playing; and using the looping technique as well.  He performs for the love of music always striving to do justice to the well-written songs he plays.  About playing here in Ocean City he says, "I love the musical community spirit I found in Ocean City," Stevie says.  "Everyone is so supportive and friendly.  It's the spirit of the music that connects us all."  On a personal note, he tells me that he has been married for 15 years (together for 23) and they have a beloved puppy.  He has been sober for the past 4 years and proudly "wears it as a badge of honor."  Ocean City is very fortunate that through the efforts of our friend Lisa, he finds that he loves it here and will return to play at Bourbon St. on April 26 (at 4p), at Crawl Street on the 27th (6:30p), the House of Sauce on the 29th (7p) and at The Cork Bar on the 30th (3p).  I look forward to hearing him again and hope that you all will join me in welcoming him back.
I know I've already given you a lot to read but I must mention the performance of Awaken at The Purple Moose.  They opened strongly with tunes by Led Zeppelin, The Who, Black Sabbath, Knight Ranger, Rush, Boston & Journey to let us know just who they are.  Drummer Brian Beyer tells me that they play the music they love and that they do best, staying in their lane, and I, for one, loved it.  Players Tim Phebus (bass), Josh Sturgil (an absolute beast on guitar), Scottie Wilson (amazing vocals) and Dean Harris (keyboards) will return to The Purple Moose on July 2-3.  I had an informative conversation with Scottie as he kindly walked me to my car.  He said when times got tough during the Pandemic, he and Surreal guitarist Brian Tregeser hooked up to perform as an acoustic duo.  You never know what you'll learn when you strike up a conversation.  Make sure you hit the boards to hear them when they return; and remember, you can always hear the best in rock at The Purple Moose.
Party safe my friends!
«Go back to the previous page.