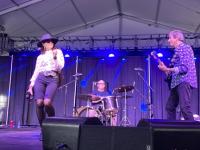 Maddy & Billy exchange a little smile during their performance with Teenage Rust at Sunfest.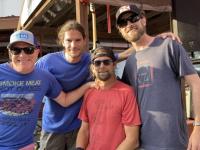 The Dunehounds will play Sunday at Coconuts Beach Bar & Grill when the Bahamas vacation winner will be announced.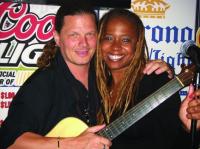 Rick & Regina will entertain you Saturday at Coconuts Beach Bar & Grill.
As always, Tranzfusion wowed the Ocean Pines Yacht Club audience at their last performance there of the season.
Hi, fall fans. Isn't this a glorious time of year? It's Sunfest weekend and wonder of wonders, the weather is great! I made a supreme effort (and that means using a walker, ugh) to go hear Teenage Rust in the big tent, and I'm so glad I did. It's been so long since we got to hear them play at BJ's; I missed them at Springfest so I was determined to make it to Sunfest. I called Billy & Maddy Carder OC rock royalty in the picture caption in Fun Fotos and indeed they are; Maddy appropriately wore her 'Queen' pin. From the Sunfest main stage Billy announced that they are the oldest continuous band in town from back in the '70s. There have been a few personnel changes over the years with the current lineup being Cyrstal Grandell on keyboard and vocals, Paul Grandell on bass and vocals, Howard Wimbrow on guitar and T Lutz on drums. They played all our favorite classic rock tunes with precision and pizzazz. It was hard to take our eyes off Maddy as she truly was the 'Dancing Queen'. So much fun!

Friends told me that earlier in the day both Kevin Poole & Joe Mama and then Monkee Paw with Joe Mama did a fabulous job; as did perennial favorite Randy Lee Ashcraft & the Salt Water Cowboys. I'm so glad that our local talent is being showcased. Today, Friday, Lennon La Ricci & The Leftovers played and I'm sure the audience was impressed with his astounding talent. Saturday the Lauren Glick Band will play early. You can go to ococean.com for the complete lineup where I read that Blues Traveler has been forced to cancel Saturday's show and all dates on their 2021 tour because of an injury John Popper sustained in the band's recent bus accident. Instead a free concert will be offered Saturday evening, to be announced. Before I move on I would like to commend town planners, or whoever is responsible, for the new layout of the Sunfest grounds. Now, it may have been like that for Springfest, but as I said, I did not attend that. The stage has been moved, seems like there is more table seating for festival goers, and the food tent is more open and easier to traverse. Also, cudos to Mid South Audio and Gino Bailey for the excellent job they are doing.

I'm resting up today so that I can go back to Bourbon St. on the Beach Saturday to hear the always amazing Rusty Foulke. I had a great time at Wednesday's Open Mic - check out the photos in Fun Fotos. I am constantly amazed at the number of talented people in our midst; and visitors who love to join in too. It was wonderful to hear Rita sing for us again. I wish her all the best as she relocates to Florida. She promises to come back often to see us.

It's that time of year for many businesses to slow down and prepare for their winter closings. Sorry to say that is getting close for one of my favorite venues, Coconuts Beach Bar & Grill. For all those who put their names in all summer long on Tipsy Turtle Tuesdays (that's the name of their signature cocktail), it is time for the final drawing for a chance to win a Bahamas holiday at Castle in the Sand's sister resort Green Turtle Club on Green Turtle Cay. It's always an exciting day of multiple parties and fab music (this year featuring The Dunehounds), with a 3 pm drawing of the turtles to find the big vacation winner. You don't have to wait 'til Sunday to part though; come on out Saturday to hear the popular duo Rick & Regina. You'll not hear a better vocalist anywhere than Regina. They will be closed Monday & Tuesday but come back Wednesday for an encore performance of The Dunehounds; then Kevin Poole on Thursday. Just a couple weeks left of excellent entertainment, ending on Sunday October 17th with Monkee Paw. Check Who's Where When for the complete lineup and see their ad in View Advertisers.

The Purple Moose will continue to feature weekend bands - this weekend it's Social - then will close out their season with a Halloween party on Saturday October 30 with music by Doc Marten & The Flannels. Say it isn't so. I really wish it could go on year-round at The Purple Moose, but that's the nature of the beast in a resort town. I guess it will be good for me to slow down a little; especially with all the planned work ahead on my house. Whew, what a project this is. Time to sign off for now. Enjoy the rest of Sunfest and have fun all around town. Party safe!
«Go back to the previous page.