Loomatix played Coconuts Beach Bar & Grill - awesome. Latest member Dave Wimbrow w/ Jeff Davis, Joe Mama & Sean Loomis. photo by Karin Lakin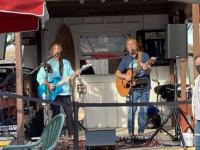 Heather Vidal at Coconuts; she will return on May 25 & 27.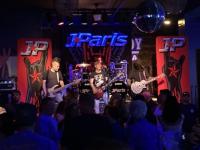 JParis rocked the house at the Purple Moose. Surreal coming May 21.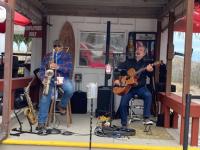 Joe Smooth & Bob Wilkinson every Monday at Coconuts; or as Joe likes to call them, "the Bobby Joe Orchestra.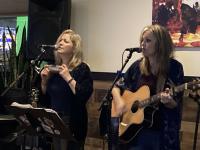 Michelle & Kathy - Full Circle Duo - play often at Coins Pub & Restaurant.
Randy Lee, Lisa & Mickey play Thursdays at Bourbon St. on the Beach.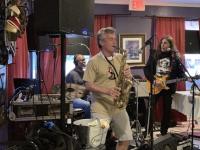 First Class - Danny, Sadik & Roy - play at Bourbon St. on the Beach.
Hi, everyone. It's been quite a while since I sat down to talk to y'all and I'm feeling pretty rusty. It's been a long hard year for us all, hasn't it; but we finally have a vaccine (got both shots of Moderna) and the CDC has just changed guidelines saying our venues can now be at full capacity and ... we can DANCE! Yay! I managed to see music over this long year; but with caution and happy to say, I never got sick.

There were so many performances that inspired me to chat with you but it seemed that too much TV and too little interaction with my friends left me depressed. I'm sure you've all experienced what I'm talking about. Someone on the radio said a word for how many of us were feeling is languishing. Yeah, that fits. Done with that, my friends - I'm ready to really get out and about again.

The opening at Coconuts Beach Bar & Grill on Thursday, May 6th, was a huge turning point. I'm so happy to be able to sit in the sun again and hear my favorite bands play great music. That day it was Heather Vidal who was awesome, as always, who expressed her joy to be out playing again. Monday's are a favorite with me because of two of my favorite people (not just musicians) in the world, Joe Smooth & Bobby Wilkinson. They might be the most entertaining duo around. Not only do we hear lots of good tunes, but we get a comedy show as well. Bobby keeps a smile on my face and Joe is an excellent straight man, with a few one-liners of his own. Yesterday I returned to Coconuts to hear Decade 80. I was pleasantly surprised to find that this duo is Justin Fisher on the drums with Taylor Knox on guitar. I was so impressed and highly entertained by their song selections, primarily from the '80s but some '70s as well. Thank you for keeping alive what some say is the best music produced by our musician icons. We heard Petty, Prince, Jackson Brown, Pink Floyd - so many many more. We are all familiar with the amazing guitar skills of Taylor Knox but I had no idea that Justin could sing so well; in fact, his Mom told me that they didn't know either 'til about a year ago. You may remember Justin sitting in on drums when Joe Mama first introduced him to the public when he was only 4 years old. In his teens he was in the group called Parental Guidance before he went off to college. He's now graduated, has a pilot's license, and has teamed up with Taylor for this duo that sounds like a full band. I know we'll be hearing them again. That's Decade 80!

There's so much more I could rattle off because talking about music really gets me excited, but I'm told that people want a quick read these days so I'll just try to mention the acts that kept me going all year: Randy Lee Ashcraft w/ Mickey on harp & Lisa on percussion; First Class featuring Danny Dolan on sax, Sadik of the smooth vocals on drums and guitarist Roy Bush; Shots Fired w/ Brian Thomas & Danny Shivers; Lennon & the Leftovers featuring dad Ricky on guitar & Mike on drums; Michelle Schachter & Kathy Denk (Full Circle Duo) who are frequently at Coins Pub now as well as at Seacrets; Rusty Foulke at Bourbon St. where owner Barry Reichart often joins in the jam. Side note: the new location at 126th St. is fabulous - a real stage and professional sound and lights. Reform School - Michael Smith & Jay Stinemire - are back at their regular Wednesday Open Mic. And last, but certainly not least, are the rockin' bands at the Purple Moose. I love the energy, the bands and the crew there.

Okay, I've probably left out others that I have heard but I need to say bye for now 'cause I want to get back to Coconuts to hear The Loomatix - that's Sean Loomis, Joe Mama, Jeff Davis, and new to the group, Dave Wimbrow. Here I come. And Sunday is the first party with the Lauren Glick Band. Y'all party safe. Don't let your guard down too much; we want to keep this party goin'!!
«Go back to the previous page.