Daniel Jacinto at Smooth Fest in January for his dad.
Harry O & Joe Smooth
Joe & Michael Tracey White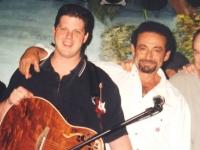 Kevin Poole & Joe Smooth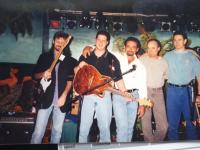 Disappointed Mothers: Justis, Poole, Smooth, Smollen & Davis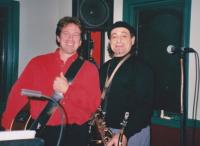 John LaMere & Joe Smooth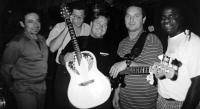 The Subterraneans: Joe, Tom, Darin, Bob & Bryan
Opposite Directions (Darin & Bob) w/ Joe Mama & Joe Smooth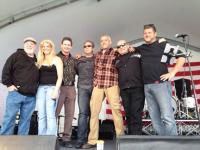 OC Allstars: Mike Armstrong, Lauren Glick, Kevin Poole, Joe Mama, John Remy, Jeff Davis, John LaMere & Joe Smooth at Sunfest.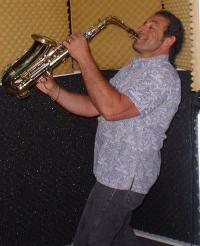 Joe Smooth in recording studio. courtesy Kevin Poole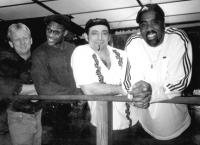 No Byscuyts: Howard Wimbrow, Keith Brooks, Joe Smooth & Elwood Bishop.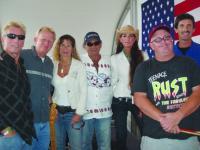 Teenage Rust & The Fabulous Rustettes, ca. 2007: Paul, Howard, Crystal, Joe, Maddy, Tommy & Billy.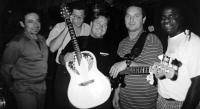 The Subterraneans: Joe, Tom, Darin, Bob & Bryan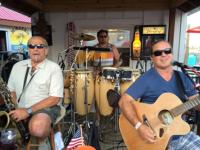 Joe & Bob w/ Pete
Poole & The Gang: Joe Mama, John, Kevin, Ryan & Joe.
Always playful: Joe & Michele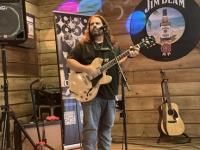 Fil Rhythm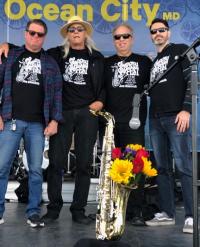 Wearing their Smooth Fest T's were Kevin Poole, John Remy, Joe Mama & Ryan Jared paying tribute to Joe Smooth at Springfest. courtesy Kevin Poole
This week I want to finally publish the article for which I have been compiling information for a few weeks now; and so I am dedicating this column to Joe.  Many of us have read the heartfelt tributes to Joe "Smooth" Jacinto on facebook that probably only scratch the surface of the life and times of this dearly departed (May 2, 2023) talented artist.  To capture a more indepth look into his life, I decided to reach out to a few of his fellow musicians.  It's only fitting, however, that I should begin with the person who knew him best, his son Daniel Edward Jacinto III.

Joseph Edward Jacinto II, born on April 7, 1950, was raised in Sandwich, Mass., by parents Joseph Edward Jacinto Sr. and Irene Marshall Jacinto.  Daniel, who was born to Joe and his wife Wendy on June 21, 1987, still remembers his childhood address: Plymouth 1 Oxford Rd., East Sandwich, Mass.  I told Daniel about a picture that Kevin Poole shared of Joe in his first band, The Excels, at the age of 15.  In 1965 The Excels won the Southern Massachusetts Battle of the Bands and Daniel said he found the program for that event in his father's belongings.  After school, Joe received a scholarship to Berklee School of Music, but Daniel says he doesn't know how long he studied there.  He does know that Joe served in the Navy (he was a Navy Seal) from 1968-72; so following the time-line, he didn't stay in college.  Daniel says the whole family would visit Ocean City during the summer and also for holidays such as New Year's and Christmas.  His earliest memories were of staying at the cottages at the Castle in the Sand and sitting on the beach to watch the speed boat races.   Mike & Maryann Lawson (now owners of Barn 34) were managers there at the time and he introduced Joe to Harry O and Bobby & Darin of Opposite Directions.  Music was played then in the downstairs dining hall.  Daniel remembers Joe playing with so many local musicians including with Mike Armstrong, Elwood Bishop and Michael Tracy White who were the Zydecats, a group that later gave birth to No Byscuyts with Elwood, Keith Brooks and Howard Wimbrow (Fil Rhythm joined the band in 2020 and now Howard has returned).  Joe continued to play with No Byscuyts every Sunday at the Plim Plaza's Caribbean Pool Bar where the band still plays.

It was in the 93-94 season that Joe, Wendy and 8-year-old Daniel decided to move to Ocean City where they lived for a time on 28th Street on the bay; later renting a house in Ocean Pines.  Wendy got a job bartending at Big Peckers alongside Sabrina Wilson, who we all know and love.  The venue featured live music 7 nights a week and Joe began sitting in with all the local musicians who were thrilled to have him.  It was not long before Joe was asked to collaborate as a duo with such locals as Harry O, Michael Tracey White and John LaMere.  Daniel remembers he was in 2nd or 3rd grade when dad and Wendy decided to divorce; and Daniel lived full time with dad.  "Dad was a man of faith," Daniel told me. "In fact he was an altar boy as a kid."  Daniel continues saying, "Dad was a simple guy who didn't like flashy things ... never wanted a lot.  He truly believed that all people are equal and should be treated equally, and he raised me that way.  Despite his love for people, however, he did not gladly suffer fools" (meaning he had little patience for those who did not treat others with kindness and respect).  "He never aspired to be an icon."  But we all think of him that way, don't we.   "Even though he was humble, he did feel gratitude and a measure of pride that visitors who came year after year would greet him warmly.  He loved talking with people and playing for them.  It was gratifying to him to be well thought of."

Daniel loved cooking so it was only natural that in a town of so many great restaurants, he became a chef.  I remember when he worked at The Shark on the harbor and Joe and Harry O were playing there.  In 2012 Daniel and wife Ashley, a nurse to whom he's been married for 8 years, moved to Baltimore where he continued to work as a chef.  Looking for a more normal life as he and Ashley raised their two children, he left the restaurant business in 2015 and went into sales working in the seafood industry.  "No matter what career path I was on, Dad always told me he was proud of me," Daniel says.  "He was such a loving guy.  He might have come off as macho but he was really a big softy.  Like my grandfather, who was tough as nails, they both could choke up at a cute dog commercial.  He was super loving; a real emotional guy who cared about friends and family so much.  That family for me also included Dad's wife Michele," Daniel says, "who he began dating when I was eight.  He was devastated when Michele passed away in 2020."  We were all happy for Joe when he found a new love in Ann Stoffregan who was by his side 'til the end.  Daniel says Joe had been fighting for longer than anyone knew.  "He never wanted anyone to stress out about him.  I'll miss him always but it's comforting, in a sense, to know that he lived and died on his own terms."

One of Joe's many fans is Tish Michel who wrote an article for Coconut Times in 2014 about a conversation she had with Joe.  He told her that his dad rented a saxophone for him when he was only 9 years old.  His parents made sure he practiced daily which led to Joe receiving a full scholarship to the Berklee School of Music in Massachusetts.  He had already been playing in bands with school buddies at least from the age of 15 (see picture to prove it).  From Tish's article we learned that Joe served in the Navy Seals, a very elite group of the U.S. Navy.  "Joe and his family," he told her, vacationed at Castle in the Sands. Mike Lawson (owner of Barn 34) managed Coconuts at the time and introduced Joe to Bobby Wilkinson, Darin Engh, Harry O and other musicians. Joe liked the music scene here so much that they moved to OC in 1995.  Harry O takes credit for dubbing Joe "Smooth" as Joe had a pack of Camel cigarettes in his pocket the first day they played together.  Remember the old Camel ads and the camel was called 'Joe Smooth'?  Harry told Joe his name was Joe Smooth for the rest of the day and it took!

One of the musicians that Joe met after moving to Ocean City was Kevin Poole.  Kevin reminisced with me about meeting him at Big Peckers where many of the local entertainers played: Opposite Directions, Batman, Harry O, John LaMere and Kevin Poole.  "I remember Joe came to town around 1994-5 and wife Wendy got a job as a bartender at Big Peckers.  She introduced Joe to Kevin  who says that, "I knew from the first few notes he played that this guy was the real deal."  Around that time Kevin put together a group of musicians, including Joe, who he dubbed The Disappointed Mothers. Featured were  Kenny Martin on keyboard, Michael Justice on guitar, Jeff Davis on bass and Ed Smollen on drums.  Over the years, the players changed but Kevin always invited Joe to play in whatever band he assembled, including the more recent Poole & The Gang (Ryan Jared, bass, Joe Mama, drums); and, of course, the OC Allstars that played, and still do, at Springfest and Sunfest.  This year Joe was honored and remembered with a sax wreathed in flowers onstage.

I spoke at length with John LaMere from his home in Key West where he is now a featured musician at Willie Ts.  Originally from Long Island, N.Y., John moved here in the early '90s.  I remember when he first came to town and got a job at Fager's Island playing solo outside.  He also landed a job at the Ocean Club on the deck called Lenny's Back Porch.  Manager Sam asked if he could play as a duo, which he did with Harry O and then with Joe.  "Joe and I did landscaping jobs together, too, for Nolan Graves; we had both done that kind of work back home."  So they became close friends as well as musical collaborators.  "Those gigs made me what I am today.  I was still green; felt like I didn't know what I was doing.  I would look over at Joe and he would give me a look or say something funny." John continues, "I'll never forget his humor; he loved to tickle my funny bone by throwing in silly lyrics to songs such as "Amy."  He would sing, "I stink I think you do too."  And yet, he was always such a professional."

Continuing walking down memory lane with John, he reminded me that he and friend Chris Button had played together in a band called Shore Thing in Long Island before he moved here.  "I told Chris what a great place this was and got him to come down - and he never left either.  Very 'tongue-in-cheek' we called ourselves Crowded Outhouse."  In 2005, John visited Kevin Poole in Key West where Kevin had been playing over the winter months with his family, Bethany and their two sons, with him.  "In 2006, I stayed with them for 3 months and again for the next few years, and got to watch the boys grow up until they were in school and no longer came with Kevin."  John began playing in 1989, he recounts at the age of 27 and to date has played 8000 gigs.   Remember the "Bloody Mary Mix" radio show on Ocean 98 with Chris & John?  "I remember that during one of our shows, we had Joe Smooth come to the studio while we interviewed Richie Cannata who played sax with Billy Joel. It was great to hear these two consummate sax players talk shop.  John continues to live full time in Key West, but he remembers when he returned to Ocean City in 2012 after a few years back in New York with family, that Batman called it "the Third Coming of John LaMere."  Maybe Batman is organizing Heavenly entertainment for Joe, Michael Tracey White and Mike Armstrong.

Next I spoke with guitarist John Remy who performed with Joe as a duo since 2009 after his former partner, Michael Tracey White passed away.  "We had 14 years of fun together," Remy said.  "I the late '80s I played around town in a band called Surf & Turf with Howard Wimbrow (guitar), Elwood Bishop (bass) and Kenny Roughton (drums) that was  sort of rocked-up Motown." The first band I was in with Joe was Too Much Stuff with Ed Smollen (drums), OC Hanu (keyboard) and Lind Sears (vocals).  I left town for 20 years to take care of mom in Chesapeake Beach."  During the years John was away, Joe played with Teenage Rust beginning in 2003, according to Billy Carder, former owner of BJ's on the Water.  I heard Teenage Rust on Memorial Day at Coins.  They always play "I Will Survive" as their last song and Billy, a cancer survivor, dedicated it to Joe.  Also during this time, Joe joined Elwood Bishop, Howard Wimbrow and Keith Brooks in No Byscuyts.  "When I came back," Remy recalls, " I sat in with No Byscuyts a few times.  Joe had been doing a duo as well, White & Smooth, with Michael Tracey White. When Michael passed away in 2006, Joe began looking for a new duo partner and asked me in 2009."  John Remy is now playing alternating Mondays with bass player Gene Lyons at Coconuts Beach Bar & Grill.  He and Gene are also members of Low Tide Lovers with Aaron Howell and Keith Brooks.  Remy remembers this conversation, "You moved from Cape Cod to play here and be a big fish in a little pond.  I told him recently he is an ocean City icon/ambassador of music ... after 30 years right up there with Batman and Boardwalk Elvis.  'F*#& you, man!"  he said with a sheepish grin.  "There will never be another like him.  He was always onboard with any benefit to help others.  He was simply a great guy and I'm gonna miss him."

Bobby Wilkinson, solo and duo partner with Darin Engh as Opposite Directions, remembers when Joe came to town and sat in with them at Big Peckers in 93-94.  Harry got him started.  "Harry O really got him started." Bob says.  "Harry was playing at the Holiday Inn and when Joe came in with his sax, he said, "so come hang with me."  It was that first day that Harry tagged him Joe Smooth as I recounted earlier from Tish's conversation with Joe.  When Bobby and Darin put together a full band they dubbed The Subterraneans, Joe was with them along with Doug Beauleau (guitar), Phil Moreno (drums/percussion) and Jimmy Seechuck.  He remembers all the Batman Booze Cruises they played and that Joe often sat in with Mary Lou & The Untouchables and Jr. Cline and The Recliners.  Bob began playing as a duo with Joe at Coconuts in 2016.  "We made each other laugh so much," Bobby says.  Indeed their humorous banter was one of the reasons friend Tish and I enjoyed their shows so much.  "We told our fans we were brothers from another mother and called ourselves the Bobby Joe Smooth Orchestra.  I can't think of anyone he didn't play with," says Bob.  " my son Sammy passed, Joe was right there playing at the Jam for Sam, and had been a part of the Musicians Jam that was held at the Francis Scott Pool Bar."  Remember those?  I sure do.  I was Big Mama Squid in King Neptune and The Squids - Chris Miller and Dave & Bruce Hudson.  "We were real friends," Bobby says.  "It was not just the music; we hung out together.  He and Michele would come over to my house to enjoy time together with Joanna and the kids.  Guacamole nights were legendary.  Cookouts, Christmas, band practices, landscaping/plumbing, movies ... great friends stuff.  Joe gave my daughter Carly his mother's sewing machine.  We visited the Alamo in Texas together for a corporate gig."  Bob says everyone Joe has ever played with said they couldn't believe how he could jump right in and play any song, any key, thrown at him.  As the Subterraneans they played BJ's, Lunacy parties at Seacrets, Fager's Island with musicians Vince McCool (trumpet, Bryan Lee (guitar) and Pete 'the Beat' Bottenelli.  "Darin and I as Opposite Directions played Thursdays for 25 years at Harborside and Joe was always my go-to partner when Darin was out of town."  Bobby concluded his memory meanderings with this:  "He was a good guy with a good heart.  I'm still waitin' for his text.  Miss him.  It's tough."

Singer/songwriter Lauren Glick says Joe Smooth played an integral part of her musical journey.  During her early days after returning home from Berklee School of Music, Lauren remembers him always being so supportive of her music and through her grief at losing band members Mike Armstrong and drummer Bubba.  "Michele and I were good friends and I'll never forget introducing her to Joe; they immediately hit if off and it wasn't long before they married."  Joe Smooth played in Lauren's band Chameleon and in Cold Blue Steel with Mike Armstrong.  "He was a wonderful professional, always smiling, always giving all he had."  Lauren continues her journey having been signed with Specter Records to promote her original music on her CD Lush.

Fil Rhythm (Phil Bonsignore) says he met Joe in 2019 through Larry Parsons, the owner of Woody's in Chincoteague.  "Our  first big gig together was New Year's Eve 2020 at Chincoteague Island Theater.  Over the next few years, they played lots of gigs together.  Fil tells me that Joe really helped him meet people in OC.  He became a member of No Byscuyts from 20-23.  In April of 2022 they traveled to Clarksdale, Miss., together to play at the Bluesberry Cafe. "During that trip we got to visit the legendary Crossroads, where legend has it that blues man Robert Johnson made his infamous deal with the devil.  They were looking forward to returning there but it was not to be.  "This might be my last great journey," Fil remembers Joe telling him.  "He was struggling even then with energy loss."  Joe was comfortable in his role as mentor to Fil.  "I'm 44 and Joe was 73.  He was like a crazy uncle.  He helped me raise my game - harmony, music.  He could pick up his horn and blow people away within 5 notes. There was a weight to his playing that is indescribable.  I'm so happy and honored to have met him and had that special time with him.  The man the myth the legend."

And so Joe Smooth Jacinto, a friend to us all, does pass on into legend, to never be forgotten.
«Go back to the previous page.