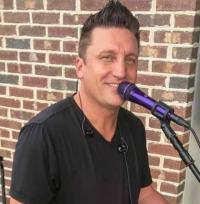 Stevie Mac will perform Saturday at House of Sauce and Sunday at The Cork Bar.
Tranzfusion will play Friday at Bourbon Street on the Beach.
Heather Vidal will play at Coconuts Beach Bar & Grill Saturday May 6.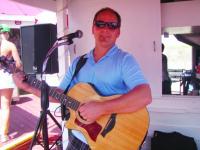 Darin Engh will open the season of great entertainnent Thursday at Coconuts Beach Bar & Grill.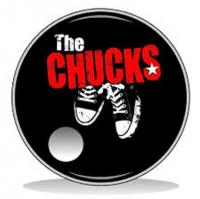 The Chucks will perform Saturday at The Purple Moose.
Hi, y'all.  It's a dreary Friday but I tell myself that April showers bring May flowers; and May is Monday!  Yay!!  Looking forward to sunny days and outdoor music.  Thursday begins our annual Springfest celebration, and Thursday, May 4th, is the grand reopening of Coconuts Beach Bar & Grill (behind Castle in the Sand for those who don't know).  Their always impressive lineup of excellent entertainment begins with Dylan Canfield at noon followed by the Chris Diller Duo at 4p.  Darin Engh returns in his Friday noon slot followed by Monkee Paw at 4p.  And that beautiful songbird Heather Vidal visits town to play on Saturday at noon.  If you've never heard her, please do yourself a favor and come out for this performance.  Not only does she have an amazing voice, but she's also an accomplished guitarist.  Take a look at Who's Where When for the complete upcoming schedule (well, I've posted May so far).  Looking it over I see many long-time favorites such as:  Kevin Poole & Joe Mama, The Dunehounds, Lime Green Band, Rick & Regina, The Chest Pains, Old School, One Night Stand and more; plus some I'm not familiar with such as Hurricane Kevin, Royal Flush Band, Beg To Differ Band and many more.  We can always count on fabulous entertainment at Coconuts (no relation to this publication, by the way; people have asked me if I own it.  NO!  LOL!).  See you under the umbrellas at Coconuts Beach Bar & Grill.

I've been having good times listening to music around town but haven't heard as much as I'd like.  This darn hip is really slowing me down; but I'm not giving in to it - no, no.  I loved the music of Risky Business at their performance last week at Fast Eddie's.  Singer Brian Thomas' other band, Shots Fired, will be at Bourbon St. Saturday.  The incomparable Tranzfusion is playing there tonight.  Also tonight (Friday) Lennon & The Leftovers will be at Crawl Street Tavern.  Fast Eddie's will feature two bands this weekend that I have not heard but people tell me they are very good: Beach Mac (Friday) and Pistol Whipped (Saturday).  The Purple Moose will break with the norm by having two different bands this weekend: Thunderball on Friday and The Chucks on Saturday.  New local band Cecelia's Fall will perform Saturday at 1p at Harborside.  Looking forward to this new collaboration of musicians featuring Gavin Hades on guitar.  Let's check 'em out.  

I had the pleasure of hearing Stevie Mac twice this week: first at Bourbon St. on Wednesday; then at Crawl Street Tavern Thursday night.  It was only fitting that we celebrated Lisa Bradfield's birthday there, too, as she's the one who lured Stevie from his busy schedule in Myrtle Beach to come play for us in Ocean City.  We did ourselves proud during his first visit as he experienced our friendly and inviting local talent.  Everyone was so welcoming that he decided to come back and we're glad he has.  You can catch him Saturday at House of Sauce in the Village of Fenwick and Sunday afternoon at The Cork Bar.  Stevie has an amazing voice, is incredible on guitar and has a large and varied repertoire of music.  I know you'll enjoy his show.  Say hello, too; you'll love his charming South Carolina accent.

Time for me to split and figure out how to dodge raindrops.  Have fun, my friends, and always remember to party safe.
«Go back to the previous page.