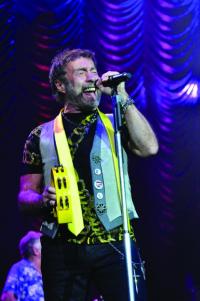 Bad Company - Paul Rogers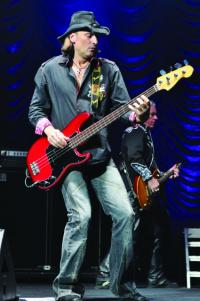 Bad Company - Todd Ronning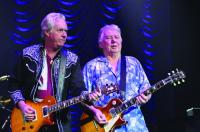 Bad Company - Howard Leese & Mick Ralphs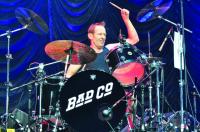 Bad Company - Simon Kirke
Lynyrd Skynyrd - Johnny Van Zant
Lynyrd Skynyrd - Rickey Medlocke & Gary Rossington
Lynyrd Skynyrd - Rickey Medlocke, Mark Matejka, Gary Rossington & Johnny Colt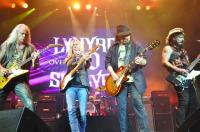 Lynyrd Skynyrd - Rickey Medlocke, Mark Matejka, Gary Rossington & Johnny Colt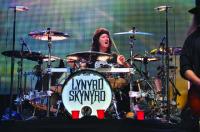 Lynyrd Skynyrd - Michael Cartellone
Susquehanna Bank Center
Camden, NJ • Friday, July 18, 2014

Bad Company and Lynyrd Skynyrd brought their co-headlining Tour to the SBC with both bands celebrating 40+ years of music over their careers. On this night it was Bad Company that had the opening slot on the bill. The crowd cheered as original members vocalist Paul Rogers, drummer Simon Kirke and guitarist Mick Ralphs took the stage then were followed by guitarist Howard Leese and bassist Todd Ronning. The stage setup was simple with a drum kit, a black piano and a huge curtain that covered the back of the stage. They opened with "Live for the Music", and continued with a program of all their classic hits. Rogers, always wearing his sunglasses, vest and an untied tie around his neck, grabbed his harmonica and went into "Feel Like Makin' Love". Next was "Gone, Gone, Gone", always a tribute to their late bassist Boz Burnell, who penned the song. Then the sound of thunder and lightning started "Burnin' Sky" followed by Rogers taking a seat at the piano and hitting the keys to "Run With the Pack". "Ready for Love" was next and then original members Rogers, Ralphs and Kirke, who came out from behind his drum kit, all three played acoustic guitars for "Seagull." That drew a very warm receptive applause from the audience. After a quick band intro, the curtain dropped behind the stage to reveal the Bad Co. logo from their first album and the smoke cannons fired from the front of the stage as they went into "Rock 'n' Roll Fantasy", "Honey Child" and "Shooting Star", with Rogers asking the crowd to sing along as they did. Then they ended their first set with "Movin' On" and "Can't Get Enough". With a short break, they returned and Rogers went right behind the piano and started the keys to "Bad Company" with a complete sing along once again before ending their night with "Rock Steady".
Lynyrd Skynyrd took the stage next with the same kind of simple setup as Bad Company's but with the piano on the other side and a huge video screen on the back of the stage. The only surviving original member, Gary Rossington on guitar, entered first, followed by Johnny Van Zant on vocals, Rickey Medlocke on guitars, Michael Cartellone on drums, Mark Matejka on guitar, Peter Keys on keyboards and newest member Johnny Colt on Bass. They opened with "Workin' for MCA", and continued with all their BIG hits. Next was "I Ain't the One", and "Call Me The Breeze" before van Zant addressed the crowd by asking how many Skynyrd fans are in the house tonight? Of course this brought cheers from the crowd. Then "Down South Jukin', and "That Smell" where he addresses the crowd, "Been there done that, ain't never going back", with the video screen showing, well, let's just say a lot of contraband footage. "Saturday Night Special" brought quite a lot of creatively done weapon footage on the screen. Van Zant dedicated their next song to all the men and women who have served in our military and said Lynyrd Skynyrd are huge supporters of them; and then played "Simple Man." A lady sitting next to me was in tears and said she has two sons overseas now serving. Next brought Cartellone from behind his kit to a small drum on stage, Medlocke with a bango and Matejka on acoustic for "Mississippi Kid", that Van Zant says goes way back, before closing out their first set with "Gimme Three Steps" and "Sweet Home Alabama", with the video screen showing many different scenes and signs with the word Alabama on it. After a quick break the band returned and without a word spoken, the opening keys to their anthem "Free Bird" had begun, with the video now showing a picture of the late Ronnie Van Zant and a montage of all the late Lynyrd Skynyrd members one by one. And then later the screen said 'Lynyrd Skynyrd Lives On' with a montage of all the members as of now. Then a huge mirror ball descends down from the ceiling and white spot lights hit it with the venue all lit up in spinning white sparkle/stars as the song ended and the crowd showed their approval with applause for every song played that night. Two great performances from two great bands.
– Gary Crouthamel, Concert Photo Journalist
«Go back to the previous page.