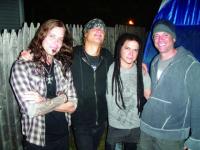 FUEL - guitarist Yogi, Brett Scallions, bassist Brad Stewart & drummer Ken Schalk.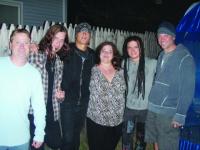 Cudos to Purple Moose mgr. Doug & gm. Charlene with Fuel (Yogi, Brett, Brad & Ken) backstage for a great concert night.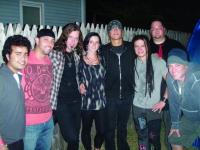 OC locals met Fuel backstage before the show at The Purple Moose: Jim, Steve (Soprano's), Yogi, Lindsay, Bret, Brad, Chris & Ken.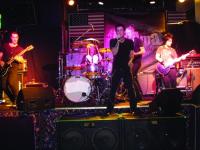 The Drama Club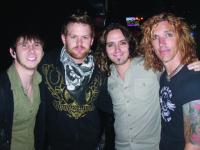 Cinder Road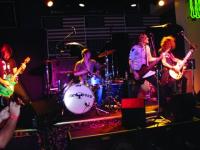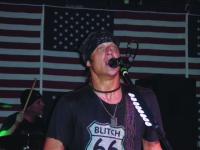 FUEL - Brett Scallions
Brett Scallions & Yogi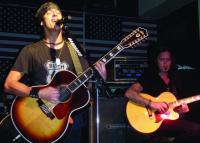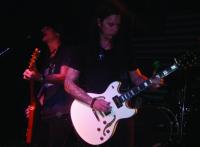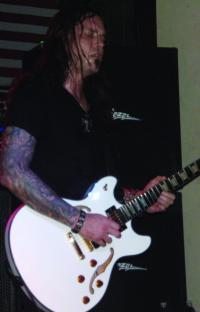 guitarist Yogi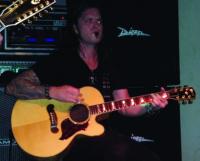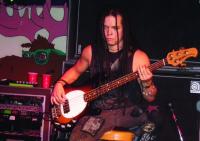 bassist Brad Stewart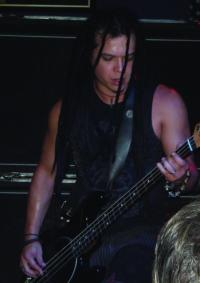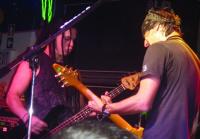 Brad Stewart & Brett Scallions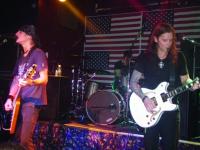 FUEL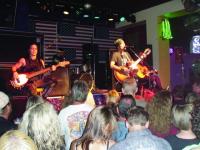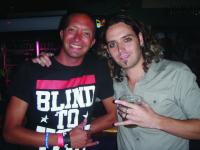 Mike C & his friend Chris from Cinder Road at the Fuel concert at The Purple Moose.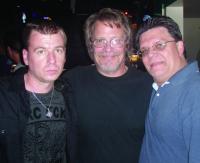 Fuel road mgr. G. Wright with sound man Rich & Purple Moose mgr. JJ McKay.
Terri, Kim & Brenda loved the show at The Purple Moose.
excerpt from Sept. 10 issue:

It was the musical event that everyone was talking about - and believe me, I wasn't going to miss this one - the appearance of national recording artists FUEL at the home of rock 'n roll, The Purple Moose on Wed., Sept. 15. The new edition of Fuel is on tour promoting their new CD Angels & Devils. I did a little research, as you can, too, at
www.fuelrocks.com
, and I'll share some with you here.
Fuel burst on the scene in 1998 with Sunburn and hit "Shimmer.' In 2000 they released Something Like Human featuring hits "Innocent" and Hemorrhage (In My Hands)" that went double platinum. Successful tours opening for such groups as Aerosmith, Kid Rock, Creed and 3 Doors Down led to their 2003 Natural Selection on which "Falls On Me" was a megahit. To date the band has sold 35 million copies with three Top 10 singles.
This heady climb to success was interrupted in 2004 when lead singer Brett Scallions and the band decided to amicably part ways (drummer Miller also left). Toryn Green briefly filled the lead vocalist slot but Brett Scallions has recently returned with guitarist Yogi (Buckcherry/Wallflowers), bassist Brad Stewart (Shinedown) & drummer Ken Schalk (Candiria) for this tour.
"There's been a lot of turmoil within the band over the past few years and a lot of that is reflected in these songs," says former guitarist and chief songwriter Carl Bell of Angels & Devils. "When change happens it brings out the best and the worst in people and I'd like to think that for us it was mainly the best." Certainly the new songs reflect a lot of that turmoil and life changing events personally for Bell who is now writing for TV and has given his blessing to the band's continuance.
Excerpt from Sept. 17 issue:
WOW!! Too much fun last night! Now, really, can you ever have too much fun? Nope! The Purple Moose was off the hook last night (Wed.) with three excellent bands. And I must say the staff and management handled this top-notch affair first rate. The night began at 8 pm with The Drama Club, followed by Cinder Road. Both bands did a great job. Two members, I think (just a little hazy), Chris (bass) & Mike (guitar) are former members of the band called Plunge.
The band we were all there to see, FUEL, came out to mighty cheers from the audience. Brett Scallions was an imposing figure onstage, quite charismatic, and the crowd went nuts when he sang Fuel's most popular songs. I'm sure fans will be flocking to buy the new CD, Angels & Devils, after hearing tunes from it last night. All the guys were pretty good looking, too, I must say. Brad
www.fuelrocks.com
Stewart on bass had some really long dreds and his smile just lit up his face. Guitarist Yogi had gorgeous long honey blond curls and drummer Ken Schalk was most engaging with the audience, playing with great energy; and some lucky girl went home with a drumstick.
«Go back to the previous page.