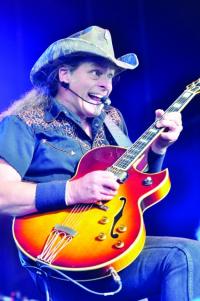 Ted Nugent
REO Dave Amato
REO Bruce Hall
REO Kevin Cronin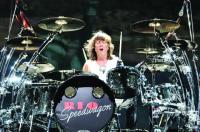 REO Bryan Hitt
Styx Tommy Shaw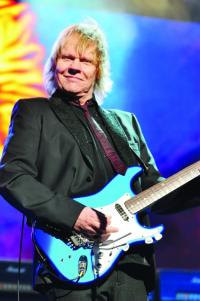 Styx James Young
Styx Ricky Phillips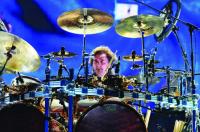 Styx Todd Sucherman
Farm Bureau Live at Virginia Beach
Virginia Beach, Va.
Saturday, May 19th, 2012

For this week's concert trek I journied down to Virginia Beach for the Midwest Rock 'n' Roll Express Tour 2012, better known as REO Speedwagon, Styx and Ted Nugent. For those in attendance it was a trip down nostalgia lane as they turned in a sharply assembled three and a half hour set of music we all have known and enjoyed for many years.
Ted Nugent started the night off in fine style opening with "Wango Tango", "Just What the Doctor Ordered", and "Free for All." As the opener his stage space was tight and small but he used it well with a Gibson Les-Paul hanging in front of every speaker stack, and more were put on stands on top of the stacks along with the drum riser in the middle. With his hands-free microphone, Nugent stomped around the stage screaming and signing, and belting out all his flashy guitar riffs finishing his 50-minute set with "Stormtroopin", "Hey Baby', "Wang Dang Sweet Poontang", Jimi Hendrix cover "Red House", "Cat Scratch Fever" and, of course, "Stranglehold."
Up next, Styx took the stage opening their well-oiled performance with "Blue Collar Man", "The Grand Illusion" and "Too Much Time On My Hands". There's something about Styx that just gets the crowd pumping their fists almost against their will. They also kept the crowd on their feet as they continued the hits with "Lady", "Lorelei" (not in the Keys), and adding a B-side song "Man In The Wilderness", "Fooling Yourself (The Angry Young Man) my favorite, "Miss America" before keyboardist Lawrence Gowan had the crowd singing parts of "Black Dog", "Another Brick in the Wall", and "We Will Rock You;" ending their first set with "Come Sail Away." After a short break they returned to finish their evening with "Rockin' the Paradise" and "Renegade."
To finish the night, REO Speedwagon took the stage and got things started with "Take It On The Run", "Keep Pushin', and delivering a political speech before going into "Golden Country". Kevin Cronin's voice seemed a little thinner, but as he warmed up he started sounding like the good old days going into that nostalgia trip again with "Can't Fight This Feeling", "That Ain't Love", "Son Of A Poor Man" and "Time For Me To Fly". As with Styx, I was very impressed with the professionalism of the band. They nailed all of their parts before ending their set with "Back On The Road Again" and "Roll With The Changes."
After their short break, they returned with "Keep On Loving You", and Cronin addressing the crowd about the band getting caught in a snowstorm while hiking near Estes Park that was the writing for the closing song "Ridin' the Storm Out".
And to answer a question I had asked myself on the way to the show: "No, there was no Damn Yankees reunion with Ted Nugent and Tommy Shaw". Damn, Oh well!



«Go back to the previous page.