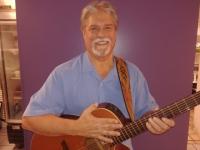 Jack Worthington and his winning smile.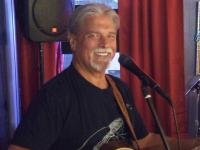 Jack performs regularly at Bourbon St. on the Beach.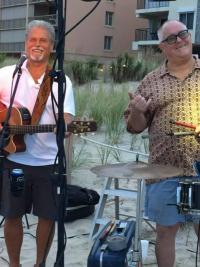 Jack is often partnered with T. Lutz.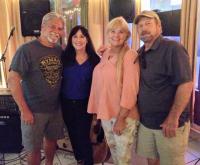 Jack with Sheila and Barb & Mickey who often plays harmonica with him.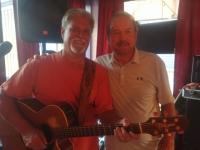 Jack with his superb harmonica partner Mickey.
Adversity. Some people let it strike them down forever. Others face it head-on and overcome it. It is with great pride that I tell you about such a person, who has overcome great adversity in his life. Jack Worthington grew up in Montgomery County, Maryland, near Gaithersburg. He started playing guitar much later in life, compared to other musicians. He took a classical guitar course in college and fell in love with the instrument. He learned quickly, started to play solo gigs, and then put together a band, called Riptide, which played originals and covers. Things were going well for Jack and Riptide. Then, adversity knocked on the door in 2002, when Jack suffered an untimely stroke. It left him with slurred speech and a fairly crippled right hand. He spent the next years overcoming this affliction with tenacity. He focused on singing and pronouncing lyrics. To compensate for his right-hand problems, he designed a special guitar pick with an extension, so that he can grip it tightly. Today, he sings with a clear voice, as he belts out songs by Crosby, Stills and Nash, and plays with a steady hand, as he strums away on songs by Stevie Ray Vaughn. It's easy to become a fan of Jack for both his musical talent as well as his determination to succeed in the face of adversity.

I met up with Jack as he was setting up his speakers at The Good Earth in Clarksville, Del.,  near Bethany Beach. He was getting ready to play in the garden area behind the restaurant, where they grow their own organic herbs, like basil and mint. I could smell the wonderful herbal scents as I began the interview.

Vincent: "You have had such an interesting life story. Tell me about the early band days."
Jack: "Well, my band Riptide once played at the Concession Party of Al Gore, when he lost the election to George W. Bush."

Vincent: "You mean Al Gore and team were partying until he found out he lost, right?"
Jack: "No, Al Gore had already conceded to George W. Bush, and the party was a celebration for his staff that worked so hard to keep him in the race. So, my band, Riptide, together with a well-known DJ from Washington DJ, Jack Diamond, were requested to play, and we played for about two thousand people. We got our security clearance, set up, and then played a set, when, all of a sudden, Tom Petty, Jon Bon Jovi, Stevie Wonder and John Popper of Blues Traveler all walked in, and we ended up jamming on stage."

Vincent: "That's an amazing story! What was going through your mind?!"
Jack: "I saw this whole thing unfold in front of me, and I thought, 'I can't believe this is happening!' I just rolled with it. We played for three or four hours, and these celebrities joined us for about an hour."

Vincent: "Wow. Any other cool gigs that you had?"
Jack: "My band also did a closing party for Hootie and the Blowfish on their first tour. We already knew them. You see, two of the members of Hootie and the Blowfish are from my area. The guitarist, Mark Bryan, and another band member (bassist Dean Felber) grew up in my area. Mark was best friends with my brother-in-law, and I met him years ago.  My future brother-in-law had a party in his townhouse basement, when he was sixteen. I was playing guitar, and Mark asked if he could play on my break."

Vincent: "Then, later, he went to the University of South Carolina and met Darius Rucker and Hootie and the Blowfish was born."
Jack: "Yeah, so, in their first tour, our band went to their last concert and left the concert early to go set up at a place called Margarita Maggie's in Columbia, Maryland, which Hootie rented out for the party, and played for about four hundred Hootie friends after the concert."

Vincent: "Wow. Fantastic. Any other cool gigs?"
Jack: "The other thing we did that was really cool came to us through our DJ contact, Jack Diamond of 107.3 in Washington DC, and we opened up for the Moody Blues at Merriweather Post Pavilion."

Vincent: "Wow. Incredible. OK, let's talk about this summer. Where can folks see Jack Worthington this summer?"
Jack: "My full schedule is on www.jackworthington.com and you can find me on Facebook and in coconuttimes.com. My schedule is full for the summer, so just look me up." Jack's website includes his history, his original songs, and his schedule. Check it out and see his photos from that golden era.

Vincent: "And who will you be playing with?"
Jack: "Sometimes I'm with T. Lutz on percussion, sometimes I'm with bass player, Eddie Saah, and Harmonica player Mickey Meiklejohn. Just check my website."

At that point, Jack needed to set up amongst the herb plants. It was a beautiful afternoon and the crowd started to arrive to hear Jack's renditions of classic rock songs. The Good Earth provided the ambience of a small family farm/restaurant. The menu includes fresh ingredients and a friendly atmosphere for Jack to fill out with his music.



«Go back to the previous page.