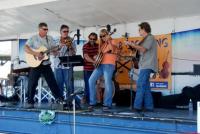 Heinz will play with Blue Crab Crossing on Delmarva Life.
Heinz, here with Lauren Glick, on Delmarva Life honoring 911 with a song she wrote.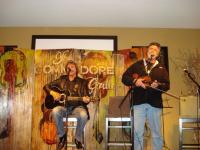 Heinz with long-time partner, the late singer/songwriter Tim Landers.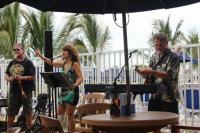 Heinz enjoys playing with Michael Smith & Rita Conestabile of Pearl, here at The Carousel.
Heinz was a member of Denk and the Dorks: Kathy, Johnny Suit & Sonny.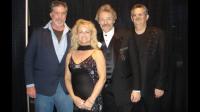 Heinz with Linda Sears, Tim Landers and Mike Picarelli performing at the Mohegan Sun Casino in Pennsylvania.
John Heinz, fiddler, is a busy man. This week, he will leave his home in the morning for his job as Senior Telemetry Technician at NASA on Wallops Island, and, on the weekend, he will go to Chincoteague to work on a music project with Chris Daughtry, country singer and former contestant on American Idol. Last weekend, he played with Pearl (Michael Smith, Rita Conestabile, and Jay Stinemire) at the Carousel. His plate is full, but he still makes time for the love of his life and wife, Madelyn. His love for music and playing the fiddle drive him to burn the candle at both ends. Actually, this drive is genetic. He gets it from his father Jerome Hines, who relentlessly kept busy.
When Jerome Heinz was sixteen years old, he joined a glee club in Los Angeles and was dismissed for lack of talent. He then studied chemistry and mathematics at UCLA and wrote many publications on the subjects. Jerome also took vocal lessons. Due to the Second World War image of Germans, he changed the spelling of his name to Hines and became a famous American opera singer. For most of his adult life, Jerome Hines lived in South Orange, New Jersey, and commuted every day to the Metropolitan Opera House (The Met), when he wasn't performing for world leaders. He married a soprano opera singer, Lucia Evangelista, and raised four children, one who was named John.

John Heinz, who retained the original family name spelling, grew up in South Orange and received a violin at an early age to play in the 4th-grade orchestra. Being the son of a celebrity, everyone assumed that he would be first chair. In a few weeks, he was dismissed from the orchestra for lack of talent. It seems that history was repeating itself. John subsequently stopped playing the violin until he was 17 years old, when he picked it up again. I caught up with John to find out more about his fascinating life.

Vincent: "What made you pick up the violin again after so many years?"
John: "Well, it was the age of the country music craze. The movie, Urban Cowboy, came out, and country music was on the rise. I stared at my old fiddle and thought to myself, 'This is a cool instrument after all, and I'm gonna turn it into something really fun!' My father was very technical, and my brother is a professional bass player, but I threw all of that theoretical stuff out the window. I'm self-taught, and I don't read music, but I can play any genre that I encounter with a lot of feeling."

Vincent: "Who have you played with?"
John: "Well, being a fiddler, I play a lot of Bluegrass. I've played with Darin Engh of Opposite Directions, Lower Case Blues, and Bill Vollmer. I've played at opening parties for Little Big Town and Trace Adkins in Salisbury. I even went to Nashville to play and record with Tim Landers, a well-known guitarist and music teacher from Maryland, who passed away in 2016. Tim and I had a special bond, and every St. Patrick's Day, I help organize an event in his honor at Whiskers Pub in Berlin.

Vincent: "So you were strictly country?"
John: "I've also played rock with John LaMere and Chris Button. I've played with Randy Lee Ashcraft and Billie Carlins. I would say that probably the most fun I had was playing with the Lauren Glick Band. Lauren heard me play once and immediately signed me up as a band member. I played with them for four years, and we're still close friends."

Vincent: "It seems that it is the fiddle that makes you so unique compared to other musicians."
John: "Well, yeah. I mean, when I arrive at a gig and start to unpack my modern electric fiddle, which looks like a weird instrument, people give me a strange look, and I hear them say, 'Oh Gosh, what kind of music are we in for here? And what kind of instrument is that?' I respond by telling them that I left my guitar out in the rain, and it shrank. Then I start to play fusion or rock, and I blow their minds! I use my effects pedals to create all kinds of sounds. I even use my Wah Wah pedal to make my fiddle sound like a cello!"

Vincent: "Do you have a favorite fiddler?"
John: "I would say that my two favorites are Mark O'Conner and Vassar Clements. I play all those different genre's at Vasser's expense." I do believe that John meant that Vassar was such a pure Bluegrass player, that it would hurt Vassar to hear John playing other genres.

Vincent: "And what about Roy Clark and Charlie Daniels?"
John: "Great entertainers, but not my favorite fiddlers."

Vincent: "And what about other instruments? Do you play anything else besides the fiddle?"
John, "I play the dobro." The dobro is a resonator guitar played flat or on one's lap, like a steel guitar.

Vincent: "Interesting. And what would you say is the strangest thing that has ever happened to you in a gig or in a musical situation?"
John: "Well, nothing bad has ever happened. I would say the most interesting and fun thing was when I went on NASA business to Bermuda. I brought my fiddle and effects with me and found the coolest place for music, called the Swizzle Inn, which is the oldest pub in Bermuda. Some guy, named Bill Crouch, was playing there and let me sit in with him. Bill and the crowd were so impressed that he invited me to play with him every night for the three weeks I was down there!"

Vincent: "Sounds like fun. So, where can folks see you play in the near future?"
John: "Well, I'll be on Delmarva Life on WBOC next Friday (September 13) for the kickoff of the Fiddler's Convention on September 20th in Berlin, which coincides with Sunfest in Ocean City. I'll be playing with Blue Crab Crossing Bluegrass Band. I have other projects going on, and, believe me, I am keeping busy!"

I originally met John two years ago at the Tim Landers Memorial on St. Patty's Day. I was impressed with his tall stature and deep voice, very much like those of his father (just check it out on YouTube). He's difficult to miss. He is always smiling, laughing, playing, and having a good time. And he seems to know everyone in the local music business. As I interviewed John, it was clear that he had one heck of a network. He is connected to so many musicians in so many ways. It's no wonder that he is so busy!
 


«Go back to the previous page.