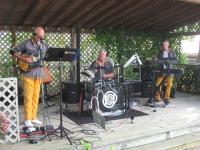 Jay (Just Jay) Groboski's band OHO.
I recently stopped into Bourbon Street on the Beach, a local restaurant and schmoozing bar, to treat my daughter to an order of chargrilled oysters. We were pleasantly surprised by the early evening entertainment of singer, songwriter Jay Graboski, also known as "Just Jay".
Jay's style was easy, his repertoire was varied. It spanned multiple generations of memorable, familiar favorites as well as a variety of impressive originals. Jay was happy to be sharing one of his CDs with listeners. He gave me a copy of "The MD CD" which includes the OHO hit "Ocean City Ditty", a song that will resonate with anyone who has vacationed on this four- and a-half-square mile resort island.
I sat with Jay during his break and talked with him about his long career in music which he says keeps him "engaged and enthusiastic about life." His bursts of creativity span a half century. He is critically acclaimed, and was named as one of the top 100 CDs by CD Review magazine in 1990. His talent has afforded him the opportunity to open for acts such as "Cheap Trick".
Despite his obvious talent, he says he has never quite made it. "I am a failure, you know. I didn't make it," he says casually and with no regrets. In fact, he continues to write and is currently working on a rock opera or "suite" as he called it. It is titled "Ahora" which is Spanish for "now."
Jay calls "Ahora" a "stream of consciousness exposé of what it means to be present", in the moment. Although it is still evolving, it is currently divided into segments: beginning, middle, end. The middle section includes a ballad about the murder of an abatement crew in downtown Washington, D.C., and is based on a true story. Jay says that the lyrics are the most difficult part of the project. "One practically has to be something of a poet." He says, however, that he has a notebook full of lyrics that "reveal themselves at odd intervals over time." Perfectly strung together words, I think, that he has collected over time and taps into when needed. Like random screws, nails, springs and miscellaneous other hardware that my father collected over time, some to be eventually used, others to be discarded as useless.
Jay has composed the music for OHO to perform though he says the arrangements are a group effort and the songs are usually credited to the band. "We share the credit and, who knows, maybe one day ... the royalties," says Jay.
Jay and the OHO trio will be performing at Bourbon Street on the Beach during happy hour (3 - 7) on Friday, July 8th. "Just Jay" will be at Bourbon Street during happy hour on Sundays throughout the summer. The Jay and Ray duo, two of the three members of OHO, can be enjoyed at Johnny's Pizza & Pub on Saturday, August 13 at 9 pm. Come and enjoy any or all of these engagements. Say hello to Jay and enjoy some spirit boosting, ear pleasing and often foot tapping music while sipping a cocktail, relaxing, and relishing the beauty of summer in Ocean City.

«Go back to the previous page.