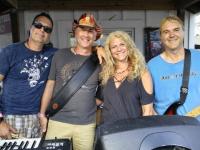 The Lauren Glick Band today: Mike Beaven, Ted Gelinas, Lauren & David Tarlecki.
Cold Blue Steel, soon to be known as Chameleon was an early Lauren Glick project with Mike Armstrong, Lauren, Jim Long & Nolan Graves.
The Mood Swingers were named Entertainer of the Year 2012 by Coconut Times: Bubba, Lauren, Ted, C.T. Brenda & Mike.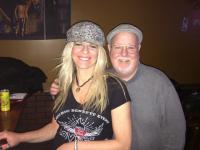 One of Lauren's favorite pictures of long-time partner, the late Mike Armstrong.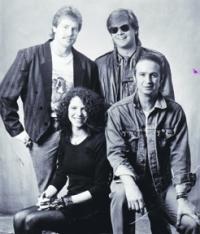 The High Cost of Living featured a young Lauren; we'll have to ask her who her bandmates were.
This incarnation found Dave, Lauren, Gary, Kathy & Jeff playing disco.
Lauren Glick is a staple in Ocean City. Her name is recognizable by so many visitors who come on vacation from Pittsburgh, Philly, Baltimore and Washington D.C. Lauren studied at the Berklee College of Music in Boston. After graduation, she returned home to Maryland and joined a band called The High Cost of Living. After years of performing in a variety of bands such as Chameleon, Platform Clique, The Mood Swingers and more, she decided to go to nursing school and graduated with a nursing degree. She says that the traits of a nurse are similar to those of a musician. She says that nurses care about their patients, and performers care about their audiences in a similar way. Her genre is along the lines of Led Zeppelin and Janis Joplin. Years ago, she formed the Lauren Glick Band, which has included great musicians, including guitarist Mike Armstrong, and drummer Bubba, both of whom passed away not too long ago. Despite these setbacks, Lauren continues moving forward. Some musicians are so busy that I need to catch them for interviews on the phone. Lauren is no exception. She agreed to give me a phone interview recently, while she was going about her daily activities.

Vincent: "Hi Lauren, is now a good time to talk?"
Lauren: "Sure, I guess so. But I'm getting my hair done by Rita."

Vincent: "You mean Rita Conastabile?" Rita is one of Ocean City's premier divas. She is a singer, song writer, hair-dresser, and dear friend of Lauren's.
Rita: "Yes, Hi Vincent!" Rita yelled into Lauren's phone. "But she's going into the shampoo in about fifteen minutes."
Vincent: "OK, thanks for telling me. We better get rolling then. Tell, me, Lauren, what would you say differentiates you as a performer."
Lauren: "What people have told me is that I put my heart and soul into every performance. The audience can feel my emotion on stage."

Vincent: "Well, I've seen plenty of your shows, and you do have a powerful voice and stage presence."
Lauren: "Thank you, Vincent. It's something I teach my students. I teach a performance class for young students for The Red Doors in Berlin, which is a non-profit outreach program for performing arts. I teach them breathing technique, pitch, vocalizing, microphone technique, posture, performance, and ways to build confidence. You know the feeling when you go on stage: you get nervous, your hands get sweaty, and your mouth gets dry. Well, I teach them that all of this is perfectly normal, and that there are techniques to overcome these things. For example, did you know that you can solve the dry-mouth problem by simply sticking your tongue to the top of your teeth?"

Vincent: "I had no idea, Lauren. Wait, let me try…" Sure enough, she was right!
Lauren: "We also give positive critiques as a class to all the performers, so that they feel uplifted."

Vincent: "That's great. So what else are you working on nowadays?"
Lauren: "I'm working on some originals with a new group, including Bobby Malaby, the drummer for Tranzfusion, Al Cook, bass player for Tranzfusion, Rita Conastabile, vocalist for Pearl, and Michael Smith, guitarist and pianist for Pearl and Reform School. Rita, Al and I have written some songs, and we have been practicing them. They sound great, and we'd like to perform them maybe in an upcoming performance in Chincoteague or maybe in Ocean City."

Vincent: "Wow, that sounds like fun. Anything else going on?"
Lauren: "Sure. The Lauren Glick Band will be playing throughout the summer. That's with my bass player, Ted Gelinas, drummer, Mike Beavan, and guitarist, Dave Tarlecki. Also, Dave and I do duets throughout town. Between those performances and the performance classes at Red Doors and giving piano lessons, I'm keeping pretty busy.

Lauren follows the old adage, "The more you do, the more you can do." I was impressed by how many irons she has in the fire. If you're interested in seeing a local performer sing her heart out with passion and emotion, go and listen to Lauren Glick. You can catch her with her band, or as a duet with Dave Tarlecki or maybe you'll just catch her getting her hair done at Rita's.


«Go back to the previous page.