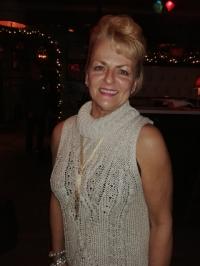 Songstress Linda Sears of Old School OC, beautiful inside and out.
Linda's early days ('80s) singing with Gratitude in Baltimore.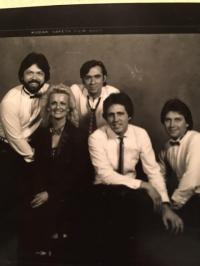 Another band from the '80s.
The Old School lineup when Linda returned to music: Anton, Paul, Ray & Linda.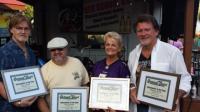 Old School was named Coconut Times Entertainers of the Year for 2014: Erve Cassell, Ray Peronne Linda & Michael Smith at Coconuts.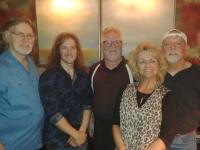 Erve Cassell, Taylor Knox, Don Wimbrow, Linda & Gerry Harvey play as Old School the first Wednesday of every month at BJ's on the Water.
Old School featured Ernie Chavez on the drums (left) a few years ago with Linda, Erve & Taylor.
Old School played for a wedding this spring at the Harborwatch: Erve, Vincent Paez, Gerry & Linda.
Linda loves to include music lovers of all ages at her shows such as this young lady playing tambourine with "The Fun Band."
The reason that the word perseverance is so strong is because it truly describes the undying strength that one needs to keep on going and succeed. Perseverance describes Linda Sears, the leader of Old School. Born in West Virginia, she moved to Baltimore and began singing in bands there at the age of sixteen. Her father pressured her to sing country music, but she wanted to sing rock and roll. After years of overcoming stage fright in high school, she started playing in rock and roll bands throughout the Baltimore area. She fell in love with John Sears, who supported her desire to sing in bands, and after performing for years as a house band in the Essex area, Linda started doing gigs in Ocean City and became one of the most engaging singers in town. And then tragedy struck.
Linda and her husband lost their son in 1996. For ten years after the passing of Donovan, she could not sing, as it would bring her to tears. After such a long time, Linda thought that maybe it was time to get back to her love and natural talent of singing. To learn more about this, I interviewed Linda at her beautiful waterfront home in Bishopville, Md. It was a very warm and sunny summer day. As we chatted, I could see the skyline of Ocean City across the Assawoman Bay. Linda was taking a dip in her in-ground pool, while I asked her questions.

Vincent: "So, how did you get started in OC?" She was floating on a couple of noodles placed under her arms. She had a beach hat and sun glasses on in the water, looking like a movie star.
Linda: "About eleven years ago, I went to Smitty McGee's and met Randy Lee Ashcraft, who was performing there. He allowed me to get up and sing a song, and afterwards, he said, 'Girl, we gotta get you a band to sing in.' I said, 'Why don't I sing with your band?' And Randy said, 'Cause there ain't no girls in my band, The Salt Water COWBOYS.' And so, I began to look for my own band. I went to a couple of open mics and eventually met Ray Perrone, a drummer, Paul, a guitarist, and Erve Cassell, a bass player."

Vincent: "And Old School was formed and you started playing around town, right?" I started to get a little warm in the hot sun, so I sought some shade at the side of the pool, while Linda treaded water.
Linda: "Well, yeah, but I needed to persevere, because every time I got the band going, the guitarist, no matter which one of the many guitarists we had, would decide to go off and do duos, because they paid more money per person as a duo, and the gigs were therefore easier to get. Many bars would prefer to hire a duo and pay them less than a full band. And on top of that, I've had band members that would want to make band decisions, and I, as the band leader, wanted to make those decision, although I would take their input, but, at the end of the day, I needed to be the band leader. So, between the band members wanting to do their own thing and me wanting to make the decisions, I ended up going through a lot of band members."

Vincent: "You've had to persevere through a lot of band members, especially guitarists."
Linda: "I'm a woman in a man's world. I've had to persevere through band members, attitudes, wives of band members, husbands, and much more. Once I had to explain to a jealous band member's wife, 'Look, we're band members, and I'm very happily married, and I would never take your husband away from you, so now go away and let us play and have fun!' And that's what it's about, having fun. I have a great band now with Erve Cassell on bass, Gerry Harvey on drums, Taylor Knox on guitar, and you on the weekends, Vincent, on guitar. And the love that we all have for each other is amazing - I mean, Taylor is half our age, but he is an old soul and loves to play with us. We have so much fun."

Vincent: "That's right, we do have a lot of fun as a band." Then there was a silent pause. I could hear the motor boats on the bay passing by as Linda took a breath.
Linda: "…And I will continue to do this until the day I die. I will persevere and get through all the stuff, so that the band and I can have fun."

Vincent: "Wow, until the day you die, that's a big statement, Linda. What kind of stuff are you referring to?"
Linda: "People not calling me back. Bar owners who are difficult to deal with. So many of them are great, but a select few I feel ignore me, maybe because I'm a woman, I don't know."

Vincent: "Well, that's definitely the bar scene. But once on stage, you're the fun band."
Linda: "We are the fun band. I bring tambourines for the children, which are also used by adults, and we play happy songs. Oftentimes, I see the faces in the bars of people who have had a long day, and all they want to do is have a drink and listen to good music. And they come up to me after our show and tell me how grateful they are for having made their evening so much fun."

Vincent: "It's wonderfully gratifying. I was once in a bar listening to a band in Hunt Valley, and someone recognized me as the Old School guitarist and said how great Old School is."
Linda: "One time, someone recognized me in the BWI Airport and said that I just energize him when he sees me on stage in Ocean City! And I became known to him as the Energizer Bunny."

Vincent: "Well you're energizing not only for the audience, but also for your band. So, Miss Energizer Bunny, where can OC see Old School the rest of the summer?"
Linda: "BJ's every first Wednesday of the month. Also, at Castle in the Sand – Coconuts. Just check the Coconut Times Who's Where When. We're also on Facebook at: https://www.facebook.com/OLDSCHOOLOC/"

Vincent: "Great. Now tell me about the craziest thing that has happened to you while performing?"
Linda: "Oh my gosh, I have had people propose to me, proposition me to go back to their hotel room…by men and women…, I've been almost coerced to go out to dinner with men, I've had young men offer to fix me up with their fathers, you name it. But I'm not interested in that. I always choose my family, which means so much to me. And I will always continue to choose my family."

With that, it was clear that I was talking to a woman with morality who had entered a man's world of musical performance and was determined to not be taken advantage of. As a man, I can only imagine the strength and patience that it takes to deal with male egos, especially when they are in positions of power. You go, Girl!  And that goes for all the women performers in Ocean City. Y'all deserve RESPECT!!
I'd like to mention, that I was not able to interview the rest of Old School, but I'm honored to shout out a few points: Guitarist Taylor Knox studied at the Berkeley College of Music in Boston and is one of the hottest up and coming artists in Ocean City. Gerry Harvey has played with bands since the 1970's and carries the greatest beat versus any drummer. Erve Cassell, before Old School, played with Spontaneous Combustion, and has a magical way of entertaining the crowd with both bass guitar, acoustic guitar and vocals. Me, I play guitar with Old School on the weekends, because I have a day-job in the Baltimore area during the week. But how I look forward to playing with the band on the weekends! Without her band members, Linda Sears would be alone on stage, and she depends on her band, Old School, the fun band.




«Go back to the previous page.