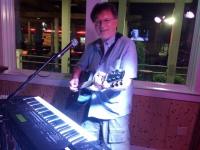 Michael Smith plays guitar & piano.
Vincent playing with Michael Smith.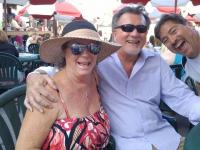 Michael & wife Patricia with friend Vincent at Coconuts Beach Bar & Grill.
Friends Vincent, wife Sherri, Patricia & Michael.
Thank you for clicking and finding another edition of Meet the Band. This week's edition features Michael Smith, who has been a regular entertainer in Ocean City for many years and one of the most interesting musicians in the resort city.

Michael and his wife Patricia got their start in the bar scene by owning a restaurant in Baltimore called The Canton Café. During the three years that they owned this establishment, First Lady Hillary Clinton organized a town hall meeting and decided to have it at the Canton Café, so Michael and Patricia suddenly were thrown into a situation of dealing with the press, the Secret Service and a lot of attention.

After the Canton Café, the couple decided to move to the beach and invested in the dining facilities at the Cripple Creek Country Club in Dagsboro, Del. They owned and managed that facility for more than three years. After that chapter of their life, Patricia became the Group Sales Manager at the Castle in the Sand Hotel in Ocean City, and Michael became an entertainer in piano bars on cruise ships. After several years of doing that, he decided to plant his feet permanently in Ocean City and entertain residents and visitors all around town.

While you can find Michael playing up and down Coastal Highway, his most popular gig is the Open Mic night, every Wednesday, 6-11 p.m., at Bourbon Street on the Beach Restaurant on Coastal Highway across from Jamestown Road. It has become quite a popular place to be for local musicians and want-to-be musicians. I recently had a chance to catch up with the very busy Michael Smith.

Vincent: "So, Michael, what would you say is your most unique musical attribute?"
Michael: "Well, I play both the piano and guitar, and there are people who play piano and play guitar much better than I do. I guess I would say that my repertoire and my ability to play almost any request is what sets me apart from other musicians. Visitors come to OC from out of town and want to have a good time and hear their favorite song, but a lot of times, the entertainer doesn't know it."

Vincent: "And how did you acquire this ability to play so many requested songs.
Michael: "It was definitely my time playing in the piano bars of the cruise ships. You live and die by the tips you make from playing requests. And even if I've never played the song, I typically have heard the song, and I can put something together on either the piano or guitar to make the audience happy and fill the tip jar."

Vincent: "And you never read lyrics from a song sheet or iPad?"
Michael: "No, I find that once I use written lyrics, I can never perform the song again without the lyrics." Michael starts to laugh. "For example, someone in my audience requested the song "Wagon Wheel", and I used written lyrics to perform it. Now, gosh darn it, every time I play it, I need to see the lyrics. It's a curse."

Vincent: "You seem to play with a lot of other musicians, like drummer and vocalist Jay Stinemire in Reform School, and vocalist Rita Conestabile in Pearl. How is that going?"
Michael: "Those people, along with bassist Eddie Saah, are the people with whom I am the happiest playing. It's taken me a while in my life to find that perfect group, and I have finally found them. They're very talented and make for a really great time when we perform together."

Vincent: "So what's next for Michael Smith?"
Michael: "Actually, I'm working with some friends on a very exciting project performing original songs with Lauren Glick and Rita Conestabile, along with Al Cook (bass player for Tranzfusion) and drummer Bobby Malaby (Tranzfusion). It's a work in progress, but maybe we'll end up doing gigs around town – who knows?"

Vincent: "Wow, sounds exciting. Anything else going on?"
Michael: "Well, as you know, I'm busy doing other things, like preparing tax returns at H&R Block. But, musically, I will continue to play at the Ocean 13 Piano Bar on 13th Street on Thursdays and Fridays. I also really look forward to continuing to build the Open Mic Nights at Bourbon Street. Barry Reichart, the owner, has been a big believer in it and has supported it right from the start a few years ago. Now, we are starting to get lots of talent there, and it's becoming a far more popular place to be on a Wednesday night. For that dedication, I am very grateful to Barry.

I have listened to Michael play countless times throughout Ocean City, and it is clear to me, that he is one of the most versatile musicians I have ever met. He surrounds himself with high quality talent and knows exactly how to arrange the music, in order to get the best out of his musical partners. I challenge all of you readers to go see him and try to stump him with a strange song request! You may be amazed.


«Go back to the previous page.