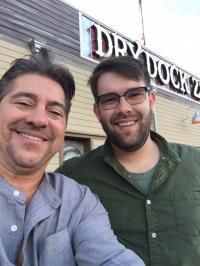 C.T. writer Vincent Paez with musician Otto Grundman.
Welcome back to Meet the Band! In this edition, I have the honor of writing about a local up-and-coming artist, Otto Grundman. Otto grew up in Bishopville and attended Stephen Decatur High School. He started to play music in the school band in the fifth grade. One day, his father, also a guitarist, influenced him to become the talented guitarist, vocalist and song writer that he is today. Dad taught him to play his first song, "Crossroads" by Cream, giving him several days to learn it. When he came back to his dad a few hours later with a strong rendition of the song, Otto's father knew that he would go far with that instrument.

Otto's interest in music led to continuing to play in the school band and also with friends in rock bands. He has recorded a solo album, called Perpetual Motion, which includes eight of his original songs. His genre is akin to that of a mixture of The Grateful Dead, Allman Brothers, Hot Tuna, The Band and Eric Clapton. This means upbeat music with hot guitar licks. Otto's singing voice is a dead ringer for that of young Eric Clapton, always in control with perfect pitch. Even his deep speaking voice is terribly interesting, as if he were a DJ on the radio. His stare and interest in a conversation makes him engaging with others whether he is on or off stage.

I met Otto for the first time at Dry Dock 28, next to Buxy's Salty Dog, where he and his band, Muskrat Lightning, were debuting their new CD release, Texas Toast. It is a five-song release with Otto and his band members, John Sybert on bass, Skip Maisel on rhythm guitar, Nick French on keyboards, and Sonny Martin on drums. The place was packed with fans who came to celebrate this release, enjoy the catchy tunes and dance. I trust they sold plenty of CDs. The age of the crowd ranged from early twenties to sixties, so apparently, the band's music has no age requirement, and everyone enjoys it. Otto sat with me before the party started to chat about himself and the band.

Vincent: "Congratulations on your new release! How exciting! Tell me about the CD please."
Otto: "Thanks! It's a great feeling. We recorded it at Mid-South Audio Recording Studios in Georgetown, Del. We worked with a great engineer, Gino Bailey, and Steve Kollander, the owner of Crucial Audio in Selbyville, Del. But we didn't lay separate tracks at separate times. We went through every song with the entire band at the same time, because we wanted the recording to represent how we sound in our live performances."

Vincent: "But then if someone makes a mistake, you need to start the whole song all over again, right?"
Otto: "Well, yeah, that's true, and that could cost a lot of money with so many takes. But we came to the studio well prepared and well-rehearsed to minimize the mistakes."

Vincent: "Where in the world did the band get the name Muskrat Lightning?"
Otto (as he giggles): "Well, there's a road not too far from where I grew up called Muskrattown Road. And on that road was a place where someone was making moonshine, or White Lightning. So, we put the names together Muskrat Lightning in reference to the moonshine you could get there."

Vincent (also giggling): "Great story. I'll never forget it now. So, where else can we find Muskrat Lightning playing?"
Otto: "Well, this summer, we've been selected to play at the Jellyfish Festival, which takes place in Ocean City on June 21-23. We are also doing a Food Truck Festival in Baltimore, and the Sunshine Day Dream Festival (aka The Jerry Garcia Birthday Bash) in Morgantown, West Va. We're also trying to get some gigs in the Florida Keys, where one of our band members has some connections."

Vincent: "What about your other gigs outside of Muskrat Lightning?"
Otto: "Well, this is my full-time job, so I'm pretty busy. I do a solo as Otto Grundman, I play a duo, called the G-Men, with my father, and I also play with yet another band, called RoastJohn. Oh yeah, and I also do a sort of open jam session at Loca Madre every Thursday evening, and I call that Otto & Company. The performances are different every time, which means that you never know what to expect, and that makes it exciting."

Vincent: "Wow, that's a lot. How can our readers find out more about you and your schedule?"
Otto: "You can go to my website at ottogrundmanmusic.com or find me on Facebook for my listings. You can also check out muskratlightning.com or check us out on Band Camp Music. We don't have anything on Spotify or Pandora just yet, but we'll get there eventually. Stay tuned!"

As Otto returned to helping the band set up for the celebration, I was left excited with anticipation to hear the music that evening. It is clear to me that, while the style of Otto's music is not new, he has tapped into a crowd of all ages that still loves that traditional jam music. How lucky Otto is that he can do what he loves for a living and make so many people happy at the same time.

Dry Dock 28 is an add-on bar/restaurant to Buxy's Salty Dog on Coastal Highway at 28th St. in Ocean City. It has a modern nautical décor and live entertainment weekly. I tried the Maryland Crab soup, which was one of the best I have ever had, as it had a very nice portion of crabmeat and a spicy kick to it. It is becoming a very popular place for locals who love to eat out and listen to live music.


«Go back to the previous page.