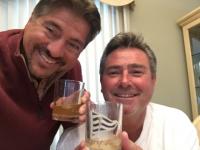 Vincent visiting Randy Lee for a Meet The Band interview.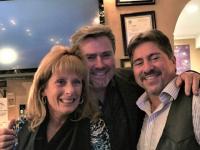 Lisa & Randy Lee Ashcraft w/ author Vincent.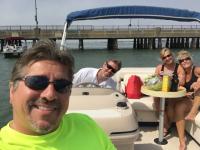 Vincent, Randy Lee, Sherri & Lisa having fun aboard the "Bubba J."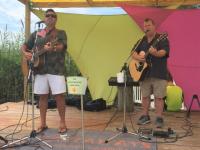 Randy Lee & longtime partner guitarist Jimmy Rowbottom playing at Castaways Tiki Bar.
Promo picture from Nashville days.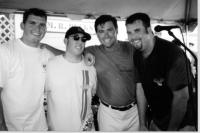 Home from Nashville, the Saltwater Cowboys played at M.R. Ducks: Mike Hughes, Brian Bricklin, RLA & Todd Hurley.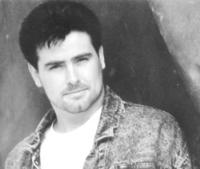 A Nashville promo photo that appears on his first self-titled CD.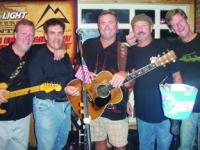 Randy Lee Ashcraft & the Saltwater Cowboys: Jimmy, Leo, Randy, Mickey & Kenny.
It's 1984 and US Army Special Forces Sergeant Ashcraft is hiding behind a wall observing suspicious activity behind enemy lines in some foreign country. His mission is to observe the enemies and report on their activity before another unit enters to attack. It is a typical mission for the Green Berets. He completes his mission, and, after he returns to Ft. Bragg in North Carolina, he settles down, picks up his guitar and plays an old country song to relax. His four-year service term is up soon, so he reports into his re-enlistment officer, who tells him that, while he is a great soldier, he should really follow his dream of being a country singer and songwriter.

"Son, if you don't get out there and try to be a musician, you'll regret it for the rest of your life. And if you decide it's not for you, then call me and we'll get you back in the Army," the officer said.

With that, Randy Lee Ashcraft left the US Army with his guitar in hand and signed up to study music at Salisbury College. Through the mid-eighties, he played gigs in Ocean City at a dock bar called Samantha's, which stood at 45th St, where the Aloft Hotel is today. He also worked at Frontier Town, riding bulls for entertainment. In 1989, he decided to try his luck in the country music capital, Nashville, Tenn.

I called him on the phone on a sunny summer afternoon, and we chatted about his history.

Vincent: "So, Randy, what was it like trying to get started in Nashville?"
Randy Lee: "I first found a job waiting tables, rented an apartment, and started visiting open mic writers' nights at bars, where only original songs are performed. I caught the attention of people there and got invited to more exclusive open mics, which were by invitation only, like The Bluebird and Douglas Corner Cafes. I then signed up with Fox Management and Ten-Ten Publishing and got to write with other song writers. And they gave me a stipend, so I didn't have to worry about a day job."

Vincent: "And that's where you started to get noticed and win awards?"
Randy Lee: "Well, in 1987, I won the Jimmy Dean True Value Country Showdown contest and got to go on the Jimmy Dean Show in Nashville with other musicians like Mark Chestnutt. Then I won the Independent Music World Series, which was a competition for unsigned music acts at The Trocadero Theater in Philadelphia. For that one, I was the only country act; the other ones were rappers and pop bands. The Philadelphia Inquirer then named me the #1 Unsigned Act in America. So, things were going great."

Note from Vincent: Being unfamiliar with these competitions, I googled them before writing this article and found that they are huge events, which showcase the hottest new and established musicians. Randy Lee is listed as winner of Season 16 of the Country Showdown.

Vincent: "Then, why did you leave Nashville?"
Randy Lee: "I had the opportunity to go mainstream country. I had recorded my first album and wanted to continue singing my country songs about the beach. But the company said, 'That's not country.' They tried to put a cowboy hat and a big ole' belt buckle on me to showcase me as a traditional country singer, but I wanted to do beach songs. So, I quit."

Vincent: "But Randy, I figured with such a strong military background, you'd be one to follow orders and do what they tell you to do."
Randy Lee: "You would think so, but the thing about the Special Forces (Green Berets), is that they train you to make your own decisions. I thought that the music company signed me because of my songs, now they didn't want me to do them. I spent about eight more years there, did more competitions and events, like opening up for George Jones at the Georgia National Fair and playing at the Boggy Bayou Mullet Festival in Niceville, Fla. I toured around with my band in a fifteen-seat Econoline van. Then I came back to Ocean City in 2000 to play my music. I don't feel badly about leaving; in fact, I feel like I paved the way for a lot of other beach country artists who followed me."

Vincent: "I'm sure you have a lot of stories about those days. What is the craziest thing that has ever happened to you, while performing?"
Randy Lee: "Oh, gosh, there are so many of them. One funny thing happened at the Mullet Festival, an outdoor show, in Niceville, Fla, where we opened up for a famous band, called Lonestar. Some guy was really drunk in the audience, and his girl, Darlene, had gone to the bathroom, and he lost track of her. So, he came up to the stage after we finished a song and asked me if I could help find her. I announced into the microphone, 'Hey Darlene, your man is looking for you! Darlene are you out there?!' Just then, Darlene raised her hand and yelled out, 'Here I am!'. The whole crowd was laughing."

Vincent: "Too funny. I noticed an award hanging in your home for your song, "Shore Thing."
Randy Lee: "Yeah, that was given to me and my band, The Salt Water Cowboys, by the Governor of Maryland in 1999, while I was still in Nashville, for promoting the Eastern Shore through my music."

Vincent: "What an honor. So where can people listen to you play your songs?"
Randy Lee: "My schedule is on https://www.randyleeashcraftmusic.com. We also are on Facebook, and of course, right here on coconuttimes.com. We're usually at Johnny's Pizza, Bourbon Street, or Smitty McGee's. My songs are also on iTunes, CDBaby, Amazon, Rhapsody, as well as Pandora and Spotify!"

Vincent: "And what differentiates you from other musicians in Ocean City?"
Randy Lee: "It's my originals. If you like the beach country sound of my music, then you gotta come see me to hear them. I've written enough music to do entire shows with only originals, so we can keep people entertained for a long time."

Vincent: "What an interesting life you have had. And you seem to be in a good place at this point."
Randy Lee: "I am, and I owe a lot of that to finally finding my love, Lisa (Randy's wife). She has made my life complete. I don't have any regrets about how things happened, and, as I say in the song I wrote, 'I finally made it home.'"

With that, I thanked Randy for the interview and began to think how much he embodies the culture of Maryland's Eastern Shore. If you listen to his song, "All Decked Out," about a man ready to party at M.R. Duck's, you can feel what life is like in Ocean City. His band is called The Salt Water Cowboys, referring to the cowboys who round up the ponies at Chincoteague every July. It is an event at which Randy is regularly invited to perform. In addition, he and the band have been invited to perform at least four times on the Delmarva Life TV show. His band consists of Jimmy Rowbottom, a premier guitarist and singer. Jimmy also hosts a recording studio and repairs guitars, all of which keeps him very busy. Leo Carlins is Randy's bass player, who also repairs electrical appliances and plays in his wife's band, The Billie Carlins Band. Kenny Roughten is the drummer, who also owns the Fenwick Island Surf Shop. Together, they form a tight beach country band that attracts an entourage which follows them all over, never getting enough of Randy Lee's beach country music.  


«Go back to the previous page.