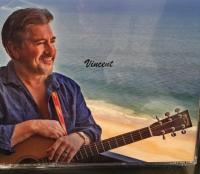 Vincent Paez: Chemist/Musician - his story.
Vincent w/ Old School playing at Coconuts Beach Bar & Grill.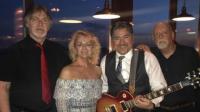 Old School - Erve, Linda, Vincent & Gerry - played for a wedding at Harborwatch.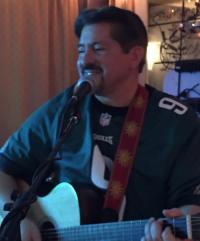 You'll find Vincent wearing his favorite Eagles jersey during football season, here at Bourbon St. on the Beach.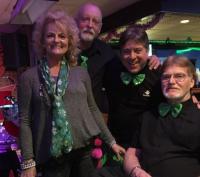 Old School all decked out for St. Patrick's Day.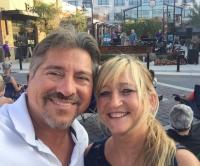 Vincent and his lovely wife Sherri - or you may hear him call her 'G'. (stands for gorgeous!).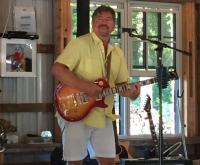 Vincent playing his beautiful new Gibson Les Paul electric guitar.
Another Old School gig where people always have a great time with OC's Fun Time band.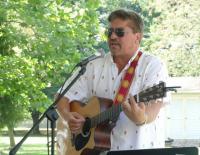 Vincent playing his beloved Martin acoustic on a sunny day.
A few weeks ago, a friend was reading one of my columns on this Coconut Times website. He asked me while laughing, "Hey Vincent, you're a local musician, so why don't you interview yourself? Ha ha!"
I was surprised by the question and joined him with a chuckle. "Heh-heh, I never thought of that. But don't you think that would be a little egotistical and arrogant?" I asked.
He replied laughing, "Well, you can just hide your real personality and make it a humble story about yourself instead." Nice guy, my friend, huh?
And so, in the interest of artistic expression with no vanity intended, I interviewed myself. I hope you enjoy the resulting split-personality experience between Vincent (the interviewer) and Vince (the interviewee). Hang on for a crazy ride on the psychosis train:

I caught up with Vince at Coconuts on a warm summer evening right after he finished playing a gig as the guitarist for Old School. He had just finished packing up his gear and helping Erve Cassell, the bass player, load the band equipment in his van. Vince was sitting at one of the many tables, eating a juicy hamburger and drinking a plastic cup of chardonnay. The temperature was in the high eighties, and it was evident that Vince had been sweating profusely from playing directly in the sun on the Coconuts stage for most of the gig.

Vincent: "Hey Vince, can I interrupt you for an interview?"
Vince: "Hi Vincent. Sure, no problem. Nice to see you again. How's that good-looking wife of yours?" I was not offended by his reference to my wife's looks.

Vincent: "She's fine, thanks. How was your gig?"
Vince: "The gig was great! I love playing at Coconuts. The staff treats us well, the audience is always in a party mood, and Old School really gets in its groove here."
He had this great big smile on, as if he just won a race and received a trophy.

Vincent: "You really seem to enjoy yourself up on stage. You're always smiling. Where does this love for performing music come from?"
Vince: "Well, I learned to play guitar and sing from a neighbor when I was around twelve years old. He taught me to play songs by the Eagles, Led Zeppelin and Bob Marley. When I would play them at parties, I noticed a real positive reaction by listeners, which turned me on like crazy. When I was teenager, I started my own band and loved to play in front of people. I guess I'm just an attention seeker. To me, there is nothing like playing a popular song and having a listener sing along, dance and then clap for you afterwards. In fact, it was happening all evening here at Coconuts."

Vincent: "And you certainly seem to love Ocean City." I waited for him to swallow his last bit of hamburger and take a swig of his wine.
Vince: "Mmm…delicious. Yes, I do. I grew up in a place similar to this on the water in Bay Shore, Long Island, New York, very close to where Chris Button is from. My life revolved around boats, fishing, clamming, and hanging out at the beach. Bay Shore had a marina, the mainland, and across the bay an island, called Fire Island, where all the partying took place. Living in Bay Shore was just like living in Ocean Pines and going over the bridge to Ocean City to party. So, I feel very much at home here. It's just like Bay Shore without the heavy New York accent."

Vincent: "Ha ha. But you really don't have a heavy New York accent."
Vince: "Oh I've been away from New York for a long time. I studied chemistry in college on Long Island and moved away after graduation for a job as a chemist in Los Angeles. Everyone in LA made fun of my accent, so I worked very hard to lose it. After six years in LA, I moved to Wilmington, Del., for another job, and that is when I discovered Ocean City. I immediately fell in love with this place for its environment and for the live music."
At that moment, Brenda Golden of the Coconut Times stopped by and gave Vincent a kiss on the cheek and congratulated him and Old School on a great show. Ted Gelinas, the bass player for The Lauren Glick Band, shook his hand and told Vince to meet up with him later at Bourbon Street.

Vincent: "And did you start playing in OC then?"
Vince: "No, not yet. I was busy with a great job in Wilmington. After a couple of years, the company I worked for, Hewlett Packard, sent me to live in Germany for three years and then to China for a couple of years. I was also busy raising two boys, who were born in Delaware. But I did keep ties with Ocean City by buying a condo at The Golden Sands, which is where my wife and I spend most of our free time."

Vincent: "And how did you get into the music scene?" I tried to keep his attention, as he was hugging and saying good-bye to Linda Sears of Old School, who was leaving Coconuts for home.
Vince: "Eight years ago, I started introducing myself around. The first musician I met was Randy Lee Ashcraft. I love country music, and I was amazed at how many cool original songs he wrote. I introduced myself to him and asked if I could play his guitar and sing a song. Without hesitation, he gave me his Martin guitar, the instrument with which he earns a living, and helped me up on stage. I was amazed at his kindness. The second group that I met was Old School. At the time, Ray Perrone was the drummer and Michael Smith was the guitarist. Like Randy Lee, Michael immediately gave me his guitar, a beautiful Fender Stratocaster, to play during their gig. Again, I was amazed at how kind people in OC were. And I never dreamt that I would now be the guitarist for the band and have such great relationships with everyone, especially the band members, Linda Sears, Erve Cassell, Gerry Harvey and Taylor Knox."

Vincent: "That's wonderful. And what differentiates you as a musician, that would make people want to go and hear you play?"
Vince: As he belts out a good laugh, he says, "I'm the only one in town who knows the true words to "La Bamba!" No, seriously, as goofy as it sounds, I try to give the audience a different experience. I tell a little about my life story and mix the songs in with the story. For example, I tell about how my mom and dad met and play the songs that they loved. Or I tell about living in Germany, and then I'll sing a song in German. I also sing songs in French and Spanish. Nobody else in Ocean City does that. I'm also one of the very few musicians who plays today's country music with songs by Dierks Bentley, Blake Shelton, Luke Combs, and Jon Pardi. If there is a fan of today's country music in the audience, they'll jump up and start clapping and singing as soon as I start playing those songs."

Vincent: "And where can people see you play?"
Vince: "People can just check the Coconut Times' "Who's Where When" section to find me when I am playing. I play at Bourbon Street on the Beach every first Sunday of the month. Old School will be back here at Coconuts for a few dates in August and September."

Vincent: "Is there anything else that you would like our readers to know about you?"
Vince: "Well, if you can't tell already when you see me around, I'm incredibly in love with my wife, Sherri. She is the main reason I'm always smiling. We met when I was living in Florida and she was living in Iowa. That wonderful woman moved from Iowa to marry me at The Golden Sands four years ago, where my dear friends in Ocean City helped us put on one hell of a party."   

At that moment, Sherri arrived at our table and sat down on Vince's lap. I could tell that the two love birds wanted some alone time, so I thanked him for the interview and went off to compliment the rest of Old School on a wonderful performance. Gerry Harvey, the drummer, told me that Vince lives in Hunt Valley, north of Baltimore, and drives to OC for his gigs. I was struck by how busy he is, dividing his time between his gigs, his day job in the chemistry field, writing articles for the Coconut Times, and Sherri. He seems to have a full life and is happy about it. To learn more about him, look for his performances in the Coconut Times and please make an effort to say hello to him. You're guaranteed to get a smile in return. I know I always do.


«Go back to the previous page.