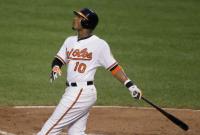 Orioles Outfielder Adam Jones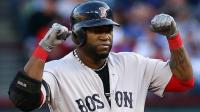 Red Sox Designated Hitter David Ortiz

Yankees Outfielder Jacoby Ellsbury

Rays Outfielder Kevin Kiermaier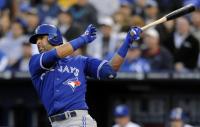 Blue Jays Outfielder Jose Bautista


Thanks for returning as we begin a new season this year in Ocean City! Now that the snow has finally gone away, I am all-in for the 2015 MLB season! Although the Orioles lost in the playoffs last year in the most devastating fashion after such an amazing season, much of the team's key pieces are in place as the team looks to continue its recent streak of success. But there are 31 other teams striving for victory, and the most significant are the four other members of the American League East division. This article will discuss the strengths and weaknesses not only of the Orioles, but also of their four rivals in the AL East, so we can evaluate Baltimore's main competition throughout the year. Here's to the start of baseball season!

Baltimore Orioles
2014 Record: 96-66 (1st in AL East)
Top players in 2014: OF Nelson Cruz (.271 BA, 40 HR, 108 RBI); OF Adam Jones (.281 BA, 29 HR, 96 RBI); P Wei-Yin Chen (16-6, 3.54 ERA)

Recovering from a disappointing sweep by the Kansas City Chiefs in the ALCS, the Orioles look to continue their recent success since the arrival of General Manager Dan Duquette and Manager Buck Showalter. Filling in the shoes of Outfielders Nelson Cruz and Nick Markakis will be tough, but Steve Pearce is coming off a great season and looks to have a grip on a starting role out there. The infield should be better this year with Catcher Matt Wieters and Third Baseman Manny Machado returning from injury, and First Baseman Chris Davis coming back from his suspension for unauthorized use of Adderall (he got approval to use it again this year). The Orioles have six qualified starting pitchers for their five-man rotation, led by Wei-Yin Chen and Chris Tillman. On the finishing side, Zach Britton looks to continue the success of his first year as closer last season. The team has lost some talent while not bringing in anyone significant, but the Orioles are still solid in many positions and have the talent to keep up their dominance in the league.

Boston Red Sox
2014 Record: 71-91 (5th in AL East)
Top players in 2014: DH David Ortiz (.263 BA, 35 HR, 104 RBI); 1B Mike Napoli (.248 BA, 17 HR, 55 RBI); P Jon Lester (10-7, 2.52 ERA)

After winning the World Series in 2013, the Red Sox plummeted to the bottom of the division last year. Since trading away almost the entire pitching staff during last season, the Red Sox have re-tooled their pitching rotation. The pitching staff is the biggest question mark for this team, as pretty much every starter has something to prove. Newly acquired Starting Pitchers Rick Porcello and Wade Miley both look to make a case to be the team's ace, and Closer Koji Uehara continues to show no age in being a dominant closer. Outfielder Hanley Ramirez and Third Baseman Pablo Sandoval are major additions to the batting lineup, and Designated Hitter David Ortiz and Second Baseman Dustin Pedroia are showing no signs of slowing down. This is an entirely different team than last year, but there is a good amount of unproven talent, no matter how promising. Still, the last time the Red Sox finished last in the division, they won the World Series the next year.

New York Yankees
2014 Record: 84-78 (2nd in AL East)
Top players in 2014: OF Jacoby Ellsbury (.271 BA, 16 HR, 70 RBI); OF Brett Gardner (.256 BA, 17 HR, 58 RBI); P Masahiro Tanaka (13-5, 2.77 ERA)

Derek Jeter's final season in professional baseball was not necessarily a storybook ending. While their division standings looked good, the Yankees failed to make the playoffs last season for the second straight year. Shortstop Didi Gregorius looks to be a very good replacement for Jeter on the field after being acquired this offseason from the Diamondbacks, but he isn't expected to be a great hitter. Rounding out the rest of the batting rotation, Alex Rodriguez joins a few other players in the lineup who are aging and overpaid for their (lack of) offensive production. The Yankees' most dominant starting pitchers also have injury concerns, with both CC Sabathia and Michael Pineda looking to return to form. On the positive side, Relief Pitchers Dellin Betances and Andrew Miller are expected to do well in the role of closer, no matter who wins the job. Even with an optimistic look on pitching, the Yankees simply don't have enough young talent on the offensive side to make an impact this season.

Tampa Bay Rays
2014 Record: 77-85 (4th in AL East)
Top players in 2014: 2B Ben Zobrist (.272 BA, 10 HR, 52 RBI); OF Kevin Kiermaier (.263 BA, 10 HR, 35 RBI); P David Price (11-8, 3.11 ERA)

The Rays' four-year stretch as a legitimate competitor in the AL East ended last year, and both players and management have been almost entirely blown up in an attempt to have more success this season. General Manager Andrew Friedman is gone, and lauded Manager Joe Maddon surprisingly opted out of his contract following the end of last season. Former Rays catcher Kevin Cash has enormous shoes to fill as the new team's manager. Almost every part of the Rays' star-studded pitching rotation has been moved off the roster, but their replacements have a lot of promise. Starting pitcher Matt Moore is returning from Tommy John surgery and is being groomed to be the new David Price. On the fielding side, Second Baseman Asdrubal Cabrera must impress in his replacement of Ben Zobrist but returning effective players such as Outfielder Kevin Kiermaier are poised to continue to make an impact. The Rays lost some good talent this offseason, but the replacements appear to be serviceable at worst. Expect them to be competitive, but not enough to reach near the top of the division.

Toronto Blue Jays
2014 Record: 83-79 (3rd in AL East)
Top players in 2014: OF Jose Bautista (.286 BA, 35 HR, 103 RBI); 1B/DH Edwin Encarnacion (.268 BA, 34 HR, 98 RBI); P Drew Hutchison (11-13, 4.48 ERA)

While the Blue Jays benefited from great performances by Outfielder Jose Bautista and First Baseman/Designated Hitter Edwin Encarnacion, they didn't have enough offensive power throughout their lineup to have a competitive finish to the season. The team made a couple of big moves to improve on that, signing Catcher Russell Martin and Third Baseman Josh Donaldson; two huge additions to the batting lineup. Their pitching staff is surprisingly solid, including Starting Pitcher Drew Hutchinson and veteran knuckleballer R.A. Dickey. Top pitching prospect Aaron Sanchez will get a chance to show what he has this season, as well. This is a much improved offensive lineup from the previous season, and as long as the pitching staff keeps up its impressive performances, there should be no reason this team misses the playoffs.


«Go back to the previous page.